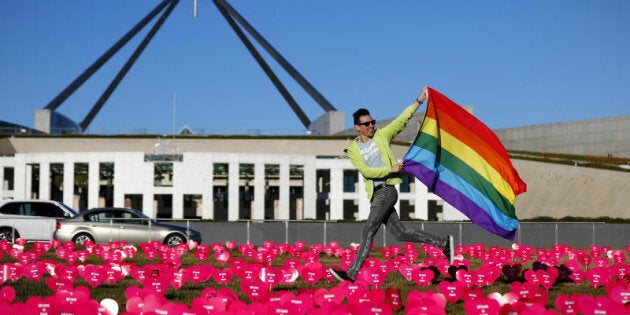 CANBERRA -- With a just day left to take part in the same-sex marriage postal survey, a furious hunt is on for an extraordinary number of "missing" electors, 811,000 Australians who are eligible to vote but who have not enrolled with the Australian Electoral Commission (AEC).
Late Wednesday, the AEC revealed the Australian electoral roll has increased by 54,545 since the postal survey was announced on August 8. That's an extra 17,776 in less than two days.
As well, there have been 577,879 enrolment updates processed since August 8. That's 143,853 over the last day and a half.
The electoral roll -- including for fixing details like addresses -- closes at midnight on Thursday August 24.
A number of youth publishers and broadcasters are doing something unexpected so there are no excuses not to enrol.
Vice, Broadsheet, Pedestrian.TV, Junkee and FBi Radio are teaming up to stop normal content on their websites between 5pm and 8pm on Wednesday and will be instead running a message urging readers to enrol and check voting details.
Readers will be directed to the Australian Electoral Commission website.
MTV Australia -- that's MTV, MTV Music, MTV Classic and MTV Dance -- is also doing a big switch off, ceasing all regularly scheduled programming from 6am Thursday. The MTV.com.au website will spread the message of enrolling with the AEC to take part.
Based on Australian Electoral Commission data, released on Wednesday, there have been 54,545 new enrolments, while there have been vastly more updates (577,879) to enrolment details.
But there has been a concerted push within universities to get young students to enrol. The National Union of Students and virtually all universities have sent out almost a million emails urging a visit to the AEC website to either enrol or check details.
"We are very, very confident a lot of those people (enrolling) are students or are young people," NUS President Sophie Johnston told HuffPost Australia on Tuesday.
Opposition Leader Bill Shorten, who is actively campaigning for the "yes" vote, has made a plea to find "missing" voters.
"Please enrol to vote. Enrol so you can have your say," he told reporters in northern Queensland. "And if you are living in a different place to where you were originally enrolled contact the Electoral Commission so you can make sure you can get your survey sent to the right address."
"Nearly half a million Australians have done this in the last 10 days.
"So I say to Australians, this postal vote is a glorious waste of money. Can't believe Turnbull is doing it. (He needs to) sort out his internals, but if we have to do it let's do it right. Let's vote and vote yes, so we can get on and do everything else including fixing up the Whitsundays."