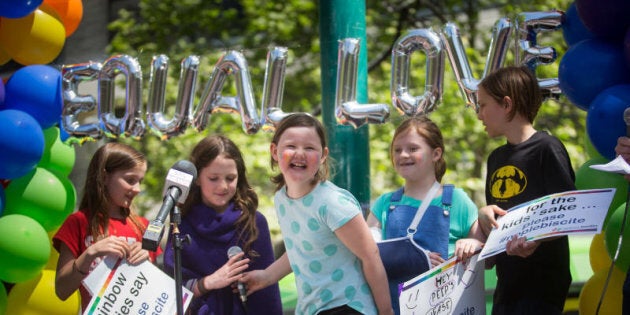 CANBERRA -- It is a key day for marriage equality.
Want a say either way? Get on the electoral roll before midnight.
Any result can hardly be complained about, if details with the Australian Election Commission are not checked, added or updated before it ticks over to Friday.
Australia has done pretty well by compulsory voting, but the marriage law postal survey is something else. It is a real test.
It might not be an actual plebiscite, it may not be binding, it certainly is not compulsory, it has been referred to as a glorious waste of $122 million, it is the subject of two High Court challenges and hurtful things have already been said and denounced.
But at this stage it's what we have.
"We made a commitment at the election to give everyone their say. And we're honouring that commitment," Prime Minister Malcolm Turnbull told reporters in Ettamogah on Thursday.
"With this one, we're doing our very best to deliver on it, having been frustrated in the Senate."
It's certainly no free vote in parliament, which would change the law if successful. But such a vote is promised this year if a "yes" vote prevails in the upcoming postal survey.
For Christine Forster, Sydney City Liberal Councillor and sister of former Prime Minister Tony Abbott, there is the potential for the result to be a "defining, a seminal moment for our nation".
Celebrities, politicians and everyday citizens are making impassioned, personal pleas to vote "yes" to marriage equality and "yes" to acceptance.
Australian TV icon and comedian Magda Szubanski told the Today Show this week that she "barely made it" through her childhood and she did not want it to happen to anyone else.
"The fact that there are so many wrongs in the world that are so complicated and can't be made right, this is a wrong that can be made right so simply," she said.
But broader ramifications, including religious freedoms, parental rights and freedom of speech, are being flagged by opponents, including "no' campaigner Tony Abbott. The former PM has also raised questions about "gender fluidity".
Fellow "no" camper and Immigration Minister Peter Dutton has told Sydney radio 2GB on Thursday that people's views "should be heard now because people show be properly informed when they are making their decision in relation to this very important social issue".
"Yes" proponents argue the proposed change is simply about equality.
"Do we support equal legal recognition for the love and devotion of same-sex couples?"
"I do not believe LGBTQ Australians should be subject to a different law-making process from the rest of the country, and same-sex couples shouldn't have to write to every other Australian to ask for their permission to get married," he wrote.
Federal Attorney-General George Brandis says he will not be "tricked" into debating wider issues and insisted religious freedoms would continue to be protected.
Shorten, and other marriage equality advocates, accuse opponents of scaremongering and muddying the waters by adding debating points "that don't apply".
On Wednesday, the AEC revealed the Australian electoral roll has increased by 54,545 since the postal survey was announced on August 8. That's an extra 17,776 in less than two days.
On top of that, there have been 577,879 enrolment updates processed since August 8.
To have a say in the postal survey, Alex Greenwich from the Equality Campaign is urging a last minute sign-up.
"If young Australians want to be able to vote for their gay and lesbian friends, family members, colleagues and team-mates they need to make sure they are on the electoral role by midnight or they will miss out on that opportunity to participate in hopefully making history," he told HuffPost Australia.
"Let's hope that we can get as many of those supporters of marriage equality enrolled to vote and have them update their details, if that does not happen they miss out on playing their part."