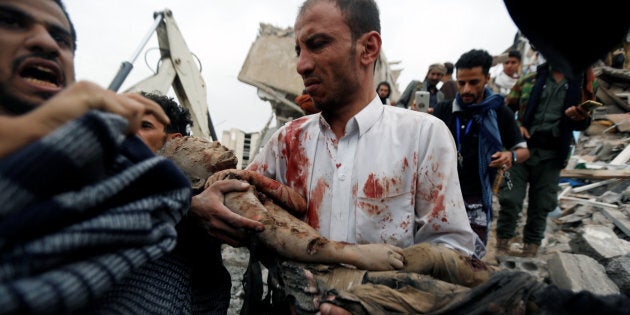 DUBAI, Aug 25 (Reuters) - An air raid struck a building in Yemen's capital on Friday, killing 12 people, six of them children, when an adjacent apartment block collapsed, residents said.
Residents and rescuers dug frantically through debris after the attack on the Faj Attan area of Sanaa, retrieving the bloodied, dust-covered bodies of several children, some of whom appeared to be less than 10 years old.
Chunks of masonry lay strewn beside gaping fissures in walls that revealed the apartments' shattered interiors.
People at the scene told Reuters the warplanes were from a Saudi-led Arab coalition, which has been fighting the Iran-aligned Houthi movement in a war that has lasted more than two years and killed at least 10,000 people.
"The air force of the countries of the American-Saudi aggression carried out a hideous massacre against the citizens in Faj Attan," an official Houthi movement website said.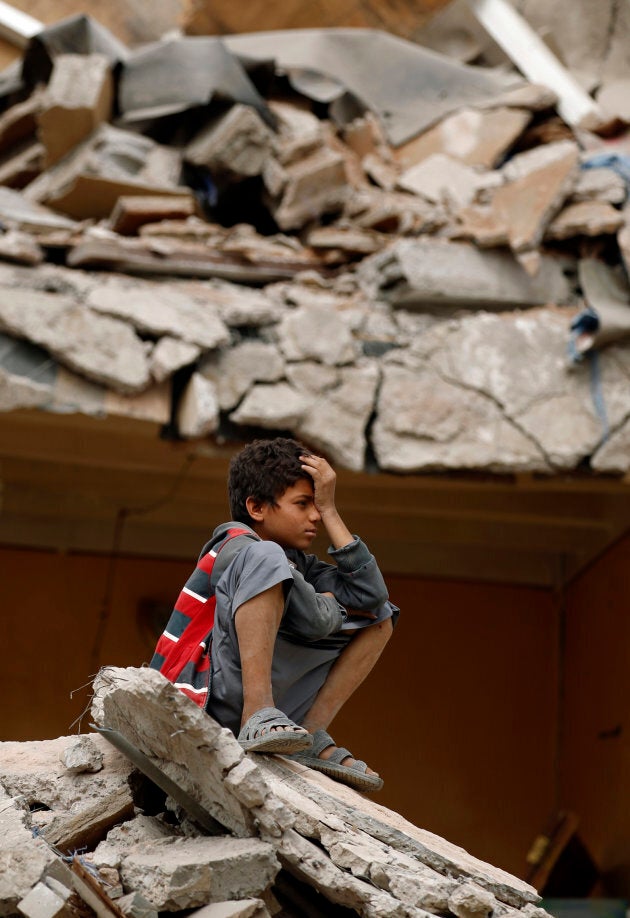 Residents said the strike did not target the apartment house where people were killed, but instead hit a vacant building next to it. The apartment house contained eight flats and appeared to have wooden ceilings, a witness said.
The buildings are in the vicinity of a military base housing missiles that has been a frequent target of air raids since the war began in 2015.
The Houthis and their ally, former president Ali Abdullah Saleh, control much of the north of the country, including Sanaa. Yemen's internationally recognized government is backed by the Saudi-led military alliance and is based in the south.
The United States and Britain provide arms and logistical assistance to the alliance for its campaign. The issue has caused controversy in Britain over the toll on civilians.
In addition to striking military targets, air strikes have hit hospitals, infrastructure and port facilities, exacerbating the humanitarian crisis.
The United Nations human rights office called on Friday for an independent investigation into air strikes by the coalition on a hotel near Sanaa on Wednesday. Those attacks killed more than 30 people.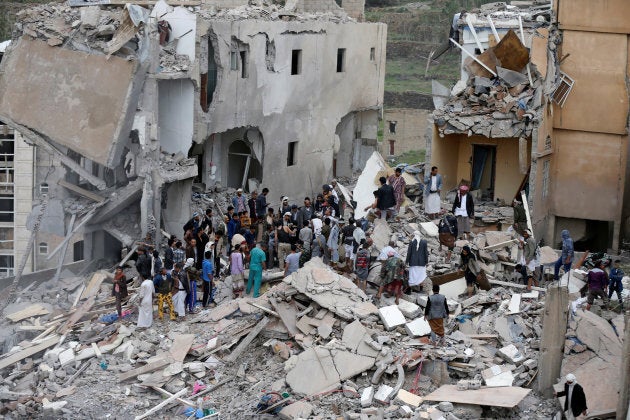 The hotel was a guest house usually used by farm workers, said William Spindler, a spokesman for the U.N. refugee agency UNHCR. Among those killed were five people displaced from elsewhere in Yemen, he said.
The coalition said that its review of Wednesday's attack showed that those killed at the hotel were Houthi fighters, not civilians.
Some two million people have been displaced by the war, according to the UN.
"We remind all parties to the conflict, including the Coalition, of their duty to ensure full respect for international humanitarian law," U.N. human rights spokeswoman Liz Throssell said.
In the week to Thursday Aug. 24, 58 civilians were killed in Yemen, "including 42 by the Saudi-led coalition," with the rest attributed to unknown armed men and to the Popular Committees affiliated with the Houthi rebels, she said.
There was no immediate word from the coalition on Friday's raid. (Reporting by Reuters, additional reporting by Stephanie Nebehay in Geneva,; Writing by Reem Shamseddine and William Maclean; Editing by Andrew Heavens, Larry King)