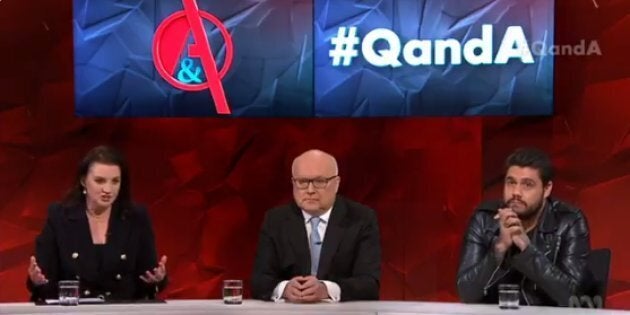 Indigenous musician Dan Sultan has clashed with Attorney-General George Brandis and Tasmanian senator Jacqui Lambie on Monday over the issue of Australia day after he labelled January 26 as the wrong date for a national celebration.
Appearing on the ABC's 'Q&A', Sultan said he believes in the idea of Australia Day as a national celebration but thinks it should be moved to one of the "plenty of great days in our country's history" that could include everyone.
"I personally think an Australia Day is a great idea, you know. I don't think it should be on that day. I think we should recognise the 26th of January for what it is, which is a day that started the on-going genocide of our people," he said.
"I think there are many days throughout our history that include everybody and I think it's important that a day called Australia Day includes all Australians. The fact of the matter is that it doesn't include us, it excludes us [Indigenous Australians].
"It excludes anyone who has any type of sympathy or empathy towards our story which is a hell of a lot of Australians. To call it Australia Day is wrong."
In response, Brandis said January 26 stands as a day for the celebration of national achievement and reflection on the history of "modern Australia".
"There is a natural logic about the 26th of January as the point in time at which the Australia we now recognise, modern Australia, had its beginning without for a moment disrespecting the fact that for many millennia before that -- some 65,000 years -- there were Indigenous people living on this continent," Brandis said.
"Australia Day is about celebrating the Australian achievement and we should celebrate the Australian achievement because this is a wonderful country. But it's also, and I think in more recent years, become a time for reflection as well because obviously there are blemishes in Australia's history.
"There are things, like all countries, aspects of our history about which we should be ashamed. And on Australia Day, we both celebrate the nation, the good nation, the good inclusive nation that Australia has become, while at the same time reflecting on those parts of our history that are dark passages."
Sultan then shot back, saying the "blemishes" remain in current-day Indigenous communities, of which the date of Australia Day as a national celebration is one that excludes a lot of Australians.
"With Australia Day and the blemishes you called them in the past, it was today and it's tomorrow, there's still Aboriginal deaths in custody at an alarming rate," he said.
"There's still an alarming rate of suicide amongst teenagers in Aboriginal communities, it's an on-going genocide. For people to say it was in the past, it's not here. It's here now today.
"To have a day named Australia Day on that day is exclusive to a lot of Australians and it doesn't make any sense. It's a complicated issue but also very simple as well. Does it include everyone or doesn't it? No, it doesn't. Don't call it Australia Day."
And the tension didn't stop there.
During a later discussion on threats to Australian culture, Lambie also threw her support behind the January 26 date, saying "everybody needs to put their differences aside", before likening the importance of Australia Day to Anzac Day.
"I have no intentions of backing a move for [a date-change of] Australia Day. Australia Day is supposed to be about us all coming [together] united. Doesn't matter what religion you are, what colour skin you are, where you have come from. None of that should matter. It's about being united as a country," she said.
"I'm worried about our culture, our ethics, our grassroots, our moral upbringing and all the rest because I just think we're starting to lose that.
"That is the Australian Day... Because it does not suit a minority the rest of us should not have to pay the price"
In response, Sultan simply joked: "Heaven forbid you lose your culture."
The Federal government delivered the sanctions to both Darebin City Council and Yarra City Council after local councillors voted for a change to Australia Day processions as a gesture of respect for Indigenous Australians.
"The council is using a day that should unite Australians to divide Australians," he said in a statement.
"I recognise Australia Day, and its history, is complex for many Indigenous Australians but the overwhelming majority of Australians believe the 26th of January is the day and should remain our national day."