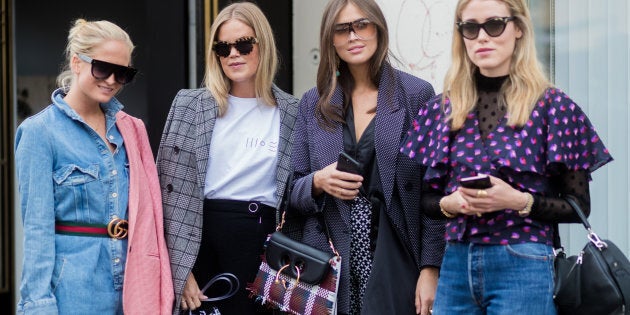 Praise be to seeing the end of winter -- it's nearly time to pack away our big knits and winter scarves. If you're wondering what to put in their place in your wardrobe, here's the four key trends for this spring and coming summer.
The new boho
"This season's version of boho, which has an iteration pretty much every summer, is Victoriana inspired. It's a bit more structured," Denis Todorovic, Style Editor at Cosmopolitan told HuffPost Australia.
"Elle Ferguson actually wore a dress, which she shortened, to the Kim Kardashian makeup launch and that's a perfect example of the trend -- think big sleeves with volume and lots of shirting, and look to designers like Stella McCartney for reference. It still feels bohemian but it's more French countryside than Byron Bay. The colours to look for are whites, cream and beige."
Graphics and prints
"This trend is pretty varied -- it can be anything from polka dots, like that one top that's all over Instagram (pictured below), to star prints to stripes and colour blocking. The Tommy Hilfiger collection he did with Gigi Hadid is a good example of primary coloured stripes. Proenza Schouler also did it," Todorovic said.
"Within the same vein but a little more organic in shape is the nude line drawing trend. This is going to be big. You'll see it in shirts, scarves and also in accessories -- Amber Sceats has just done some earrings that are a wire shape of a woman's face. This still falls into the graphic trends because it's all about various prints."
"Military is back again -- in fact it's always around -- but this season's take is quite literal in that camouflage print is back in a big way. Think khakis, oranges and dirty browns and all-over camo prints inspired by Destiny's Child in the early 2000s."
"As a side note, a lot of the early naughties trends are also back -- anything that is nostalgic to that time is having a resurgence. Think Paris Hilton, Nicole Richie and Lindsay Lohan back in that time. You're going to see low-waisted jeans and even Ugg boots coming back -- Jeremy Scott just did a collaboration with Ugg. But with these I would say tread with caution. For a more refined take on military think along the lines of the Balmain and Camilla and Marc blazers with the gold hardware," Todorovic said.
"This trend is very Gucci-inspired. It's about mixed prints and florals, stripes and texture, with often a few of these elements appearing in the one outfit. Think a logo tee with a flippy skirt or a sneaker with a feminine silhouette."
"With regards to accessories, feature belts are still big and are being worn with this trend, again thanks to Gucci, and there's a bit of the 80's thrown in here too -- big shoulders are back which you'll also see in the new boho trend. The 1970s inspired string grocery bag is also coming back, the perfect market or beach bag."
"For the guys, the 70s are having a resurgence this summer. Balenciaga did a show where they sent regular dads down the runway and it's in the same vein," Todorovic said.
"Check out Aussie designer Justin Oshea, who has just launched a brand called SSS World Corp. He's done all these 70s inspired shirts that are almost tacky, that your dad might have bought from Lowes back in the day. These are cool again and come festival season, this will be what the guys will be wearing. Brands like Vanishing Elephant and those other street labels will do a cool, modern version."