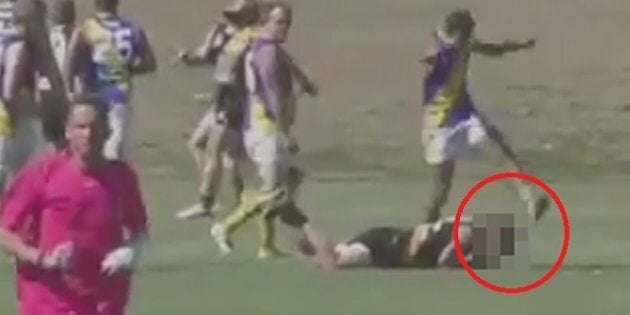 Queensland Police confirmed in a statement that a 19-year-old man from the Ipswich Eagles Football Club will front court on one charge of assault occasioning bodily harm after he was caught on camera violently kicking the head of an opponent from the Redcliffe Tigers last week.
"Police have today charged a man after a complaint was made in relation to an assault at a football game in Ipswich on August 19," the statement said.
"Around 1pm a 20-year-old Margate man was playing football at Limestone Park when he was knocked to the ground in accordance with the rules. Whilst on the ground, a player from the opposing team has allegedly kicked the man in the head.
"A 19-year-old Rosewood man has been charged with one count of assault occasioning bodily harm and is expected to appear at the Ipswich Magistrates Court on September 15."
WARNING: The following footage contains graphic images.
The shocking footage of the incident shows the attack unfold before the Redcliffe player received medical treatment and was later seen limping away from the ground in the arms of trainers.
As a result of the shocking incident, the Ipswich player was handed a 20-year ban from the sport after the matter was handed directly to the Queensland AFL's Independent Tribunal.
A spokesperson for AFL Queensland said: "The matter was heard by a three-member panel with a non-voting chairman. The reported player elected not to attend the hearing and provided a statement to the tribunal, in which he pleaded guilty and requested the matter be heard in his absence.
"The tribunal sustained the charge of kicking and handed down a 20-year ban.
"The player has been automatically deregistered under the AFL's Deregistration Policy. The player must serve his 20-year ban and then wait a further 12 months before he can apply to be re-registered in accordance with the policy."