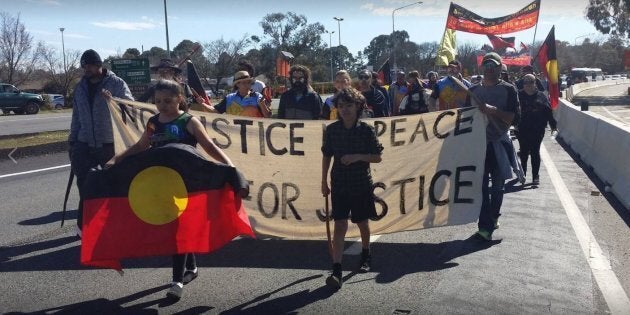 Clinton Pryor, the man behind Clinton's Walk for Justice, has arrived in Canberra after completing a 5,580km walk to promote justice for Indigenous Australians.
After almost one year of walking, Pryor has ended his mission in Canberra at Parliament House, calling on the Governor General and members of Parliament to act on issues facing Indigenous communities.
The West Australian man on a mission started his journey in Perth in September last year to protest against the forced closure of Aboriginal communities, announced by the Western Australian government in 2014.
Pryor told the Sydney Morning Herald the conditions facing some communities mirrored those to third-world countries.
"There's a lack of fresh water and there's a lack of jobs, and there's not enough services for counselling," Pryor said.
"It's poverty like in third-world conditions."
Pryor is hoping the government will follow his lead with a greater focus on recognising issues facing Indigenous communities.
"We're trying to get justice but also to bring awareness and education to what is happening here," Pryor said.
"It's time for the government to listen to us."
Pryor, a Wajuk, Balardung, Kija and Yulparitja man, has walked between 40 and 60 kilometres a day to raise awareness for Indigenous rights.
Along the way, Pryor has visited regional Aboriginal communities, giving community talks, speaking with Indigenous elders and even attending the funeral of Aboriginal teenager Elijah Doughty, who was killed after being hit by a ute.