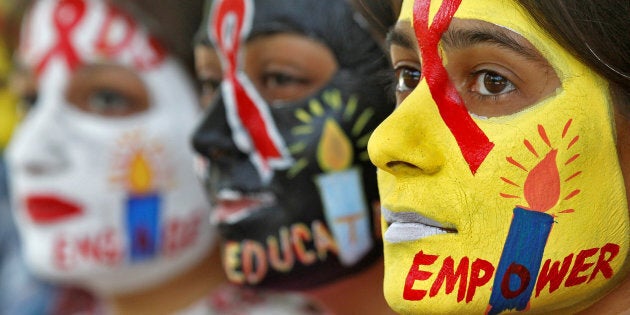 CANBERRA -- Australia's current National HIV Strategy is to virtually end HIV transmissions by 2020 and to achieve a '90:90:90' goal to contain the epidemic.
The idea behind 90:90:90, introduced by UNAIDS in 2013, is that by 2020, 90 per cent of people who are HIV infected will be diagnosed, 90 percent of people who are diagnosed will be on anti-retroviral treatment and 90 percent of those who receive anti-retrovirals will be virally suppressed.
That goal is just two-and-a-half years away and Liberal Senator Dean Smith, a self described "cautious optimist", believes it is possible for Australia.
"I do believe we could be on the cusp of realising that ambitious goal of 90:90:90," he told HuffPost Australia. The Senator has a special interest in HIV and sexual health issues, as outlined in a recent HuffPost profile.
"What an achievement, to have gone from being home of the Grim Reaper to being a world leader in responding to the impact of HIV."
Australia has for 30 years been a world leader in area of HIV/AIDS, but complacency has been, of late, a problem and there are concerns for people in remote Indigenous communities and those from non-English speaking backgrounds.
But what has Australia signed up to and how do we get to 90:90:90?
"Encouraging testing while at the same time reducing the barriers to treatment and access is the formulae to realising that great ambition of ridding Australia of new HIV transmissions," Smith offers.
A just released report "Critical Steps Towards Addressing HIV in Australia" by global specialist HIV company, ViiV Healthcare, has found that stigma and discrimination continues to have a major impact on people living with HIV, including the finding that 75 percent of the people in the study felt they had to hide their status.
How do you encourage testing in this environment?
The report draws on speaking to 369 people living with HIV, 28 healthcare professionals (HCPs) and interviews with 20 major organisations involved in HIV work, including State and Federal Health Departments.
Discrimination in health services (87 percent), from the insurance industry (56 percent), and at places of employment or work (32 percent);
Over 27 percent reported experiencing poor treatment when accessing services or at work because of someone knowing their HIV status;
30 percent of healthcare professionals (HCPs) identified fear of discrimination as a barrier to HIV testing.
Smith is not surprised, calling the report "powerful evidence that more needs to be done to combat stigma and discrimination". And he sees a role for Australia's political leaders to call out this treatment.
"There is a very powerful message in the report, and that is by reversing the lack of accurate and contemporary information about HIV and the fear of transmission then we may be able to undo stigma and discrimination in the community," he said.
"Most importantly, there is a leadership role for parliamentarians in this debate and that is to lead and call out the stigma and discrimination when and wherever it shows its face."
HIV has evolved into a chronic, but manageable disease so people are living with it long-term. They are aging with it and that poses its own challenges.
Aged care needs to be rethought and HIV remains a serious medical condition with risk of other serious conditions, or co-morbidities, as people age.
As well, the Seventh National HIV Strategy 2014-2017 is about to expire. And here is an opportunity, according to Senator Smith.
"The challenge of the eighth strategy will be to address new challenges – better accessing marginalised groups such as Indigenous Australian and intravenous drug users, especially those in regional and remote Australia," he tells HuffPost Australia.
"And as people living with HIV enjoy longer lives, let's also begin to put our mind to what it means to be living with HIV and ageing. We must ensure that every Australian has the opportunity to benefit from the advance of testing, prevention and treatment services."