We've all had that awkward moment where you accidentally make eye contact with someone you desperately were avoiding, but what about an extended period of eye contact with someone you haven't seen or spoken to in years?
The new social experiment from SBS, 'Look Me In The Eye' takes a huge group of diverse couples who have become estranged over the years for a range of reasons and brings them together to see if non-verbal communication can heal wounds words haven't been able to.
The premise is simple, the estranged couples don't speak prior to the experiment, sit facing each other and make eye contact in silence for at least five minutes. Once that time is up they're given the choice: to walk away, or to try and talk things over.
A single mum tries to win back her only son, a daughter looks into the eyes of her father who walked away from the family, even a former child soldier looks into the eyes of the man who tormented him;. It's very intense watching these people experience a complete emotional journey in total silence.
It's intense, and simply watching these pairs sit in silence, their minds racing.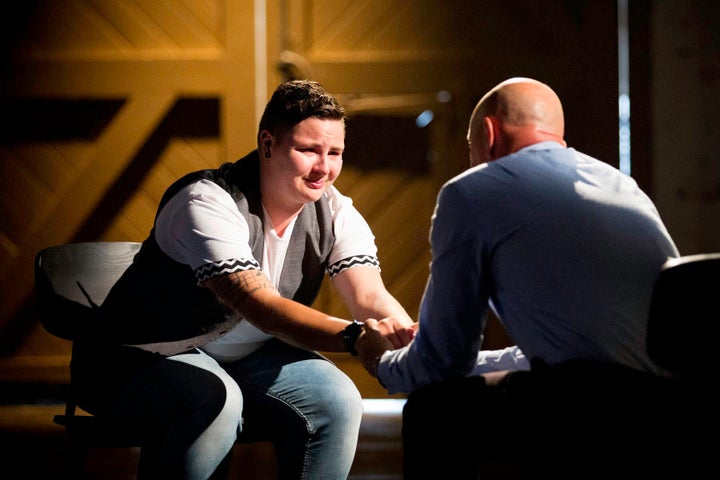 "I hadn't seen my dad in about 18 years," one of the show's participants, Kayleigh, told Huffpost.
"Being the age that I am I thought it was time, but didn't really have any way to do it" When I saw the ad [to participate] I spoke to my partner and asked what she thought. She gave me the push I really needed to apply for the show."
Kayleigh and her father, Peter, hadn't spoken for years, and hadn't set eyes on each other for even longer.
"It's hard to explain when you're in that situation," Kayleigh said, "you forget you've got 20 cameras pointed at you, bright lights everywhere and there are people watching you. All of a sudden you're just in that moment."
"It didn't take away from the experience, I feel like it probably amplified it. You're in this situation where you never expected to be, you're so focused on what's going on you forget everything around you."
For many they're alone in the process but for Kayleigh it was important to have someone with her during the experience.
"I really wanted my dad to meet my partner because throughout the whole process from start to finish, from the moment I saw the ad all the way through she was the one by my side. Any time I had doubts she was the one that was super supportive."
Without giving away what happened between Kayleigh and Peter, when asked if she recommended the process she replied, "100 percent."
"I got the answers and results I wanted. If people want that opportunity, it doesn't matter how old you are, what's happened in your life or what you've been told, everybody deserves a second chance."
'Look Me In The Eye' premieres Wednesday 6 September, 8.30pm on SBS.