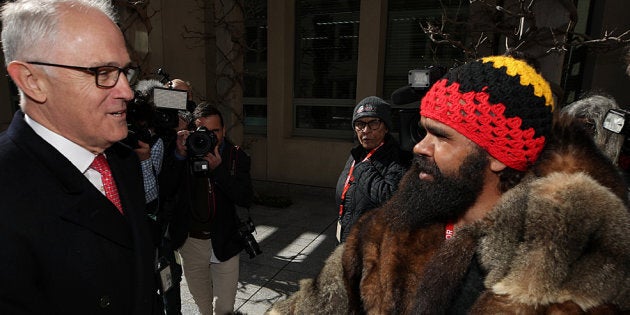 An Indigenous activist who undertook a year-long trek from Western Australia to Canberra has slammed the Prime Minister as "disrespectful" after a meeting on Wednesday.
Clinton Pryor's walk -- from WA's Heirisson Island, through the Northern Territory, back down through South Australia and Victoria then up to Sydney -- has captivated thousands around the country, as he spreads awareness for Aboriginal issues, including a push for Australia to establish a treaty with its first people.
Arriving in Canberra this week, in time for a new parliamentary sitting session, Pryor met with several federal Labor politicians at the Aboriginal tent embassy near Parliament House.
He also met with Labor Leader Bill Shorten, who he criticised later on Facebook for "using my walk to push for [their] own agenda", saying he did not support the recognition or recognise movements around Indigenous recognition in the federal constitution, but instead wanted a treaty.
It was a meeting with Prime Minister Malcolm Turnbull, however, which most aggrieved the Spirit Walker.
Pryor's meeting with Turnbull and Indigenous Affairs minister Nigel Scullion took place in the Prime Minister's courtyard, not outside Parliament House or at the tent embassy as other politicians -- such as Bob Katter -- had agreed to.
"Unlike other Members of Parliament, Mr Turnbull not only refused to come and meet with Aboriginal elders at the Aboriginal tent embassy, but also refused to walk even a few steps outside of parliament to meet in the parliamentary forecourt -- despite Clinton having walked over 7 million steps to be here," Pryor said in a statement after the meeting.
"During this process, both the Prime Minister and Minister for Indigenous Affairs were disrespectful - speaking over the top of Aboriginal elders to defend unfair policies - rather than listening respectfully. The Spirit Walker felt so disrespected by the Prime Minister and his entourage that he chose to turn his back and walk away, rather than continue listening to the PM attempting to defend the ongoing unfair and unjust treatment of Aboriginal people in this country."
Pryor posted a photo online following the meeting, showing him literally turning his back on the PM.
In a statement, a spokesperson for the Prime Minister disputed that he was "disrespectful" during the meeting.
"The Prime Minister was interested to hear their perspective, but respectfully disagreed with several of the matters raised," the spokesperson told HuffPost Australia.
"The Turnbull Government will always take decisions in the best interest of children, and we make no apologies for working with the Shires in the Goldfields to put in place the Cashless Debit Card."
"The independent evaluation of the Cashless Debit Card is showing that the card is working in Ceduna and the East Kimberley. Parents are better able to look after their children, better able to save money, there is less money being gambled and drug and alcohol use have significantly decreased.
"The Government in resolute in our commitment to give the children of the Goldfields a chance to live free from the impacts of welfare funded alcohol and drug abuse and gambling, and we will continue to work in partnership with the five shires who came on board thanks to the leadership of local MP Rick Wilson and Minister Alan Tudge. The Prime Minister thanked Mr Pryor for the opportunity to meet and to hear his concerns first hand."
Pryor also met Governor-General Peter Cosgrove during his visit to Canberra, saying he asked the Queen's representative to take up his push for a treaty to Queen Elizabeth.