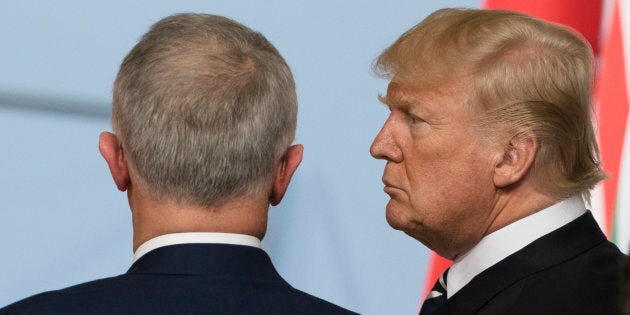 CANBERRA -- Prime Minister Malcolm Turnbull has spoken to U.S. President Donald Trump over the growing tensions with North Korea amid threats that the regime is ramping up to fire more nuclear tests, a provocative act the regime is referring to as "gift packages" for the United States.
It is understood the two leaders spoke for about half an hour by phone on Wednesday, with North Korea and Islamist extremism said to have "dominated" the discussion.
The two leaders agreed that maximum pressure, both diplomatic and economic, was required to push back on North Korea's nuclear tests and threats, and spoke of China being the key player in tamping down the rogue state's actions.
Turnbull and Trump also talked Islamist extremism in the Philippines, agreeing that ISIS would not be allowed to establish a presence in the region.
There has been international outrage and calls for tougher economic sanctions after North Korea carried out its sixth, and biggest yet, nuclear test on Sunday. Top Pyongyang diplomat, ambassador to the United Nations in Geneva Han Tae Song, has described the test as a "gift package" for the United States.
"I am proud of saying that just two days ago on September 3, DPRK successfully carried out a hydrogen bomb test for intercontinental ballistic rocket under its plan for building a strategic nuclear force," he told a UN-sponsored Conference on Disarmament.
"The recent self-defence measures by my country, DPRK, are a 'gift package' addressed to none other than the U.S."
This Saturday, September 9, is also the Day of the Foundation of the Republic, one of North Korea's most important holidays.
Defence Minister Marise Payne, who is travelling to South Korea, is aware of reports Pyongyang may use this weekend for another test.
"We remain acutely aware of the potential for those sorts of actions by the regime," she told ABC radio. "And continue to emphasise that the best thing that the regime can possibly do to abide by the UN resolutions, to act in a legal manner not a provocative, illegal and destabilising manner."
Labor leader Bill Shorten and Shadow Foreign Affairs Minister Penny Wong have announced they will travel to South Korea and Japan.
They plan to discuss the crisis on the peninsula and reaffirm the strength of bilateral ties with the two nations.
President Trump is not the only world leader Turnbull has spoken to about North Korea in the past 24 hours.
The Prime Minister spoke to Indonesian President Joko Widodo on Tuesday night with the pair discussing the "dangerous" and worsening threat the rogue state poses to the Asia-Pacific region.
The two leaders also discussed trade opportunities and the challenge of ISIL in the region, "as shown by the insurgency in the Philippines" and the security and humanitarian situation in Myanmar.