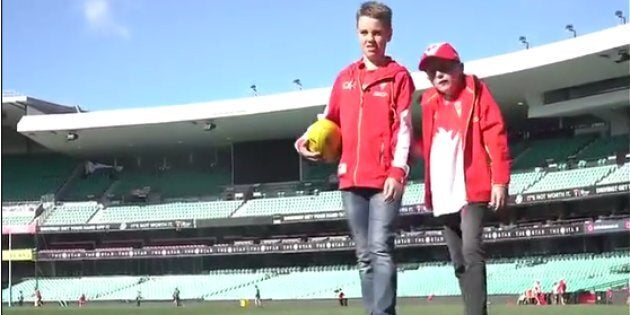 SYDNEY -- The most touching sporting story of 2017 just got a little more heartwarming.
Remember the public call-out that was issued last week for two boys who attended the Swans' Aussie rules game against Carlton? One of the fans is blind and spent the game clutching a footy while his mate gave an excellent play-by-play commentary for his benefit, of a standard which some say put the Channel 7 box to shame.
After a surge of online social movement to locate the pair and a day of tweeting their best intentions, the Swans had no luck.
But we can now tell you that this story has had a very happy ending -- the club managed to find the two young boys and treated them to one very special day at the Sydney Cricket Ground (SCG).
Jarryd Haines, 12, and his friend Mark Smith, 13, were welcomed into the SCG dressing rooms, met some of the team's big name players and were lucky enough to have a kick of a footy on the famous SCG grass.
And if their smiles are anything to go by -- it seems they had a ball. The power of social media.