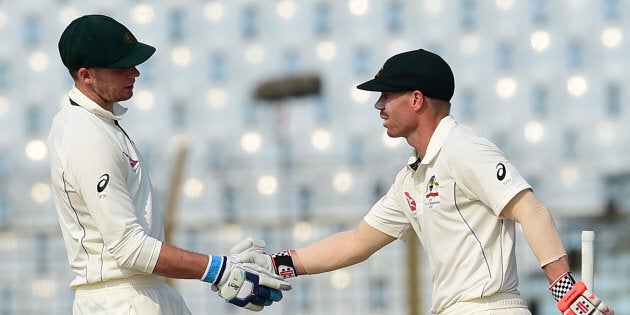 Australia's batsmen have at last shown the sort of ticker you'd expect from multi-millionaires who held their governing body at bay for several months in the recent pay dispute.
David Warner and Peter Handscomb defied the hosts for 36 exhausting overs on day two of the second Test against Bangladesh in Chittagong. After the first session was lost to rain on day three, the duo went on with the job.
For a while, anyway. The momentum was interrupted by a beautiful piece of Bangladeshi fielding. A direct hit from super all-rounder Shakib Al Hasan -- man of the match in the first Test for his bowling and batting -- saw Peter Handscomb stranded at the bowler's end. He made an excellent 82.
The run-out came when Warner was on 99 and nervously prodding for a single. Warner played 15 deliveries without scoring. Finally he got a wide one which he dispatched through the covers for four. The milestone was accompanied by his trademark fist pump and cap crest kiss.
Warner's 20th Test century -- following on from his 19th in Dhaka when he was the only Aussie batsman to reach 50 -- was yet another stamp of his class. He will always be known as an attacking player. But the man who played T20 cricket for Australia before he'd played a first class match is now every bit what purists would call a "proper" Test batsman.
Regardless of how this Test pans out from here, the effort of Handscomb and Warner on Tuesday was really something.
In steamy, sweltering conditions, the two batsmen lost five kilos or more each. It brought inevitable comparison with '80s star batsman Dean Jones, who made a double century in India in oppressive conditions despite emptying his stomach and bowels in all sorts of awkward places.
"Really gutsy," was the enthusiastic assessment of Australian coach Darren Lehmann.
"Obviously it was pretty hot out there... and you have to work really hard for your runs. So to get through and the way they played was excellent. They're in the ice baths now and we'll leave them with the medical team to get them right for tomorrow. Very special day and hopefully tomorrow they can kick on."
At stumps on day two of the second Test, Australia finished at 9-377 with a lead of 72.