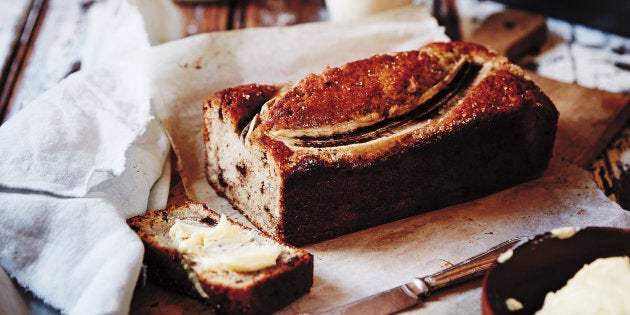 A bowl full of spotty, bruised bananas practically screams banana bread, but we often forgo the golden, fluffy, cinnamon-y treat because we think it's too hard to make.
Not this recipe -- you only need seven simple, everyday ingredients to bake this banana bread, plus a few extras if you want to jazz up your loaf with nuts or chocolate.
Once you've combined the ingredients and baked the loaf to perfection, slice up your banana bread and enjoy warm with a slather of butter -- or, to make it extra fancy, serve with quick caramelised banana and natural yoghurt.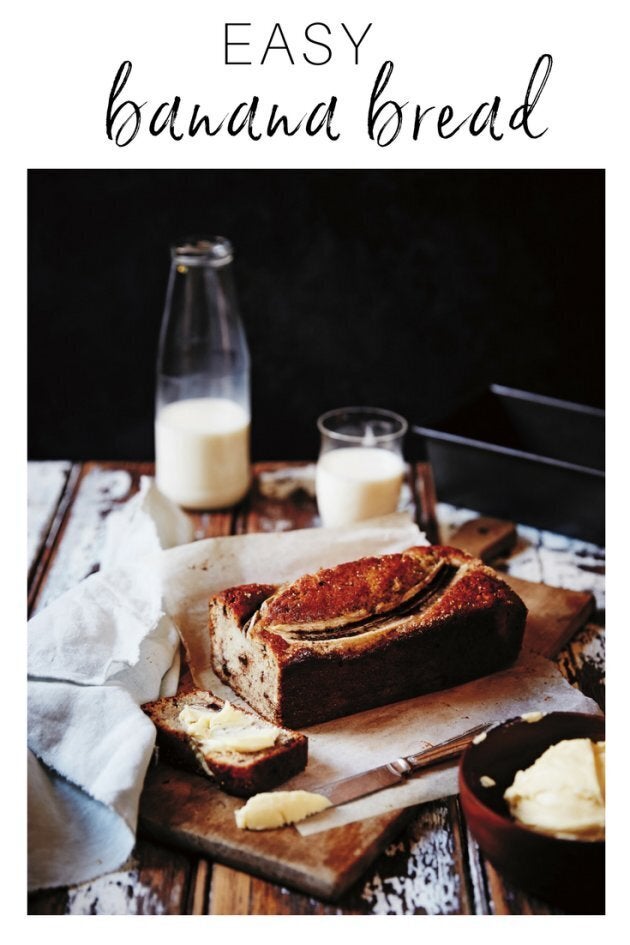 "I'm not saying that this loaf should be eaten every day -- more that it is a simple loaf, one that can be made with the most basic ingredients and a few neglected bananas. In fact, the more ripe the bananas, the more natural sweetness they will bring to this loaf," Julia Busuttil Nishimura, food writer and author of Ostro, said.
"It is perfect eaten warm, by the slice, with a thick slather of butter. When I have excess crème fraîche in the fridge, I often turn it into butter for spreading on fresh crusty bread or, in this case, slices of banana loaf.
"Sometimes, when I'm in the mood, I add chunks of dark chocolate to the batter or slice an extra (not so ripe) banana lengthways and press it into the top of the loaf before baking. Sometimes I do both."
INGREDIENTS
2 eggs
150g raw sugar
100ml extra-virgin olive oil
2½ tablespoons full-cream milk (or you can use buttermilk from making the butter)
2 very ripe bananas (about 250g in total)
150g (1 cup) self-raising flour
½ teaspoon ground cinnamon
2½ tablespoons Dutch-processed cocoa
100g dark chocolate (70% cocoa), roughly chopped
50g (½ cup) walnuts, roughly chopped
1 banana, cut in half lengthways
500ml (2 cups) crème fraîche
Pinch of sea salt
METHOD
Preheat the oven to 180°C. Grease a 24cm loaf tin with butter and line with baking paper.
In a large bowl, whisk together the eggs and sugar until pale. Pour in the olive oil and milk and whisk to combine. In a separate bowl, mash the bananas until smooth, then mix them into the batter. Sift in the flour and cinnamon. Stir gently, being careful not to overwork the mixture. If you wish to add the cocoa, chocolate and/or walnuts, add them to the mixture now. The cocoa will need to be sifted in, but just stir the chocolate and walnuts through.
Pour the mixture into the prepared tin and, if using, top with the halved banana. Bake for approximately 45 minutes or until a skewer inserted into the middle comes out clean.
Whisk the crème fraîche in the bowl of an electric mixer fitted with a whisk attachment. Beat until the solids separate, which will take around seven minutes. Strain through a fine-mesh sieve over a bowl and press on the solids to release all of the liquid. That liquid is buttermilk, which you can keep to use for another purpose.
Return the solids to the mixer and beat again for another 3–4 minutes to remove more buttermilk, and repeat the straining process. Fill a large bowl with very cold water and, working quickly, knead the butter in the water, squeezing out as much buttermilk as you can. Drain and repeat until the water is clear. Buttermilk left in the solids will make the butter sour, so it is important to remove as much as possible.
Mix in the salt -- this flavours the butter, but it also helps it keep for a little longer. It is now ready to use, or you can wrap the butter tightly in baking paper and, as long as you have removed all of the buttermilk properly, it will keep in the fridge for up to three weeks. If there's buttermilk still in the butter, it will sour quite quickly and will only last for about one week.
Ostro: The Pleasure That Comes From Slowing Down and Cooking with Simple Ingredients by Julia Busuttil Nishimura is published by Plum, RRP $44.99