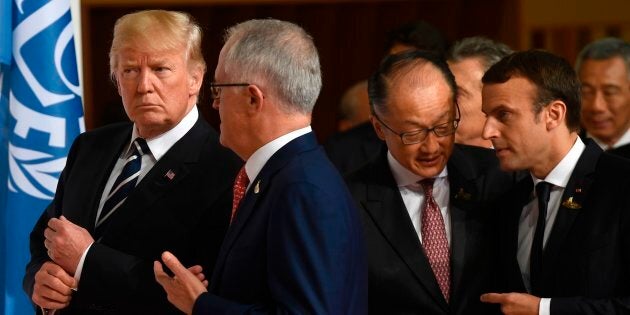 CANBERRA -- Prime Minister Malcolm Turnbull is urging Australians in north Asia to register with its Smart Traveller website in case an emergency evacuation is needed amid heightened tensions with North Korea.
It comes as the Prime Minister declared he is "absolutely" confident that U.S. President Donald Trump can handle the North Korean nuclear crisis.
After a sixth and largest North Korean nuclear test on Sunday and threats of more such "gifts" for the United States, Turnbull has again stated the risk of war on the Korean Peninsula is greater than it has been since the end of the Korean war 64 years ago and called any possible North Korean first strike a "suicide note".
"There would be a overwhelming and massive military response," Turnbull told the Nine Network's Today program.
"It would be a suicide note on the part of Kim Jong Un, but it would be a complete catastrophe."
The threat of conflict is clearly in evidence by the Prime Minister and Foreign Minister now instructing Australians in North Asia to register with the Department of Foreign Affairs.
"We always consider these evacuation contingencies," Turnbull said.
"Now, what's really important for Australians to do when they are overseas and particularly for those in north Asia at the moment is register on the Smart Traveller website of the Department of Foreign Affairs.
"What that will mean is firstly we know you are there. Secondly, if there's a need for an alert it can go straight to your smartphone and you can be connected."
Turnbull compared North Korea's provocative actions to the 1962 Cuban missile crisis, which brought the world to the brink of nuclear war during the Cold War.
"It is in many respects a more challenging situation than the Cuban missile crisis," the Prime Minister told Channel Seven's Sunrise program.
"The Cuban missile crisis, the two parties that were the United States and the Soviet Union, what we have now is in North Korea a rogue regime that is not taking heed from anybody.
"It is not a client state of China. China does not control North Korea. North Korea is not to China what Cuba was to the Soviet Union or what East Germany was to the Soviet Union."
Karl: Most Aussies think Trump can't handle his own hair let alone a nutbag North Korean dictator PM: I'll leave the fashion comments to you

— Karen Barlow (@KJBar) September 6, 2017
"Absolutely," Turnbull responded.
"The challenge is to bring the economic pressure to bear on North Korea so that it stops this dangerous provocative, illegal and reckless conduct."
This was followed by Stefanovic's proposition that he thought "most Aussies think Donald Trump can't handle his own hair let alone a nut bag North Korean dictator".
The PM diplomatically replied, "I will leave the fashion comments to you," and then moved onto China's crucial role.
"More will have to be done," Turnbull said. "This North Korean regime seems determined to continue disturbing and threatening the peace of the region."