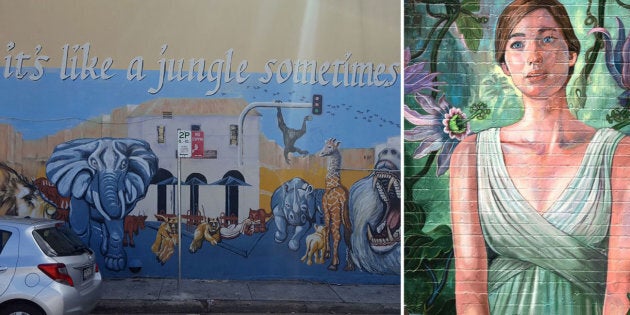 The 'It's like a jungle sometimes' artwork has been a staple of Sydney's inner west street art for years, but on Wednesday Apparition Media posted apologies on their social media accounts after locals were outraged the mural had been painted over with Lawrence's likeness.
"Unfortunately Apparition Media also painted this mural over a much-loved, iconic public artwork in Newtown on the weekend: 'it's like a jungle sometimes'. Council did not approve the advertisement, and the display of advertisements is prohibited in heritage areas. The matter is now being investigated by Council's Compliance Section."
The Instagram and Facebook posts for the Lawrence murals were flooded with angry comments, causing the company to issue an apology.
On Tuesday Apparition wrote that they had been in contact with the original artist, Colin Bebe, and that he gave permission to complete their 'mother!' mural, and will work on a new mural with the comapany. Their full statement reads as follows:
Hey Newtowners,

Let's just start by saying we're sorry to you all and you've been heard loud and clear. We managed to get in touch with the original designer/artist and he is a ripping bloke. He told us the history of the mural and what it represents. After chatting at lengths about this, and our common journey of losing someone to suicide, he has asked that we collaborate on the new mural and become part of the story. It shows the mark of the man that despite us painting over the mural without approaching him first and despite the public outcry from you all, he wants our team member to tell the story of her brother within the new artwork - in his words "This is all just another chapter in the story of this mural."

We have expressed our regret for painting over it and apologised for our ignorance. We are going to work together to restore the original mural in the coming weeks.

In the meantime, he has asked that we finish our mural. He is supportive of what we do and understands that we are a collective of sign writers who employ artists to do what they love doing - we are not a faceless corporate entity. After we complete the final stage of this mural, we are going to restore the original mural in collaboration with the artist and we have agreed to cover all costs, assist him in painting it and get the story of the mural out there to as many people as we can. We are also going to use this opportunity to raise money for a local charity of the artist's choice to raise awareness around youth suicide.

Again, we apologise to the Newtown community for painting over this much loved mural, hopefully something good will come out of all of this.

Before posting this, we gained approval for the artist to do so.

From the artists and creators of Apparition Media
The community response on their apologies has been mixed, with many congratulating the company for owning up to their mistake and others still outraged the mural went ahead at all.