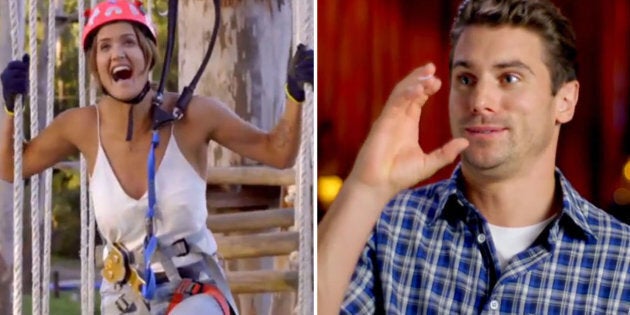 We're getting right down to the final days of 'The Bachelor', with only six bachelorettes left vying for Matty's heart.
The ladies wandered up to a large house, "nice house," "great house" "yeah it's a house" they all said as they made their way toward Matty and Osher. They revealed they were about to participate in a self-awareness test.
The ladies were going to be asked a series of questions like "who is the neatest" or "who wishes they were at home on the couch instead of playing stupid games" and would have to rank themselves from most to least.
The bachelorette at the end of the games would get solo time with Matty and a special performance with James Blunt.
The first question was "who is the funniest". "You can't be sexy and funny," Tara said wearing a gigantic comedy beach hat and flared bellbottom jeans.
Elora, after the kiss fumble from the previous episode, kept putting herself at the "most" end of the line which enraged Tara and the family of six who live in her huge hat.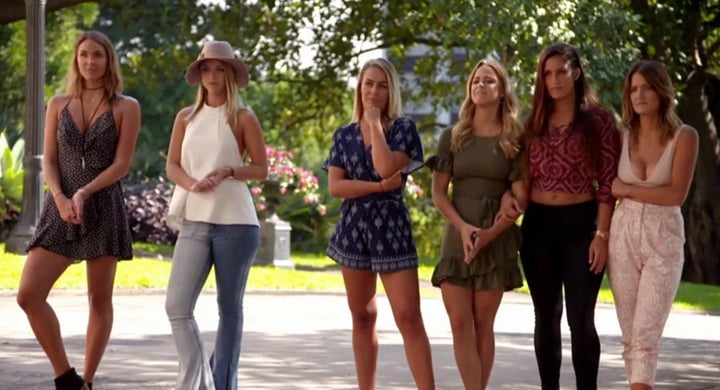 The next game was about deal breakers, the ladies had to attach deal breakers onto boxes that had balloons tied to them and if you're confused you should see the face we're making.
The third and final task was all about writing faux vows, or "declarations of love". "I do think it should be a two-way street," Elise said as she pulled out a fresh pack of Extra gum. Oh Extra, if only we could write our declarations of love for your crisp freshness and smooth product integration.
As Elise had to read out what she wanted in a partner to Matty at the end of an aisle, the other bachelorettes watched on in another room, judging. Unfortunately the whole episode had already been geared against Elora, so the women watching obviously were all for Elise, but criticised Elora. Who could be going tonight!!!! It's a mystery!!!!!!
Matty picked Elise for the solo time, and the the worst kind of date on these shows: live music being played to only two people. Matty dressed up like Sandra Dee as James Blunt awkwardly wandered onto a stage. "Hi guys," James Blunt said.
As he wrapped up his one contractually agreed song, James Blunt nodded at the pashing couple. "Go on then," he said as he wandered off to probably fire his manager.
For the final single date before hometown visits Matty rolled up his pants to give Cobie a really good look at his ankles. This season started with Matty wearing pants and he has continued to roll them up so high he should just cut out the middle man and buy capris.
Matty gave Cobie a beautiful hot pink helmet before taking her onto one of those obstacle courses suspended in the sky. "I'm scared of heights?" Cobie said as Matty wandered off into the distance.
"YEAH GOING INTO THIS," Cobie said frantically scratching at her arms and blinking 'SOS', "I WAS REALLY SCARED BUT I JUST NEED TO BE SUPER BAVE AND OVERCOME IT."
Romantically, Matty made the experience as awful as he could for Cobie and her fear of heights, making jokes and pretending to fall off things. Romance! Cobie was amazing, and really conquered a lot of the obstacles.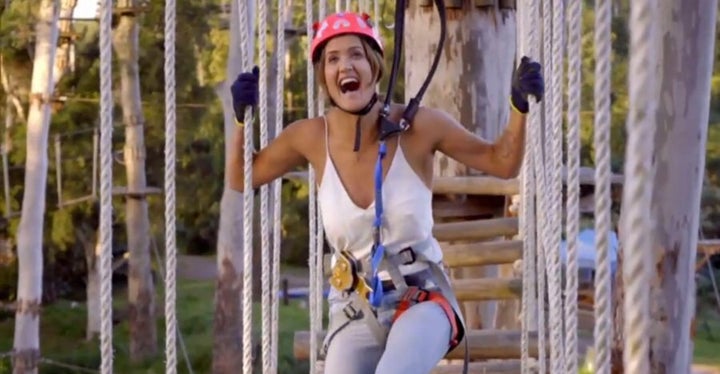 It was actually really heartbreaking to watch beautiful, kind Cobie facing her fears and all for Matty while he was describing her as "a really good friend".
Because the obstacle course wasn't brutal enough, Matty decided to let Cobie know he didn't share her feelings, and he basically summoned an Uber for her and sent her packing. It was truly, truly heartbreaking.
Cobie, you precious beautiful flower, you deserved better.
Matty rolled his pants to half-mast out of respect for her.
Back at the mansion, tensions were high in what could be the final cocktail party of the season. Instead of Matty and Cobie's Uber driver showing up at the cocktail party, Osher arrives to let the bachelorettes know Cobie won't be making an appearance, and that the five remaining would still have to go through a rose ceremony – in five minutes. Meaning no one would have time to chat with Matty.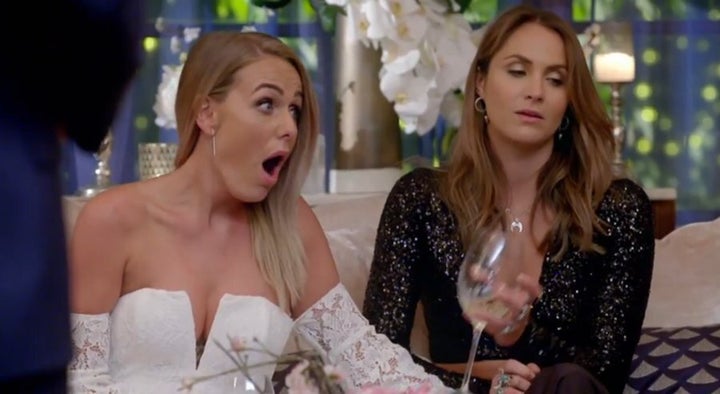 With four roses and one bachelorette being the target of everyone's dread it was a real mystery as to who would be going home.
It was Elora guys. Are ya shocked?
Elora was pretty classy, letting Matty know the remaining bachelorettes were "kickass". As she left the rose ceremony Matty chased after her to try and explain why he decided not to pick her.
After ripping out two hearts it was time for Matty to head to the home visits for each of the remaining four bachelorettes. Home visits are fun if you love super awkward conversations over casual BBQ settings.
First up was Tara, who asked Matty to meet her at Movie World. Tara arranged for a day at the amusement park which meant, finally, her constant screaming felt appropriate.
In every hometown visit there's always one relative that's the "stern" protective one, for Tara it was her little brother. But first, more screaming. As Matty walks into the house Tara's nominated stern relative demands Matty goes outside for the stern relative chat almost instantly.
Tara's brother Troy loved the opportunity to be stern relative for the day, calling Matty a liar for not knowing who he would pick at the end of the show. Matty said a lot of things about his "journey" and "connections" while Troy looked about as interested as if he was getting a lecture about his taxes.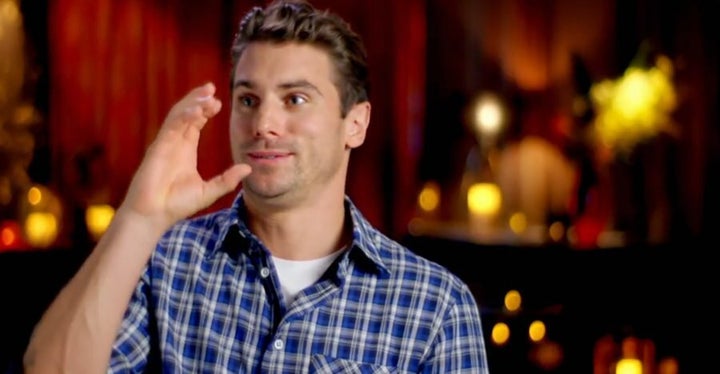 Matty was worried about breaking Tara's heart, and continued to suggest he could see himself spending the rest of his life with Tara. At the end of the day Tara opened up and revealed how anxious she was feeling, but told Matty she could see herself falling in love with him. Troy probably watched on sharpening a comically large machete.
After a beautifully raw moment between Matty and Tara it was time for Florence's home visit. Florence is Dutch, remember, so she was holding a tulip next to some windmills and bikes. It was like the producers googled "Dutch?" and picked out the top image results.
Florence and Matty had a picnic before a pash-sesh surrounded by windmills and ducks but Matty was shocked to find out he wouldn't be meeting Florence's family because... they live in Holland. Like bro, they're not on the Central Coast, they're in Holland. They're not gonna come meet some rando who has a 25 percent chance of dating Florence for a few weeks.
Don't worry, just because Florence's family couldn't be bothered to meet him didn't mean she didn't have a stern relative, it just happened to be one of the two friends she was introducing him to. When Florence reunited with her friends Matty was kind of left to the side.
"I started to feel like I was a bit of a fourth wheel," Matty said, completely misunderstanding that most vehicles have four wheels. At one stage Florence told Matty to stop holding her hand and you could almost hear the sound of her limo arriving to take her home.
Matty's grilling by Florence's mate was predictable and after their intensely awkward dynamic earlier in the date Matty seemed pretty checked out. We were also pretty checked out after we remembered there were still TWO MORE of these home visits.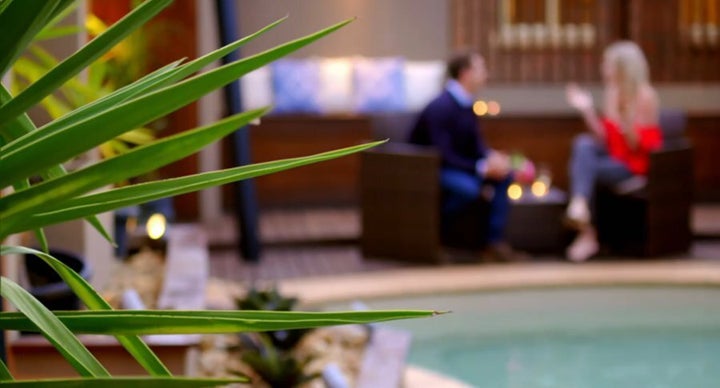 Next up was Elise, who let Matty know her stern relative would be her mum. Last time Elise's family members were on the show she dobbed on Matty and let her dad know he hadn't taken her on a single date yet. Next episode Elise nabbed the solo date. Perhaps this was her chance to force her parents to make him pick her at the end.
Matty gave Elise's mum a hand in the kitchen mashing potatoes as she mashed his potatoes for not taking Elise on a date sooner. The grilling didn't last long, however, and it seemed like things were going pretty great for Elise (sorry Florence).
Finally it was Laura's turn and we got to meet Buster, HER THREE LEGGED DOG. Ugh, just give her the final prize now. Her dog only has three legs and if we learned anything from his date with Florence, Matty LOVES being the third wheel/dog's leg.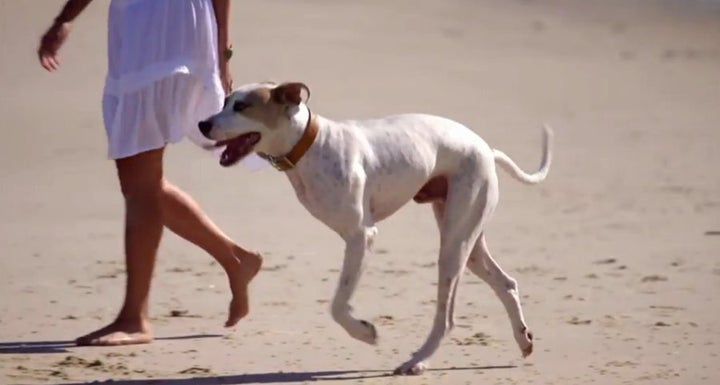 Matty and Laura both live in the same neighbourhood, "It really makes me wonder how we've never crossed paths," Matty said despite several reports pointing to the fact that they knew each other before the show.
Laura's chosen stern relative was her sister, who quickly pulled Matty aside to ask the exact same questions everyone else's stern relative asked. Matty gave some surprising (re: the exact same) answers, which obviously won Laura's sister over.
After their date Laura opened herself up to Matty, letting him know how she felt, but Matty wanted more. Unfortunately Laura wasn't going to open up unless he opened up. While neither was going to open up without the other opening up, we opened up a bottle of Pinot Noir because it had been a very long episode already.
Finally it was time for Florence to go ho- uh we mean the rose ceremony.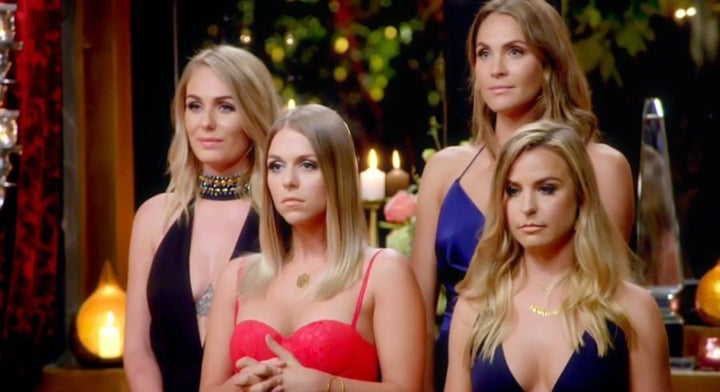 There was a big buildup as if Laura had anything to be concerned about, almost as if the production wanted us to doubt the idea that she and Matty have basically been married since the beginning of the show.
In another shock elimination, Florence went home. It was actually heartbreaking because just before Matty gave her the boot, she talked about how she felt like she was definitely falling in love with him.
In what has become our favourite part of every episode Matty ushered Florence out of the rose ceremony with his iconic line of "Hey Florence".
Only one week to go until (Laura) we find out (Laura) which of the (Laura) remaining (Laura) bachelorettes (Laura) Matty will pick (Laura).
(We think it's Laura you guys.)