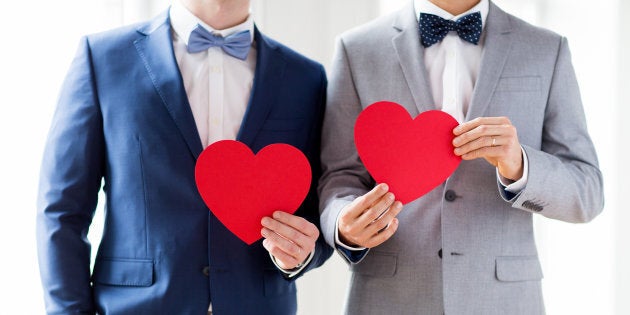 Well, as marriage equality advocates, as well as Labor and Greens types, have been saying in the last 24 hours -- it's time to win this thing.
With the last hurdle for the postal survey now cleared, forms will begin appearing in letterboxes from as early as next week. You'll have a few weeks to fill them out and post them back, before the final deadline on November 7, and the results being released a week after that. Here's what is going to happen now:
Key dates for the postal survey
Tuesday, September 12 -- voting forms start being sent out
Wednesday, October 11 -- requests to replace damaged or lost form closes
Friday, October 27 -- the date all Australians are strongly encouraged to return forms by
Tuesday, November 7 -- final deadline to return forms
Wednesday, November 15 -- survey results released
How will the public campaigns run?
Well, we still don't exactly know yet. Despite the actual voting forms being on the cusp of wide release, there still aren't a lot of hard and fast rules on how the respective 'yes' and 'no' campaigns will be governed. Because it's a postal survey, and not a legislated vote like a federal election, the regular rules around advertising don't apply. The government has been talking up the introduction of special rules to deal with the postal survey, such as requiring any public material such as TV ads or mail flyers having to meet certain standards of truth and avoiding insulting messages, but those rules still aren't in operation yet.
In fact, in recent weeks, we've seen a bunch of hurtful and plain false messages from the 'no' side, which conflate the marriage equality message with "political correctness" and criticisms of the Safe Schools program. There's even been posters from honest-to-god Nazis floating around, trumpeting discredited and rubbished studies into kids of same-sex families. Senator Mathias Cormann said the government was working to introduce legislation to ensure the postal survey complies with the same sort of rules which would cover a regular election.
"There are in the Electoral Act provisions that deal with misleading and deceptive conduct. But that has been interpreted by the High Court in the past relating to misleading and deceptive communications that would get the voter to fill out the ballot paper in an erroneous way," he said.
"We will explore to what extent it is sensible to put all of the safeguards in place that would normally apply in the context of a federal election."
"When there are things like authorisation requirements so that everyone can clearly identify who is responsible for particular communication."
The 'yes' side will be running a huge outreach campaign, trying to reach as many Aussies as possible to convince them to vote yes. Polls show the majority of Australians are in favour of marriage equality, but with the survey being voluntary, and fears that young people may not be necessarily excited about a postal vote, 'yes' campaigners say they will be pushing hard and not taking any result for granted.
What are our political leaders doing?
The main message coming from Labor, Greens and the marriage equality advocates seems to be "let's get this over with". All three sides have raised a multitude of issues with the postal survey and its predecessor, the plebiscite, including the harmful public campaign surrounding such a public vote, the cost and its non-binding nature meaning politicians could technically fob off even an overwhelming 'yes' result if they wanted -- but now, with the last hurdle to the postal survey now in the past, the message is that the vote needs to be won.
Tony Abbott, unsurprisingly, will be one of the lead campaigners on the 'no' side.
What if you're overseas during the postal survey time period?
Many Australians might be living overseas, or simply travelling abroad, during the entire period of the postal survey. Fear not, however, as the government has promised some paperless options for you to have your vote counted.
Australian Bureau of Statistics statistician Jonathan Palmer said the paperless option will be made available via a "secure access code" for an automated telephone service or secure online form, accessible via the ABS Information Line or the ABS website between September 25 to October 20.
"In these circumstances, only those eligible Australians will be able to request a secure access code so they can provide an anonymous survey response through an automated telephone service, secure online form or via the Information Line," he said.
If you need to get that done because you''re overseas, or you will be, check back with the ABS in a few weeks.
What if you need some help?
If you're an LGBTQ person who feels upset or unhappy during the postal survey campaign, there is help available. Rainbow Families has published a survival guide on its website (which you can find here) which details a number of practical ways LGBTQ families can help their kids stay resilient in the face of potentially savage campaigning.
You can also call Lifeline on 13 11 14, contact beyondblue on 1300 224 636, or talk to your GP, local health professional or someone you trust if you need other help.
So, what now?
Look after your LGBTQ friends and family, ask for help if you need it, get involved in the campaigns if you want, and most importantly, vote in the survey -- and vote yes.
If you need help in a crisis, call Lifeline on 13 11 14. For further information about depression contact beyondblue on 1300224636 or talk to your GP, local health professional or someone you trust.