Nearly a year after splitting from husband Brad Pitt, Angelina Jolie and her six children are still picking up the pieces of their once seemingly perfect life.
With Jolie's first film since announcing their separation debuting on Netflix on Friday, a Cambodian war epic titled "First They Killed My Father," the actress has officially returned to the spotlight with a handful of revealing interviews.
"I have had my ups and downs. I guess I am a little bit stronger," the actress told People about the past year. "We all have our difficult times, but as a mother you also have a responsibility first and foremost towards the kids. They are going through their formative years and everything else comes second to that."
"None of it's easy," she also told The New York Times. "It's very, very difficult, a very painful situation, and I just want my family healthy."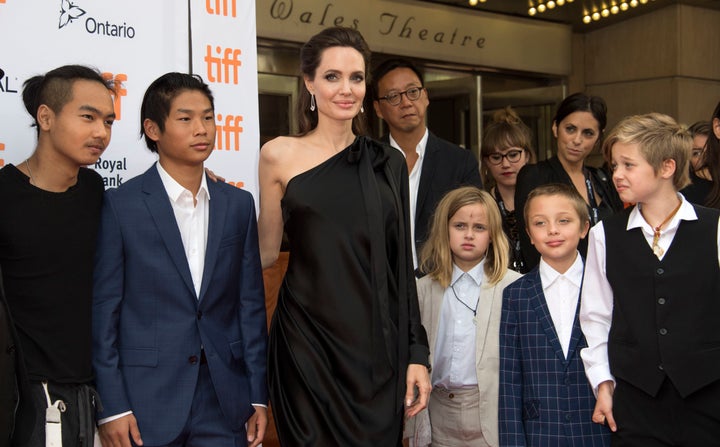 The former couple's children, Maddox, 16, Pax, 13, Zahara, 12, Shiloh, 11, Vivienne and Knox, 9, have been at the center of a custody battle between the two, stemming from an alleged incident of child abuse on a private jet, involving Pitt. The actor was later cleared of all charges ― Jolie still retains full custody of their children ― and relations between them have improved since deciding to settle their differences out of court.
"Everything will be around the children," she told People. "I haven't worked for over a year now because they needed me home. Everything was just stopped. I'm really sitting and talking with them because everything affects them. Every location, every type of project, I'm going to have to adjust it to however much they can handle."
"They really help me so much. We're really such a unit," she added. "They're the best friends I've ever had. Nobody in my life has ever stood by me more."
The Oscar winner has largely kept her brood out of the public eye, buying a large estate in Los Feliz neighborhood of Los Angeles for $25 million as a new home base for the family.
"I think they're itching to get out in the world again," Jolie revealed. "We've all been a bit in lockdown and going through some things. I think it would be good to get out there and play together."
Despite her admittedly insular life with her children at her side, Jolie isn't blind to public perception or afraid to return to an industry that, in part, stood by her estranged husband.
"I never expect to be the one that everybody understands or likes," she said. "And that's O.K., because I know who I am, and the kids know who I am."
To read Jolie's full interviews, head over to People and The New York Times.