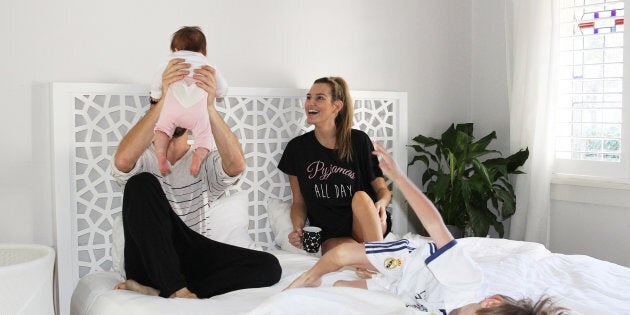 It seems we are fascinated by the lives of other people.
Learning about how strangers spend their days takes on some sort of voyeuristic journey and sometimes we even pick up little tips on how we can better our own day to day life.
With that in mind, we sat down with Dave Allison, the founder and creative director of sun-glass label Sunday Somewhere, and his wife Marcia Leone, blogger for Not So Mumsy.
Leone has been very candid in the past about the couple's fertility journey after they struggled to conceive their second child for years. She has since become an unofficial role model for women going through the same thing.
Allison's eye wear designs have been worn by Beyonce, Gigi Hadid, Vanessa Hudgens and Jessica Alba, just to name a few, though he's still totally humble about the whole thing.
What does an average morning look like for you and your family during the week?
Allison: "To be honest, the mid-week mornings are not too different to weekend mornings these days. Around 5:30am it's baby hand-over time, as my wife usually attends to Poppy all night whilst I sleep with Archie."
"Daddy/Poppy time is my time to connect with our little darling. This involves anything from swaying, swaddling and soothing her. As she is developing, the routine is becoming more diverse with play-time , which I love. Then I'm off to the studio to work on new season designs and check in with overnight emails with the Sunday team in London."
Leone: "A bit of hectic scrambling! Tag-team showers, nursing the baby while making breakfast and negotiating with a 5 year old to get dressed for school while he's having a meltdown over 'bumpy' socks..."
What does an average morning look like on the weekend?
Allison: "As above, but usually, hopefully, a slower start to the day. There's no alarm clocks set for school routine preps and if Archie and Poppy allow, it may even involve a sleep in for Marcia."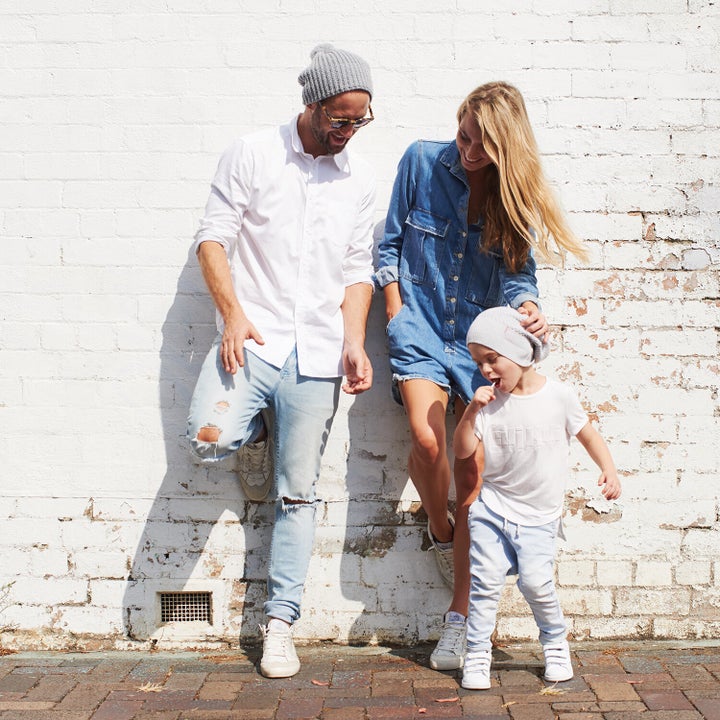 Leone: "Now that soccer has finished for the season, Archie and I get a much needed sleep in! I will hand the baby over to Dave around 6am and go back to bed for a couple of hours. We'll then make a yummy breakfast or walk to brunch."
What are the non-negotiables in your morning routine that make you happy?
Allison: "Coffee does help! If time permits, cooking a healthy breakfast is key, and connecting with my family is key. Knowing Marcia's plans for the day and getting Archie ready are my main roles that allow me to feel as 'organised' as possible."
Leone: "We can't be too strict with our routine at the moment as I'm guided by the baby's feeds. If Archie is dressed and ready to go to school on time it's a great start."
What do you actively avoid first thing in the morning?
Allison: "Family time in the morning is so important. But in saying that, there are times when I need to check-in online as deadlines may be looming or someone is urgently waiting on your reply for something. It's a day-by-day thing."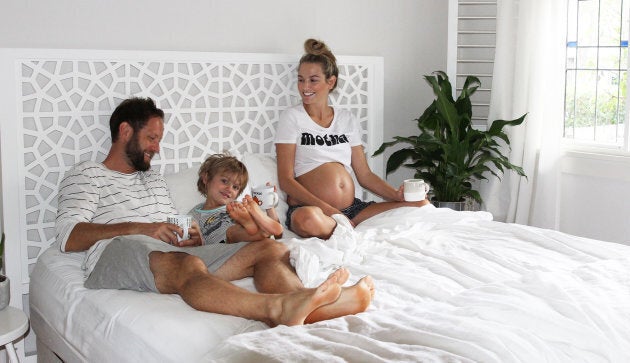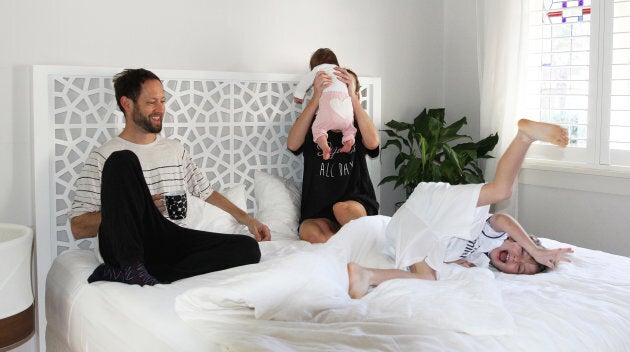 Leone: "I definitely don't have time to check my phone until after the school run."
What is a good morning to you?
Allison: A good morning during a week-day means we avoid arguments and the inevitable 'negotiations' involved in getting Archie off to school, happy. Mondays are the hardest. On a weekend, a good day starts with us all heading off together for a breaky at a favourite local café."
Leone: "At the moment with a new baby the bar is set pretty low -- I'm happy if I get to shower! If I've only been up once for twice to feed the baby and if Archie is dressed and ready to go to school on time I feel invincible! ha!"
How do you manage work-life balance, if you believe there's such a thing?
Allison: "As an entrepreneur and owner of a global business this is difficult. More so now, with the fact that my wife is also now as busy as I am. Whilst work life balance is a relevant consideration, it can be challenging."
"The reality is when you work for yourself you end up working a 60+ hour week so you don't have to work 40 hours for someone else. It's always important to have regular down time too. Penciling regular getaways into the calendar are so important and all give us something to look forward it."
Leone: "It's a constant struggle -- especially when you work for yourself from home and work kind of is documenting life! I have a few loose rules like phones down around 8.30pm. No technology at dinner table and a tech free family day once a week."