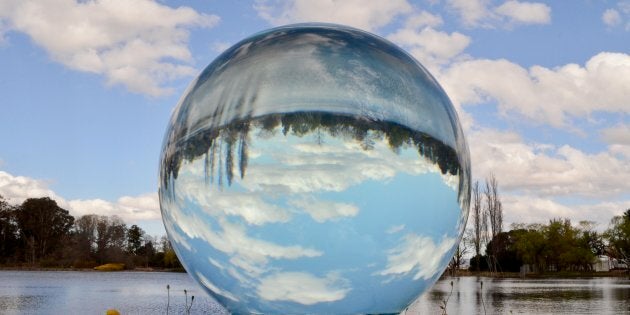 CANBERRA -- Floriade's head gardener Andrew Forster jokes he has some 'stern words' ready to lash errant tulips which may decide not to join Canberra's annual and immensely popular festival of all things floral.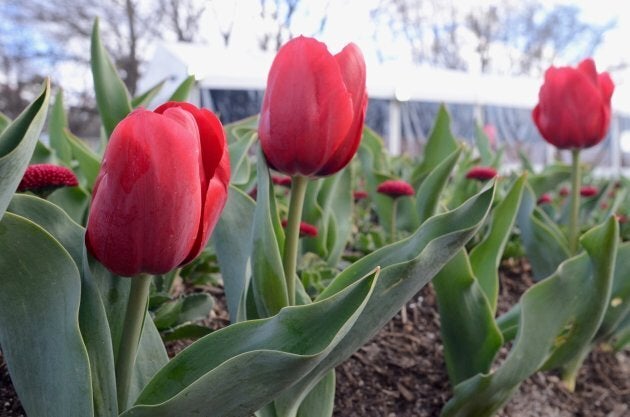 "Everything is looking good," Forster told HuffPost Australia as he buzzes around during final Floriade checks before it opens on Saturday.
"We have got some poppies popping and we can see the designs in the flower beds which is great."
"We can see all the tulips popping through as they are meant to be. We have been talking to them and telling them to make sure they behave themselves."
Floriade Facts

Over one million bulbs and annuals have been planted. Over 100 species of tulips.

Not just tulips. Pansies, poppies, violets, ranunculus, hyacinths, irises, daisies, bellis, parsley and kale.

3,000 box trailers of top quality planting compost.

200 planter boxes.

16 large sculptures.

350 people make it happen, including volunteers, staff, contractors, traders, caterers, gardeners and site maintenance personnel.
"Each day, from August, we have seen more Tulips pop through the gardens in amongst the pansies and the English daisies. We have got some daffodils in bud ready for the weekend and it is going to look really good."
Feathered friends have been a different matter.
"We always have an issue with birds," Forster explained.
"The cockatoos like to have a bit of nibble. And we have to keep the water hens out of the ones near the lake cause they like to have a bit if a snack."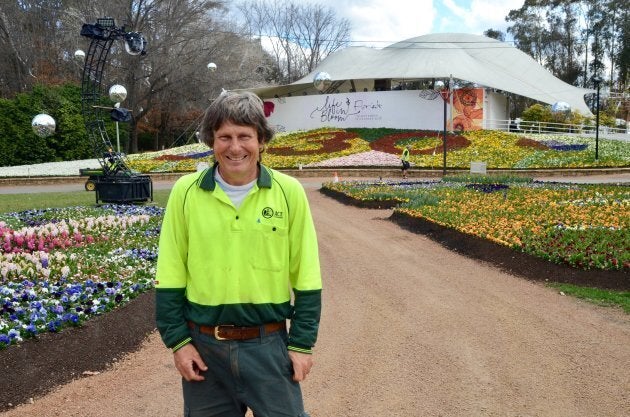 Forster has been involved in every single Floriade, from being an apprentice gardener back in 1988 to be head gardener for the past 20 years.
"I am very proud to have been a part of it and to bring Peter Sutton and Chris De Bruine's vision over years to what it is now," he said. "It is a wonderful event. Lots of people come here from all around the country, interstate and overseas. It is just a great thing to be at."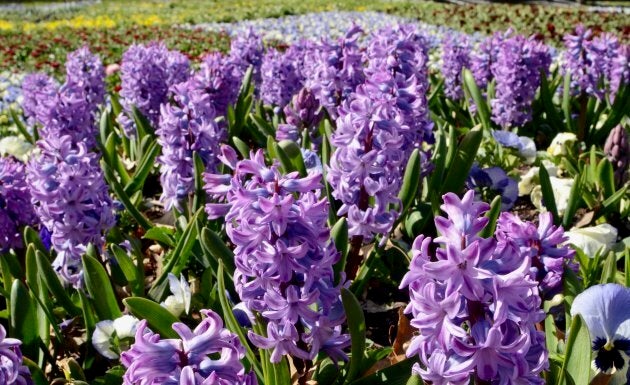 Floriade is one of major signs that Canberra's biting cold winter is done and spring has truly arrived.
It is almost a shame it only goes for a month, but like the flowers themselves, it only lasts for a short time.
This year's theme is rejuvenation and there are recreations of the most popular displays of previous Floriade shows, so the 2017 event is designed to look back as well as look forward.
But the main push is Floriade is bigger than ever before and around the large site there are scores of tilted, raised flower boxes for better views.
The ephemeral nature of flowers and churning shift in seasons is perfect for artist, Lucy Humphrey, who is showing her work 'Horizons' next to the lake.
HuffPost Australia caught up with her as the work was being installed in amongst poppies.
"It is a beautiful location and I think Canberra has a special relationship to the water and this work is about water," Humphrey said. "It is made with water. It is filled with about 1,800 litres."
"So whenever we have shown it, it has always had a special relationship with the water in the site. So putting it on the lake in Commonwealth Park is a beautiful place for it."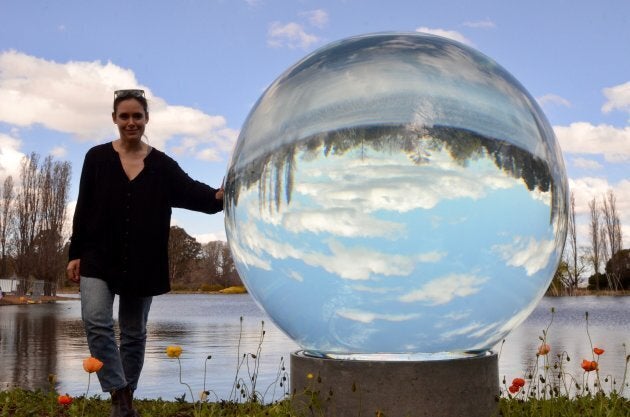 After the poppies, the tulips underneath will come through. It is suggested that Horizons is best seen at sunset during Floriade.
"This work, I like thinking about it as if it is kind of made of nothing," the artist told HuffPost Australia. "It is just made of the site so it is not about the object itself, it is about the place and the environment that it is in."
"So it is all about this place and the landscape and particularly landscape elements, the sky, all of the trees, the flowers and the water and passing clouds. That's what it is about."
"It is very ephemeral and site specific."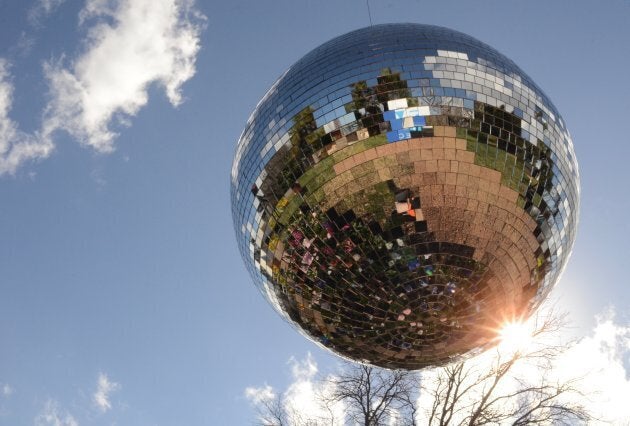 More Floriade

Highest attendance: 481,854 (2014)

Master Plan garden design of Floriade is 18 months in the making. Planting begins in February.

If all the bulbs from Floriade were laid out on the ground, they would cover 44 tennis courts.

Approx 8778 kg of food waste (or 204 full shopping trolleys) is recycled into compost.

Plant fibre at the end of Floriade is recycled into paper for a community art project.
Andrew Forster told HuffPost Australia the site is ready to go.
"The first Saturday at 10 o'clock, when the first people come through it is great to see their smiling faces," he said. "Especially after Canberra's cold winter. People come through and it is like they are getting out from under their doona, coming out and having a beautiful spring day."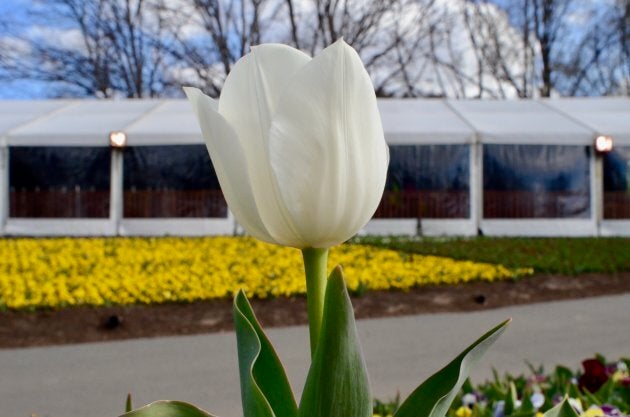 Entry to Floriade is free. It is to be found at Commonwealth Park, adjacent to Lake Burley Griffin, and starts Saturday 16 September and runs until Sunday 15 October.
After it is all done, still blooming blooms are not wasted. They are cut and bundled into bouquets for hospital and nursing home patients.