Jessica Biel sure knows how to lift our spirits.
Apparently, all it takes is the actress entering the set of "The Ellen DeGeneres Show" to the tune of "(I've Had) The Time of My Life," made famous in 1987′s "Dirty Dancing."
While dancing is not an unusual sight on DeGeneres' show, doing the iconic lift from the beloved film's ending is — and Biel pulled it off on Thursday's episode, with an assist from show DJ Stephen "tWitch" Boss.
"Well, that was fantastic," DeGeneres told a wiped-out Biel once the two sat down. "I mean, now somebody has to top that entrance. That is the best entrance we've ever had."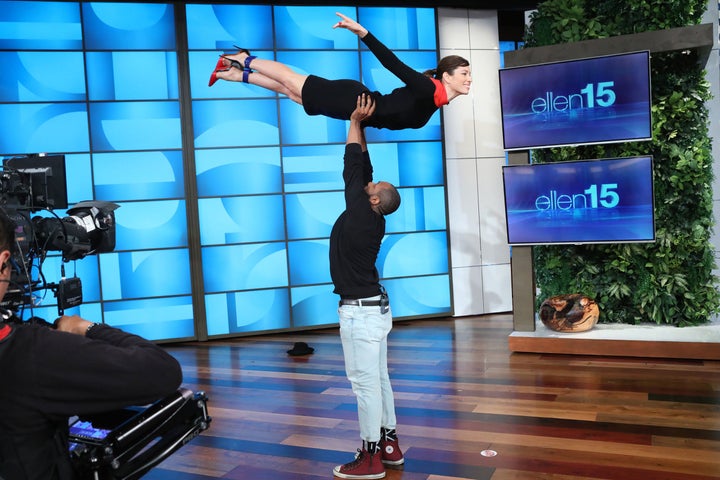 Biel explained that when she was talking to "Ellen" producers, they mentioned she still held the "record for the longest dance-in," something the actress called "so humiliating" in retrospect.
"Justin is a really good dancer," the host said, referring to Biel's former boy-bander husband, Justin Timberlake. "Do y'all do that?"
"Yes, I make him do that all the time, and like, his back goes out, and it's a disaster," the actress said, shaking her head. Biel told DeGeneres that Timberlake tries the lift "in the pool, out of the pool."
"Well, the pool's easier, right?" DeGeneres asked.
"A little easier," Biel said, nodding. Well, duh. Everyone knows its not as scary when there's water to catch you.
Check out Biel's previous "Ellen" dance sequence, which she called "the longest minute of my life" on Twitter. Come for the "Baby Boy" soundtrack, stay for the glorious mid-aughts fashion and highlights.