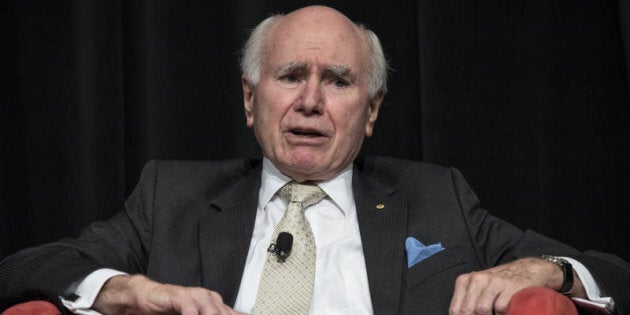 CANBERRA -- The Prime Minister who ensured, in 2004, that the definition of marriage was specifically stated as being between "a man and a woman" is insisting the Turnbull Government spell out what form the bill to allow same-sex marriage would take if the postal survey passes.
In a strong push back to the "yes" campaign's plea to not muddy the waters over the central marriage equality argument, John Howard is accusing the Government of washing its hands of any responsibility for what happens after a possible "yes" result. He's intervened in current government policy, criticising the government for, "merely stating that it will facilitate a private member's bill."
The former Prime Minister, who is firmly in the "no" camp, specifically wants the Government to spell out, in advance of the vote, what steps it will take to protect parental rights, freedom of speech, and religious freedom in the event of a "yes" result in the postal survey.
Howard has slapped down any description of these issues as "red herrings".
"The case for these protections is compelling, given the experience of other countries, such as the UK, US and Canada, in the wake of those countries changing their marriage laws," Howard said.
"Thus far, the Government's response has been to wash its hands of any responsibility, merely stating that it will facilitate a private member's bill.
"On the evidence to date, it would seem that the only protections in that bill will not go much beyond stipulations that no minister, priest, rabbi or imam will be compelled to perform a same sex marriage ceremony."
Prime Minister Malcolm Turnbull has promised there will be a parliamentary free vote on a bill to change the Marriage Act before the end of the year if there is a yes result in the postal survey.
It's widely expected the vote would be on a private member's bill, drafted by Liberal Senator Dean Smith, which contains provisions for religious protections which pro-marriage Liberals warn are unlikely to be in any Labor-created same-sex marriage bill.
Negotiations concerning protections are expected after a possible 'yes' vote.
But Howard claims this is nothing more than "scant opportunity for serious consideration of protections" and people voting now must be "fully informed".
"Those campaigning for a Yes vote call any reference to these issues "red herrings" or distractions." Howard said in the statement. "On the contrary, they are legitimate concerns."
"It is completely disingenuous to assert that a change of this magnitude to a fundamental social institution does not have consequences. It is precisely because parliament should reflect the will of the people that the people are entitled to know what, if anything, the Government will do on protections before they vote. Otherwise, people will not be fully informed when they vote."
At a Coalition Parliamentarians for 'Yes' function at Parliament House on Thursday, Attorney-General George Brandis said the sole issue is whether the law should be changed to allow same-sex couples to marry.
"That is the question and it is the only question on where the guidance of the Australian people is being sought," he told reporters in Canberra.
"I believe the time has come in Australia for there to be a resounding, emphatic 'yes' vote in favour of that proposition. I would not like to see the debate diverted by extraneous considerations."