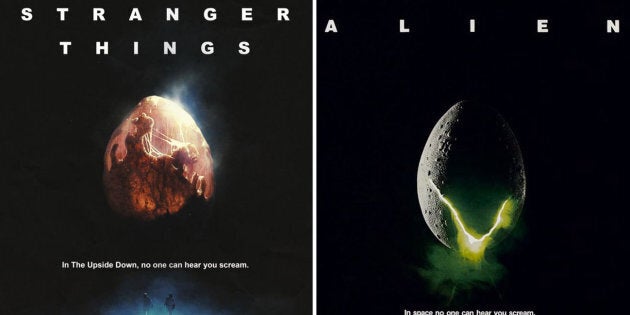 It isn't too much longer until we can return to Hawkins, Indiana with the second season of Netflix's smash hit 'Stranger Things' returning to the streaming platform on October 27.
If you haven't watched the first season yet, quickly go check it out, we'll wait right here. The series focused on a group of young kids, after their friend mysteriously vanished into thin air they go on a journey to find him. After they run into a young girl who barely speaks and displays telepathic abilities, things only get stranger for our young heroes.
It was such a surprising joy to watch, pulling from horror greats like Stephen King, John Carpenter and a sprinkling of Spielberg's classics, the expectations for season two are unbelievably high. Luckily it looks like the show is having a lot of fun with with even more tributes to Hollywood horrors.
In the lead-up to the next season the show has been releasing amazing tribute posters to the likes of 'Jaws', 'Nightmare on Elm Street' and 'Alien' to get people hyped for the show's return.
"I was just in the edit room with the [Duffer] brothers yesterday," Levy said to 'The Hollywood Reporter' referencing the show's creators.
"We were like, 'This is definitely darker. I hope everyone's down with this.' Because the threats to Hawkins and to our characters are bigger, darker, oftentimes scarier"
"People who found season one too scary for them probably you're going to be more scared by season two. But again, the best thing I can tell you is, through it all, it's got the best heart."
One thing's for sure, October 27 can't come soon enough.