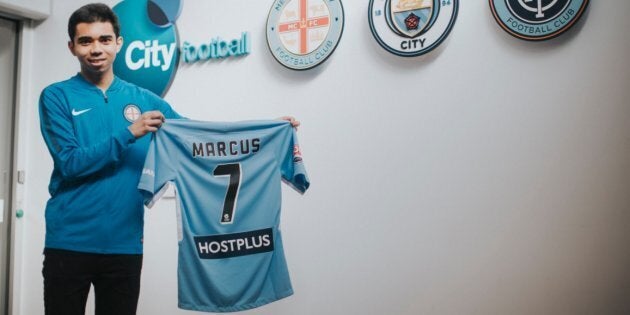 When you think of some of the stars of the A-League, names like Tim Cahill and Bruno Fornaroli are thrown around quite frequently.
You might not know it yet, but 20-year-old Melbournian Marcus Gomes can pick out a pass and score goals like the best of them in Australia's top-flight football competition -- the only thing is, when it comes to his game, he'll never set foot on an actual pitch.
You see, Gomes is a professional eSports player signed by Melbourne City in August as part of the club's expansion into the gaming industry. If you're not quite sure what that means, let us catch you up to speed.
ESports refers to the multi-million dollar competitive video gaming industry where individuals can become superstars simply for being skilled at any online game that features in massive tournaments held around the world.
As for Gomes -- his choice of 'sport' is the popular, world-famous 'FIFA' series that simulates international football into video game format using the skills of real players from real clubs in real locations.
While AFL team the Adelaide Crows were the first Australian sporting team to venture into the eSports industry by pairing up with a 'League of Legends' team in May, Melbourne City offering Gomes a professional contract makes him the first individual gamer to be signed in his own right to any club, anywhere in the nation.
And he was pretty excited about that.
"It was surreal. I was pretty excited but I had to keep it quiet for a while so it was hard to contain my emotion but once everything was sorted out and it looked like I was going to get signed, I was just over the moon," he told HuffPost Australia.
"There's quite a few other players in Melbourne that are pretty good but at the time when Melbourne City asked, I was the number one ranked player. It was pretty surreal that I was even there but I was taking it one step at a time because I didn't want to do anything that would put anything in jeopardy."
The agreement means Gomes is technically teammates with the likes of Cahill and Fornaroli and will represent Melbourne City as they do, except his performances will all come during international tournaments played inside the online world of 'FIFA'.
In the meantime, he plays from home and, like any other budding sports star, also has to train for his craft -- often playing 'weekend league' competitions that extend from Friday nights, through the weekend, to Monday.
"I do train and where I used to see it as just a game, now I see it as more -- there are specific points in my game that I want to improve," he said.
"I re-watch games, play against other top players, watch gameplay from other top players, there's a lot of detail that you can improve in 'FIFA'. You can always improve -- just the little things, like making the right pass.
"Before every new batch of weekend league games or new session, I always play a warm-up game against the computer on a hard difficulty. The warm-up game helps get your fingers warmed up, which is good especially here in Melbourne where it's usually pretty cold."
Melbourne City's CEO Scott Munn said in a statement the move to sign Gomes came as an appeal to the club's younger fans.
"With 16 million people playing FIFA worldwide, and the competitive FIFA scene taking shape, it is the right time for Melbourne City to move in to eSports," he said.
"We see a huge amount of potential and ambition in Marcus. He is a huge football fan, has proven success as a player, and is passionate about representing Melbourne City and engaging with our fans."
And if you think that being a professional video gamer sounds like an easy career choice, Gomes said there is actually more work that happens behind-the-scenes than people give him credit for.
Since beginning to play 'FIFA' with friends in 2006 when he was just nine-years-old, Gomes told HuffPost Australia Melbourne City found him at a FIFA Interactive World Cup (FIWC) tournament in 2016 while he was ranked first in the 'Rest of World' category.
At that point, he had won 155 of 160 games, which also ranked him 11th overall in the world and was, according to Gomes, "one of the highest peaks of my time playing FIFA".
In other words, he's pretty good.
Earlier in September, Gomes travelled to London as the only Australian player to qualify for the FWIC before suffering an early exit in the group stage.
Despite that, he said it's with platforms such as the one offered to him by Melbourne City that he feels a large responsibility to promote this new change to what people consider as 'sport' -- especially to the naysayers -- via his performances
"I see in the future A-League clubs signing players but I almost feel a responsibility to represent Melbourne City and Australian eSports well in FIFA," he said.
"If I put a good mark on the world stage, then it'll give confidence and an incentive for other clubs to sign other players.
"I'm not going to argue with people [who don't understand eSports], but all I want to do is explain to people how it all works, because people don't know -- it's such a new world. It's nice to have something to read or to watch that explains what I do and how it all works and how I represent the club and what the goals are."
And we're betting with an attitude like his -- there are many more goals to come.