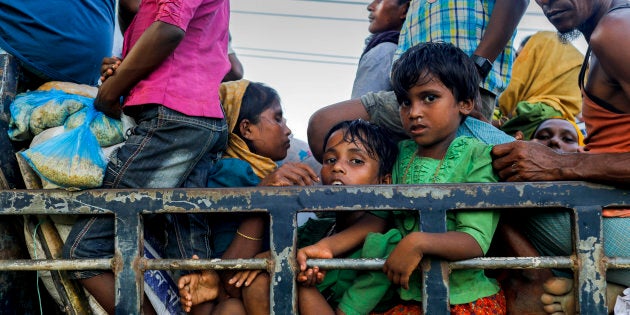 The Rohingya Muslim crisis continues to deteriorate as aid organisations struggle to support the skyrocketing number of refugees fleeing Myanmar into Bangladesh.
The mainly Muslim Rohingyas have been the target of a Myanmar government offensive since August, with concerns the anti-Rohingya action could amount to ethnic cleansing.
International rights groups have accused the military of burning Rohingya villages to force the ethnic minority from their homes, but this is denied by the nation's military.
The crisis is so severe that the number of refugees at the two UNCHR run refugee camps in the Cox's Bazaar region has doubled since August 25, reports Channel NewsAsia.
The International Organisation of Migration said the flow of Rohingyas into Bangladesh was unprecedented.
"We are potentially going to have one of the world's largest IDP (internally displaced persons) camps in one concentrated area," a spokesman for the organisation said.
Oxfam Bangladesh's Interim Country Director, M B Akhter, said Oxfam planned to help 200,000 people, approximately half of the number of Rohingya people who had recently crossed into the region.
"They have no clean drinking water and no food. They are homeless and hungry following a long and treacherous journey across the border. Many are now sleeping under open skies, by roadsides and in forests, with no protection," Akhter said.
"People are physically and emotionally traumatised."
Another of Oxfam's experts on the crisis, Paolo Lubrano, told the ABC that humanitarian aid organisations are overwhelmed by the growing number of refugees.
He said the not-for-profit's capacity and resources as humanitarian aid agencies were insufficient to cover the needs of all people that currently needed assistance.
Lubrano said at least 40,000 Rohingya Muslims had arrived in the region in the last couple of days.
"The immediate emergency is certainly the distribution of fresh water, provision of sanitation facilities to prevent widespread water borne diseases. But also distribution of food and preparation of shelter," he added.
"At the moment there's well over 50,000 people that we observed, literally yesterday, on the roadsides, settling in makeshift camps in very precarious conditions."
Clothing for children was another important emergency provision, he said, especially given around 60 per cent of the Rohingya refugees were defined as "children underage".
Women, children, older people and those with disabilities were especially vulnerable, with reports of violence against women on the rise since the start of the humanitarian disaster, Oxfam said.
The government of Bangladesh is reportedly considering opening a large area to accommodate more of the Rohingya who have entered the region, although this has raised concerns about security and the impact on the local community.
"It's a place where infrastructure is very poor in terms of hospitals, in terms of roads, in terms of provision of water as well. So even local resources are really strained," Lubrano said.
"It's very difficult to predict what's going to happen in the next month."