California will become the first state to ban pet stores from selling cats, dogs or rabbits that don't come from a shelter or rescue group if Gov. Jerry Brown (D) signs the bill sent to him this week.
The Pet Rescue and Adoption Act, AB 485, passed the California State Senate with a 32-0 vote on Tuesday, NBC San Diego reports. It had passed the State Assembly in May on a 55-11 vote. More than 30 California cities already have similar local laws, according to the Fresno Bee.
The governor has until Oct. 15 to sign the bill into law or veto it, the Bee notes. Brian Ferguson, a spokesman for Brown, declined to comment to The Associated Press on whether he plans to sign it.
Under the legislation, pet store owners that still wished to sell cats, dogs or rabbits would have to work with local animal shelters and rescue groups to do so.
Supporters of the bill, which include prominent animal advocacy groups like the American Society for the Prevention of Cruelty to Animals and the Humane Society of the United States, point to two main benefits. First, it would prevent California pet stores from supporting breeding facilities that mass-produce animals, often in deplorable conditions. Those operations are popularly referred to as "puppy mills," although the same kinds of facilities also exist for cats and other species.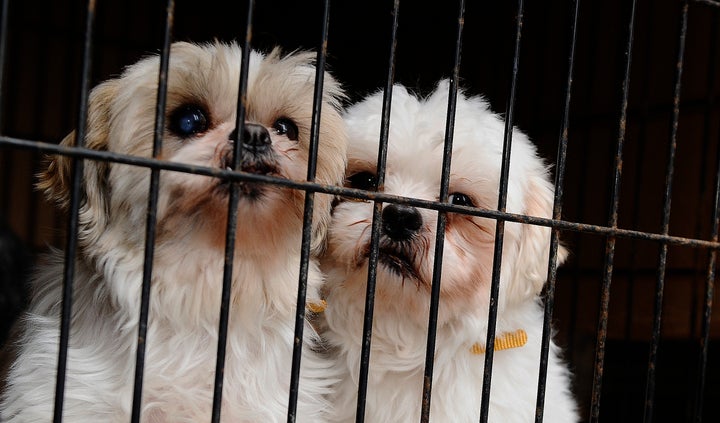 Additionally, the legislation would promote the adoption of pets from animal shelters. Last year, an estimated 1.5 million companion animals were euthanized in shelters in the United States, according to ASPCA data.
Dr. Gary Weitzman, president and CEO of the San Diego Humane Society, pointed out that the measure could also save taxpayer money.
"California taxpayers spend over a quarter of a billion dollars every year to house homeless animals," Weitzman said in an ASPCA press release sent to HuffPost. The money aside, he added that the legislation's chief value is that "it eliminates a main source of sales for inhumane commercial breeders."
Opponents of the bill argue that it would limit consumer access to popular breeds of animals found less often in shelters. They also note that the genetic and medical history of animals in shelters is not always known.
"Pet stores represent a well-regulated and reliable source for responsibly raised animals, often breeds which are not readily available nearby," Mike Bober, president and CEO of the Washington, D.C.-based Pet Industry Joint Advisory Council, told the San Diego Tribune.
However, the proposed law would only affect pet stores, meaning that people wishing to purchase an animal directly from a private breeder could still do so.
According to the ASPCA, more than 230 cities, towns and counties in the United States have similar laws.
One of the most comprehensive of those measures was passed in Cambridge, Massachusetts, in August. Cambridge's ordinance bans pet stores from selling any non-rescue animals other than fish — meaning that besides dogs and cats, it also covers everything from birds to snakes to small animals like mice, rats and hamsters.