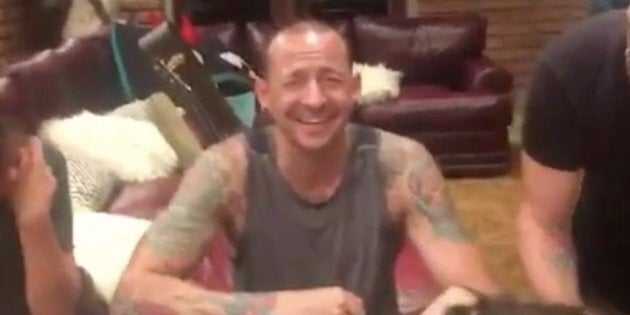 Just hours before Chester Bennington's death by suicide, the Linkin Park frontman was filmed laughing and joking around with his family, showing that "depression doesn't have a face or a mode," his bereft widow said.
"My next tweet is the most personal tweet I have ever done," Talinda Bennington, who was married to the musician for 12 years, wrote on Twitter Saturday. She has worked to spread awareness about depression since his July death.
In her following tweet, a 40-second video showed her late husband laughing while sampling trick jelly beans, which were disguised with either sweet or vile flavors.
After swallowing a "rotten eggs" flavored one, the father of six dramatically pounds on the table and pretends to throw up while a child's squeal of laughter can be heard. As he walks away he smiles at the camera.
"This is what depression looked like to us just 36 hrs b4 his death. He loved us SO much & we loved him," she tweeted along with the video that included the hashtags #fuckdepression and #MakeChesterProud
The video came almost two months after the 41-year-old took his life at his Southern California home while his band was touring with their latest album. In past interviews, he had spoken of having suicidal thoughts after being a victim of child abuse. He also spoke of abusing drugs and alcohol.
His 15-year-old son, Draven Bennington, also spoke out against suicide this week in videos posted on behalf of National Suicide Prevention Week.
"I want to make a commitment that I will talk to someone before I hurt myself when I'm feeling depressed, sad or going through a hard week, month or year," he says as his dad's song, "Numb," plays in the background. "I want to challenge you to do the same ― to help yourself, not hurt yourself."
If you need help in a crisis, call Lifeline on 13 11 14. For further information about depression contact beyondblue on 1300224636 or talk to your GP, local health professional or someone you trust.