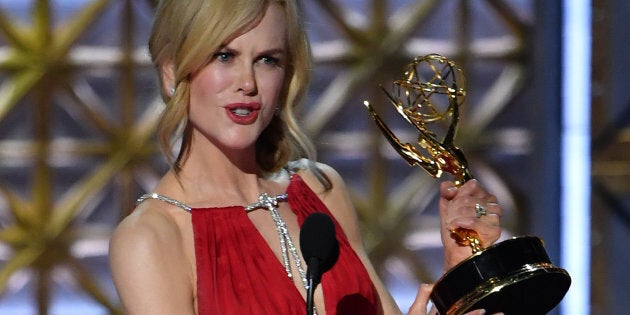 During the 69th Annual Emmy Awards it was all eyes on Nicole Kidman, a front-runner to win the Outstanding Lead Actress in a Limited Series or Movie, and our Nic didn't let us down.
Accepting the award for her role in the HBO miniseries 'Big Little Lies', Kidman tearfully thanked her family for sacrificing so much as she pursued her artistic endeavours.
"I have a huge artistic family who have supported me in all my ups and downs," Kidman said accepting the award, "You have been so loyal to me my whole life thank you for that".
"I also am a mother and a wife. I have two little girls, Sunny and Faith, and my darling Keith, who I asked to help me pursue this artistic path and they have to sacrifice so much for it."
Brushing away tears, Kidman dedicated the award to her daughters.
"I want my little girls to have this on their shelf and to look at it and go, 'Every time my mama didn't put me to bed it's because of this! I got something!'"
"I want them to know that sometimes when you're acting you get a chance to bring a bigger message and this is their contribution and your contribution. We shone a light on domestic abuse," Kidman said.
"It is a complicated, insidious disease. It exists far more than we allow ourselves to know. It is filled with shame and secrecy and by you acknowledging me with this award it shines a light on it even more so thank you, thank you, I bow down to you."
'Big Little Lies' went on to win the award for Outstanding Limited Series where she and co-producer Reese Witherspoon spoke about their friendship spawning opportunity.
Their co-stars Laura Dern and Alexander Skarsgard, who played Kidman's abusive husband, also won in their categories Outstanding Supporting Actress and Outstanding Supporting Actor in a Limited Series or Movie respectively.