Skerrit posted to his Facebook page through the worst of the storm, describing the winds as "merciless."
About 9:20 p.m. local time, Skerrit wrote: "My roof is gone. I am at the complete mercy of the hurricane. House is flooding." Soon after, he reported that he had been rescued.
Less than two weeks after Hurricane Irma began carving a path of destruction across the Caribbean, several islands in the region are bracing for Maria to take its toll in the next two days as it gains strength.
Maria is expected to approach Puerto Rico and the Virgin Islands Tuesday night and early Wednesday. As many as 25 inches of rain are possible across the region, and storm surge could reach as high as 9 feet.
"It will essentially devastate most of the island," Puerto Rico's governor, Ricardo Rosselló, told USA Today.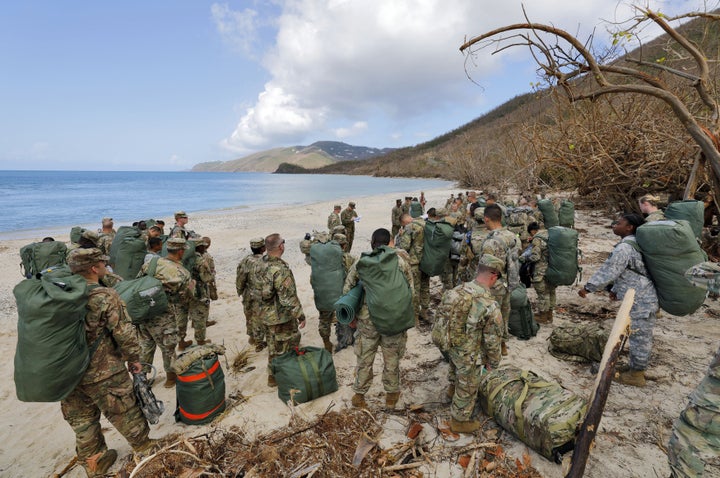 Officials in Puerto Rico urged residents in unsafe homes to evacuate. Rosselló said 500 shelters were ready to take in up to 133,000 people.
"You have to evacuate. Otherwise, you're going to die," Hector Pesquera, the island's public safety commissioner, said. "I don't know how to make this any clearer."
Those islands are still reeling from deaths and damage in the wake of Hurricane Irma. The storm claimed at least three lives in Puerto Rico, at least four in the British Virgin Islands, and at least three in the U.S. Virgin Islands, where electricity may not be restored for months.
A hurricane warning was also in place for Guadeloupe, St. Kitts, Nevis, and Montserrat.
This article has been updated with more details about Hurricane Maria.