When Clinton Pryor was 15, he made three promises to his father as he lay dying.
He swore to his dad he would protect his family; fight for his people's lives and keep his people's culture alive.
"I just wanted to make a difference and bring out the truth about what's really happening in Australia," Pryor, now 27, told HuffPost Australia.
"I wanted to get up and give the people hope and continue standing up for their rights."
"Get up" is exactly what he did.
The year-long walk to led to a brief, but now infamous, meeting with the Prime Minister.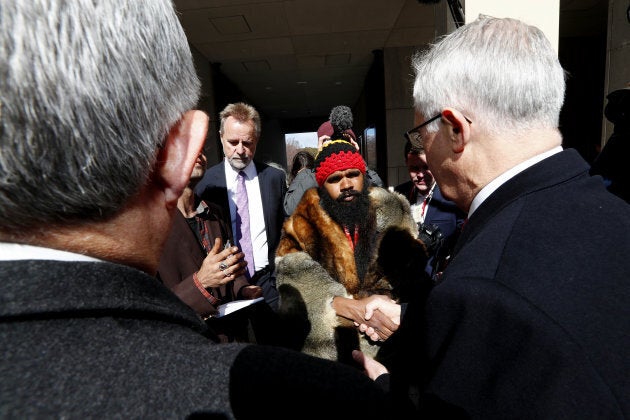 Originally started to raise awareness of the forced closure of indigenous communities, Pryor's walk opened his eyes to a raft of problems that weren't being covered on the news.
"There's so much that needs to be done here to improve this country," said Pryor, who describes himself as a Wajuk, Balardung, Kija and a Yulparitja man from the west on his Twitter profile.
"You can't trust the social media, or news. You have to actually go out and see with your own eyes what's really going on. When I look at this country, I look at it with a different view."
He's been called the 'Spirit Walker' -- a name from the central desert -- after the spirit that touches your heart and inspires you to do something, "to go walkabout or something," Pryor said.
"My spirit told me to get up and go for a walk," he said.
It was the only way to capture world's attention as well.
Some of the communities and stations had no water, no services, no counselling services and were gripped by suicides and unemployment. His journey also took him to Kalgoorlie for the funeral of 14-year-old Elijah Doughty, whose death has torn the town apart.
He's also concerned about the effect mining is having on indigenous communities, as well as the lingering effects of prior governments' intervention policies.
"It's time for the government to listen to our people, for once -- (to) our elders and leaders of communities. Everyone's on the same boat," he said.
Seven Pairs Of Shoes And Long, Lonely Stretches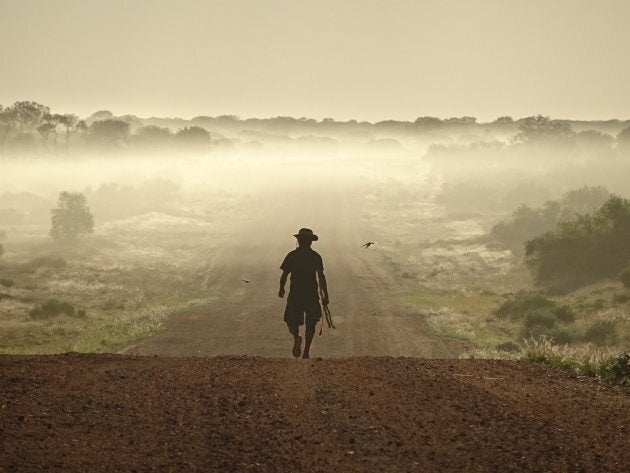 Not everyone was in Pryor's boat, though. He had nay sayers urging him not to bother.
"You had people say 'nothing's going to change, you shouldn't be walking, you're not going to make a difference," he said.
He ignored them though, and faced his journey's biggest challenges: sore feet (it cost him seven pairs of shoes) and long, sometimes lonely, stretches frustration.
But when he threw his stick into the dirt and shouted into the Gibson Desert's wild darkness "what am I doing", the answer came back surprisingly quickly.
"Something jumped in my heart to tell me to keep walking," he said.
"I was dehydrated, I was thinking. And after listening to all these issues, the sad stories, and the anger, it really hits you in the heart."
He met an old man walking across the desert. A widower, he was walking across Australia for his fifth time.
"He told me there'd would be times I wanted to give up, give in... his (late) wife gave him the strength to the strength to continue ," he said.
'It's Really Bad'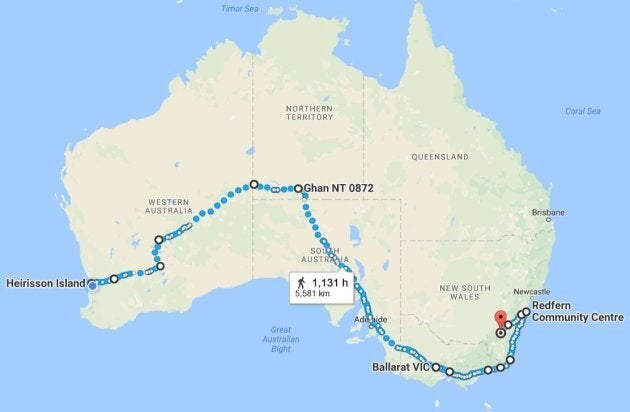 In early September Clinton made it to Canberra, meeting with political leaders and other prominent Australians.
After nearly a year walking he got to spend 20 minutes with the Prime Minister. Pryor says his pleas fell on deaf ears during the brief time he spent with the PM.
"It's really bad," Pryor said.
"There are so many issues to be addressed to the government, and to only spend 20 minutes. It fell on deaf ears."
It galvanised Pryor's resolve to highlight indigenous issues in Australia, and he's set his sights higher than the Prime Minister.
"Well, I had to figure out another way to get the attention of the government of Australia," Pryor said.
"I'm going to go over to England to see the Queen, before King Charles steps in."