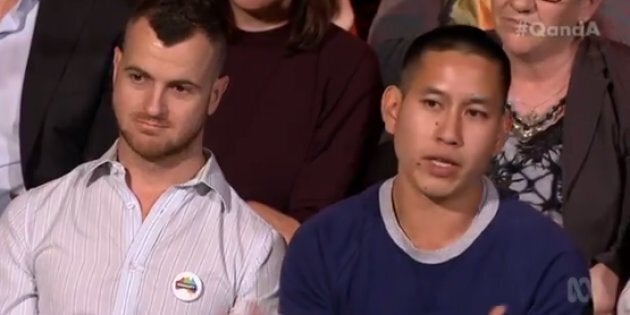 A gay, Australian-born, Chinese 'Q&A' audience member confronted Coalition MP Michael Sukkar on Monday night over his decision to vote 'No' in the postal survey on marriage equality, labelling the decision a reflection on same-sex relationships.
Questioner Alexander Lau originally told the panel that his mother, who holds traditional Chinese views, will only vote 'Yes' in the survey out of love for her son, but said he believes that his extended family, and also much of the Chinese community, do not hold similar views -- resulting in homophobia and a conflated debate on the matter.
"Many in my extended family don't hold particularly favourable views of the LGBTQ community and that my relationships are somehow less," he said.
In response, Sukkar said that Lau should not think that 'No' voters such as himself look down on same-sex couples and question the legitimacy of gay relationships.
"This is going to be a robust debate, but my view is -- those of us who believe very strongly in traditional marriage shouldn't be lumped into the basket that we are somehow hateful, or somehow don't view Alexander, your relationship as being legitimate," he said.
"There's another conservative argument for same-sex marriage which says -- we want to promote and support long-term stable relationships. They are often the bedrock of our society. But it's not illegitimate to say the countervailing set of arguments which in my case mean that I will vote 'No' are that there are very significant consequences for our country if we vote for same-sex marriage."
It was in response to that comment that Lau was then able to convey the significance of Sukkar's 'No' vote on his own same-sex relationship.
"When I go to family functions, my relatives don't ask about my relationships because they're uncomfortable about the idea of it," he said.
"They don't openly... they're not hostile to my relationships or me as a person, they'll chat about other things, but in their way it's accepting my sexuality in their own way. However, my sister or my cousins, if they're seeing someone new, they'll have conversations with my aunts, uncles, cousins about their relationships.
"So in that sense, you voting no is really a reflection of my relationship because what you're saying is that I'm not allowed to have a marriage or I'm not allowed to have a relationship that is worthy of marriage because that is something that only you can have as a person in a relationship of opposite sex. So when you do go to cast your ballot of 'No', you are saying that your relationship is worthy of marriage and mine is not."
You can watch Lau's emotional response below at the 3:06 mark.
That included Deputy Prime Minister Barnaby Joyce saying he wants 'Yes' campaigners to get out of his face, and National's senator Matt Canavan telling everyone worried about the tone of the debate they were "delicate little flowers" and ought to "grow a spine".
In response to the heated national discussion and Lau's question, Federal Opposition Senator Penny Wong, who is of Malaysian background, said the marriage equality debate in Australia needs to be viewed in the same light as previous equality-based debates.
"We have often argued, certainly those of us who arrived in this country, or who have different surnames or look a bit different, we have often argued for equal treatment on the basis of the principle of equality," she said.
"We have said in the past, you know, the White Australia Policy was inappropriate. We said discrimination on the basis of race was wrong. We have seen over the last couple of years a defence again across the ethnic communities again sending down the Racial Discrimination Act.
"You can't pick and choose equality. You can't pick and choose it. If you believe in the principle on the basis of race or gender, I don't see why it is a principle that is somehow diminished or abrogated because of someone's sexual orientation."
At the other end of the panel, Greens Senator Sarah Hanson-Young also threw her support behind the questioner and same-sex marriage, saying a shift in support for marriage equality is occurring in the Australian community.
"What has happened is that the Australian people have over time grown to support overwhelmingly marriage equality. The notion that doesn't matter what gender you are, if you're in a loving committed relationship, you should have the right to marry," she said.
"I think that is what you're seeing is a shift in support. And thank goodness because for far too long members of the [LGBTQ] community have sat in silence and been treated as second class citizens, and I think it's time we ended that."