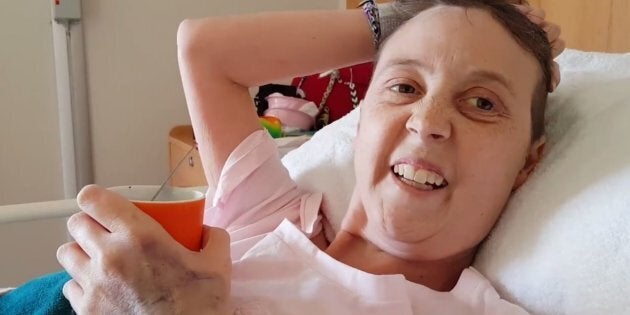 In the final days before she died, Connie Johnson recorded a thankyou message for 'The Project' host, Carrie Bickmore.
In the video, Connie thanked Bickmore for the support she offered both to her personally, and to the Love Your Sister charity.
Connie Johnson died of cancer in early September. She died surrounded by family and friends including her husband Mike, her two children, Willoughby and Hamilton, and her brother, actor Samuel Johnson.
"'Love Your Sister' started as a small, grassroots organisation and 'Love Your Sister' has become what it is because of your support," Connie Johnson says in the video.
"You supported us from the very beginning when there were very few people who backed us, you backed us, and you taking a gamble on us means we have been able to build something that is big and beautiful and something that is a little bit bigger, well, a lot bigger than just a guy on a unicycle."
Bickmore has known the Johnson family for years, and has used her position on 'The Project' to publicly promote and support the 'Love Your Sister' campaign. Having lost her husband to brain cancer in 2010, Bickmore is herself a well known advocate for cancer awareness and runs her own charity, 'Carries Beanies for Brain Cancer'.
"I buggered up one of Connie's dying wishes," Samuel Johnson wrote in the Facebook post accompaning the video.
"I'm not mad at myself though, coz perfection is unattainable and there's like 1000 of her wishes that I got right, but I got a bit befuzzled during last night's The Project desk talky bit, and I literally forgot the ONE thing Connie sent me there to do on the day of her funeral - to bring this vid to Carrie."
"It took her to die for me to learn anything about her. All the lessons are coming really quick and strong, you know. It's a very heightened time. Really, it's only in her absence that her lessons have become most profound," he said on the program.
Johnson also appointed himself "head of cancer vanquishment in this country" and vowed to continue the fight against cancer in Connie's absence.