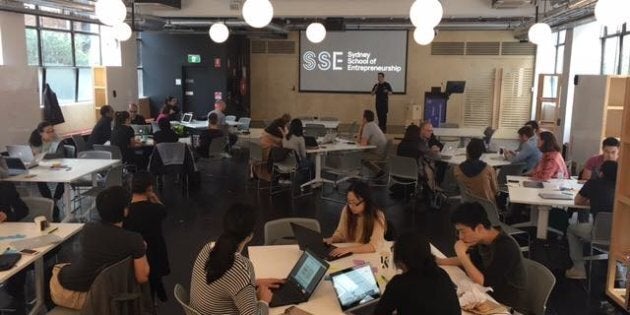 As governments and welfare bodies worldwide grapple with how to ease homelessness, an innovative event in Sydney brought together strange bedfellows in the tech, religious and social services communities to brainstorm ways to combat the issue.
Organised by co-working space Vibewire, IT and social experts came together for a hackathon. It's the sort of event more often used by the likes of Facebook or Google, where people with varied skills gather in small teams to 'hack', or solve, a tricky problem. A hackathon is usually more geared toward coming up with a tech solution or idea, but Vibewire president Gavin Heaton told HuffPost Australia that the plan was to apply the concept -- events which he has facilitated with big-name hosts like Qantas, UNSW and Johnson & Johnson -- to a social issue instead.
"We should be able to apply the same thinking to the social impact space. We said 'let's do what we've been doing with our more corporate partners, for this social challenge'. Little is happening from a government policy perspective, there has been little change despite how much money and services have been invested," he said.
Heaton said around 80 people participated in the event in nine teams, including data scientists, IT professionals, representatives from social organisations including Jewish House, Exodus Foundation and the NSW Council of Social Services, and a handful of people who have experienced homelessness themselves.
After two straight days of brainstorming, planning and building, the winning team was chosen -- a group which designed a centralised booking system which would help different homelessness facilities link their clients with available accommodation, medical and social services. Currently such linking requires much time and multiple phone calls to nearby services, but the idea from the Care Connect team would place all the available services online to show availability, cutting the work down to the click of a mouse -- like an AirBNB for social services.
"Jewish House have a psychologist and sometimes have appointments, so if another service doesn't have psych, they will ring around to find that service for their clients. The process is currently manual, they have to do a ring-around to other services then go through validation process to make sure their client is eligible for that service, including gender, age, background, demographic," said Kimberley Lee, one of the team members.
"It takes a lot of time, and it's something they have to do every single day. We thought, what if we streamlined the process, turn a 30 minute process to five. Improves efficiency but helps organisations achieve more outcomes by filling their spots and making sure they're being used as much as possible.
"It seemed like an obvious thing. We based it on a current need and a solution that is possible. Once we've built this booking system, it will be an immediate impact."
While the hackathon was meant just to come up with an idea, not necessarily actually implement it, the Care Connect team came into a bit of lucky timing. While they were named winners on Sunday, a NSW government tender for homelessness services was closing at 9am the next day. The team worked through the night, again, and submitted their application for funding to actually build their platform, and now await the outcome.
"We wanted to make something real, that we could give to someone or continue it on after," Lee said.
"We are going forward with our idea and committing to it, hoping to get some funding. It's a passion project right now but we can see the value in this. We've done the hardest part, creating a viable business, now it's a mater of putting together the details to build a platform."
The second-place team created a platform for matching young people at risk of homelessness with 'aunties' and 'uncles' in the community, like a mentorship or guidance program.
Rabbi Mendel Kastel of crisis support service Jewish House, one of the supporters of the hackathon, said he was impressed by the quality of ideas and their potential to address issues around homelessness.
"There is a lot of room for innovation in the homelessness space. In a city like Sydney, we shouldn't have homelessness in the way we do. We're a prosperous country, we can do better," he said.
He said the Care Connect idea could be a game changer.
"Exodus might have a podiatrist, Jewish House might have to call around and try to find one. With this service, we could see when they have capacity. If a legal firm has 1000 hours of help to give away, rather than giving it to one charity, they can put it into the system and share it," he said.
"People might want to help out one charity, that charity might not need it but another charity does and they can use it, so the person can put into the system to share. We can use another charity's capacity and they can use ours."
Vibewire will be holding further social hackathons in coming months, focusing on issues like domestic violence, mental health and more. For more information, or to get involved, see Vibewire's Facebook page.
"There are ideas out there and we need to engage with them. It's a shame the government hasn't yet but hopefully they will more, and recognise there are new ways to do things, not just throwing money at it," Kastel said.
"It's new eyes, people coming from different backgrounds, sharing their thoughts and coming up with real solutions."