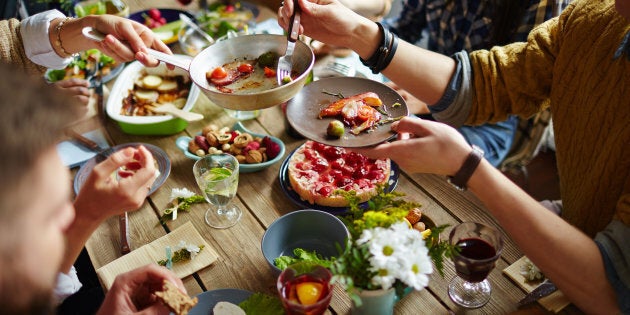 Entertaining is an art that many of us hope to master, but even the most diligent host or hostesses' efforts can be thwarted by the varying needs of our guests. And allergies can make everything from kids' parties to a normally fail-safe barbeque into a minefield of disaster.
Although the most common allergies include nuts, eggs, shellfish and wheat, severe reactions have been seen after eating bananas, chicken and even celery.
But the good news is, cooking for people with allergies no longer has to be stressful, or include boring, second rate food that leaves guest looking enviously at other people's plates.
Here are five simple allergy friendly recipes -- to suit both cooking with basic utensils and an all-in-one.
1. Nut And Dairy Free Falafel Balls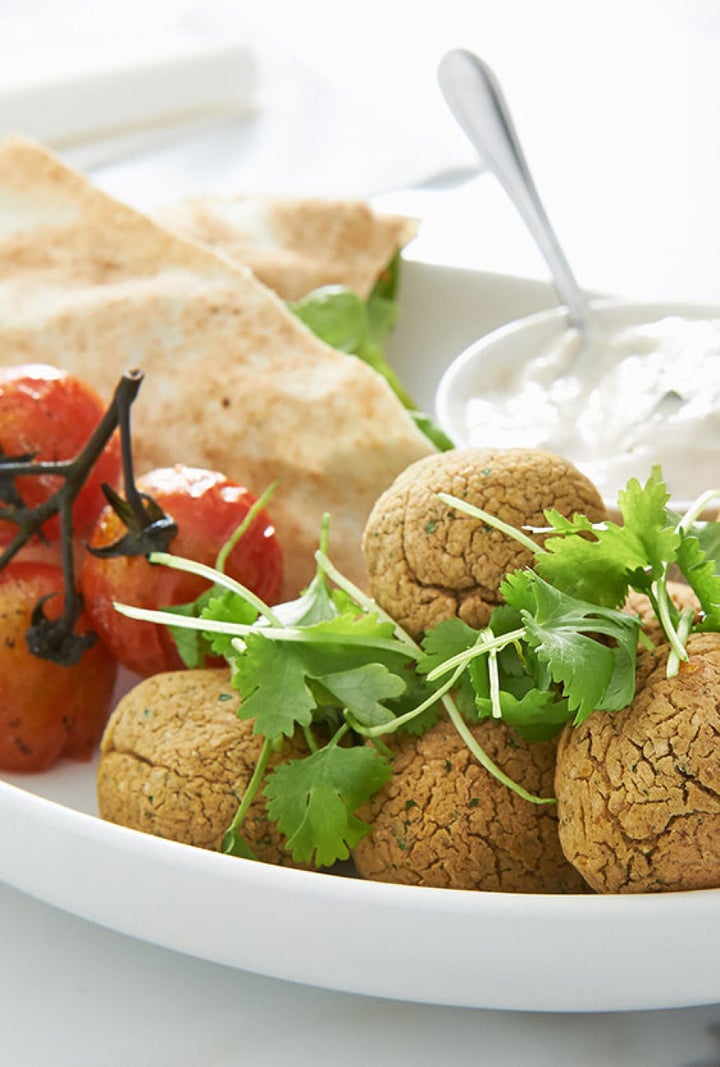 Perfect For: A Drinks Party
Canapes often contain seafood, cheese or nuts -- three of the most common allergies. "These falafel balls are easy and quick to make, plus they use legumes -- something many of us don't eat enough of," nutritionist and founder of the Get Lean programme Dr Joanna McMillan, who devised the following recipes, said.
Ingredients:

¼ cup of each, fresh mint, coriander and parsley, chopped
1 clove garlic, peeled and crushed
½ teaspoon each ground cumin and cinnamon
1 egg
400g can chick peas, drained
400g can butter beans, drained
¼ cup dry bread crumbs
Place all ingredients in to a food processor or your all-in-one and blend until well combined. Cover and refrigerate for 30 minutes. Roll one tablespoon of the mixture into a ball, repeat with remaining mixture. Place onto a greased oven tray and spray lightly with oil and cook in a preheated oven on 200°C for 15 minutes.
2. Sweet Potato Blini With Cumin And Sesame Creme Freche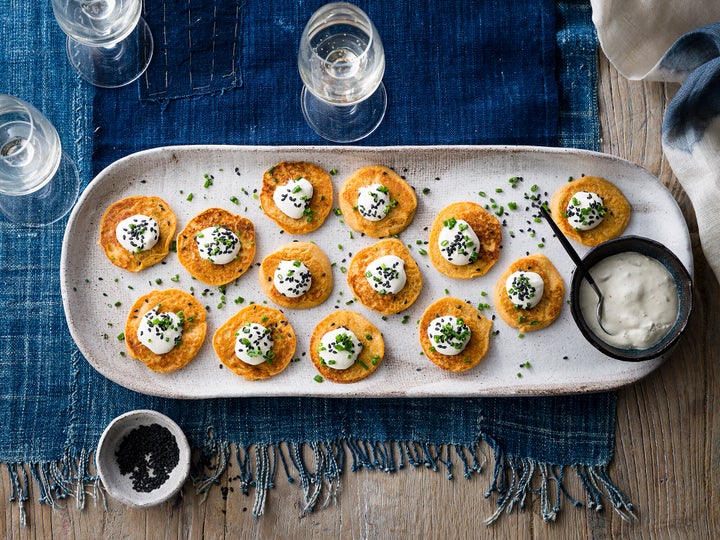 Perfect For: A Summer Garden Party
Parties are tricky if you're catering for large numbers of guests who may have any number of dietary restrictions. So these gluten free, nut free and vegetarian sweet potato blinis are a great option. "The flavours are approachable but sophisticated and they're a one-handed snack so everyone can hang onto their cocktail while they nibble," says the dish's creator, Dani Valent. This recipe is geared to a Thermomix, which makes it a great quick option to prep ahead of the party.
Ingredients:

Blinis

100 g buckwheat
500 g water
300 g sweet potato, peeled, cut into pieces (2 cm)
1 lemon, juice and zest, peeled in strips (1 x 4 cm), no white pith
5 sprigs fresh thyme, leaves only
50 g unsalted butter, plus extra for frying
·300 g full cream milk
1 egg
20 g extra virgin olive oil
1 tsp baking powder
1 tsp salt flakes
½ tsp freshly ground black pepper

Crème fraîche with cumin

200 g crème fraîche
1 tsp ground cumin
1 tbsp tahini
½ tsp salt
1 tbsp black sesame seeds, to serve
12 chives, finely chopped, to serve
Method:
Place the buckwheat into mixing bowl and mill 20 sec/speed 10. Transfer into a bowl and set aside. Then place the water into mixing bowl. Place Varoma into position, then weigh sweet potato into it. Secure Varoma lid and steam 16 min/Varoma/speed 2, or until tender. Set aside to cool (approx. 5 minutes). Empty mixing bowl.
Place sweet potato, lemon juice and zest, thyme, butter, milk, egg and oil into mixing bowl and mix 10 sec/speed 8. Then add baking powder, salt, pepper and reserved buckwheat and mix 20 sec/speed 5.
Scrape down sides of mixing bowl with spatula and mix 5 sec/speed 5. Mixture should be a sturdy pouring consistency; if needed, add a little extra milk and mix 5 sec/speed 5.
Place a frying pan (26 cm) over medium-high heat and add a little of the extra butter. Place tablespoons of blini mixture into pan and fry for 1-2 minutes on each side, or until firm and golden brown. Transfer onto a plate to cool. Continue frying remaining blini mixture, adding a little butter to pan between batches as needed (makes approx. 36 blinis). Clean and dry mixing bowl.
For the crème fraîche with cumin:
Insert butterfly whisk. Place crème fraîche, cumin, tahini and salt into mixing bowl and whip 10sec/speed 2. Remove butterfly whisk.
Top blinis with crème fraîche mixture and garnish with black sesame seeds and chives before serving.
3. Dairy And Gluten Free Berry, Quinoa And Almond Muffins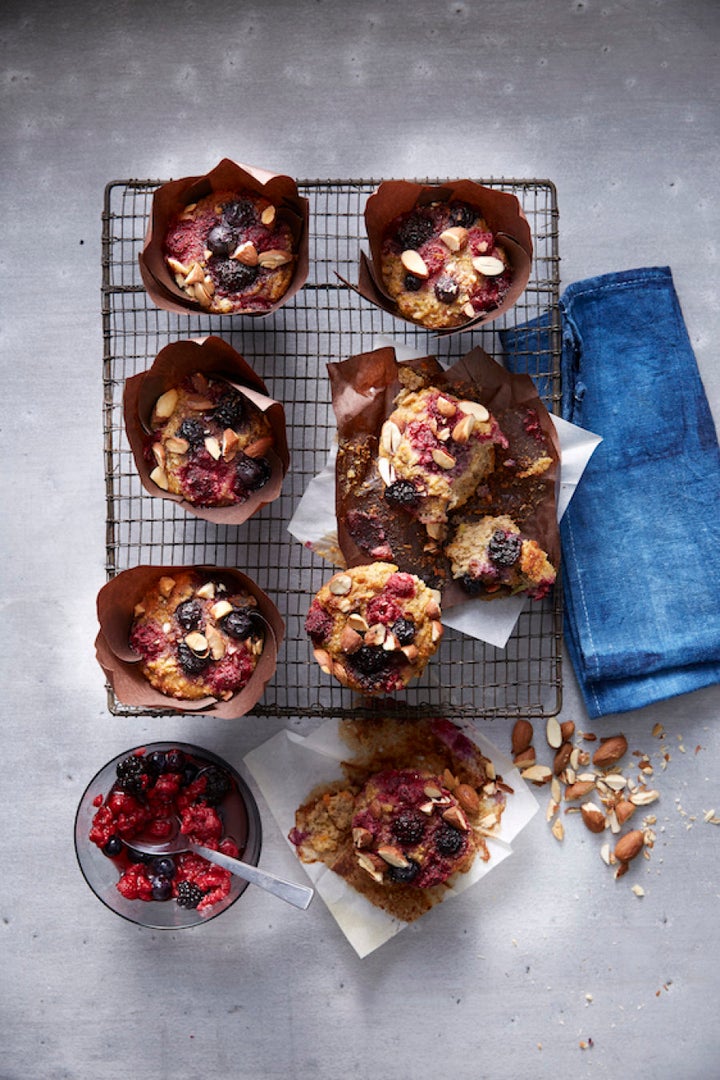 Perfect For: A Play Date
"I always use extra virgin olive oil in my baking instead of dairy," McMillan said. "The phytochemicals in oil are remarkably stable so you'll still benefit from the nutrition found in the fresh oil. The combination of quinoa and almond meal works perfectly in place of flour. These are healthier than most muffins and children will never know they don't have butter or flour in."
Ingredients:

1 tsp ground cinnamon
2 cups frozen mixed berries
2 tsp vanilla extract
½ cup coarsely grated carrot
½ cup coarsely grated zucchini
¼ cup sultanas
3 large free range or organic eggs, lightly beaten
½ cup quinoa (about 1 ½ cups cooked quinoa)
½ cup brown sugar
½ cup dry roasted natural almonds, roughly chopped
150g almond meal
¼ cup extra virgin olive oil
1 tablespoon chia seeds
Method:
Place the quinoa in a small saucepan and add 250ml warm water. Bring to the boil, cover with a lid and reduce heat to low. Cook for 10 minutes. Remove the quinoa from heat and set aside with lid on for 5 minutes. Transfer into a large bowl and refrigerate for 30 minutes or until at room temperature. Preheat oven to 180°C. Place the almond meal, extra virgin olive oil, eggs and vanilla in to a large bowl and whisk to combine. Mix in the carrot, zucchini, sugar, sultanas and chia seeds. Sift in the cinnamon and baking powder. Mix in the cooled quinoa. Divide the mixture into 12 muffin cases and top with berries and almonds. Bake for 30 minutes or until muffins are cooked through when tested with a skewer.
4. Gluten, Nut And Dairy Free Chicken Curry With Pumpkin And Spinach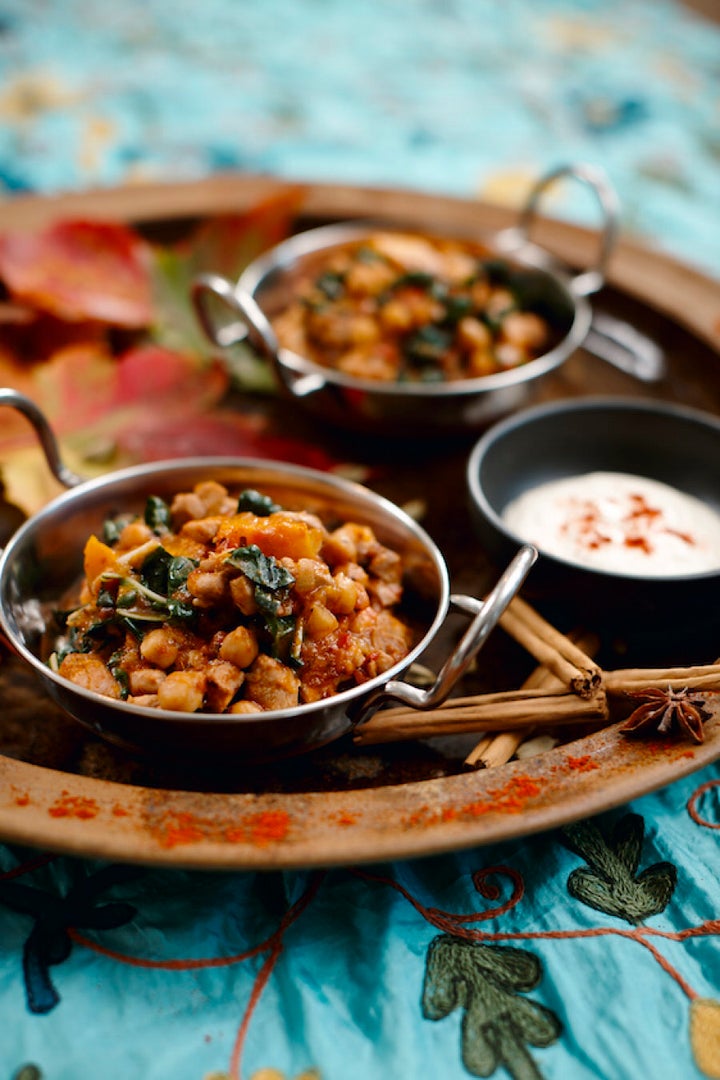 Perfect For: A Dinner Party
"A really good curry is hard to beat," McMillan said. Always a dinner party pleaser, they can be made to cater for plenty of allergies too.
Ingredients:

1 brown onion, finely sliced
1/2 butternut pumpkin, peeled and diced
400g can of diced tomatoes
200g baby spinach
400g chicken thigh fillets, diced (visible fat trimmed)
400g chickpeas, drained and rinsed.
1 tablespoon extra virgin olive oil
1/4 cup water, 1/4 cup red curry paste, 1 cup salt reduced chicken stock, 1/3 cup coconut milk
Method:
Combine the onion and extra virgin olive oil in a medium sized pan and stir until the onion softens. Add the curry paste and gently fry until you smell the aromas. Add the water and stir to combine. Add the diced chicken and pumpkin and stir to coat with the curry paste. Add the tomatoes, stock and coconut milk and bring to a simmer over medium heat. Reduce heat and simmer gently for 20 minutes or until pumpkin is just tender. Stir in chickpeas and spinach and simmer for two minutes, stirring occasionally, or until the spinach has just wilted. Serve immediately.
5.Potato Pizzas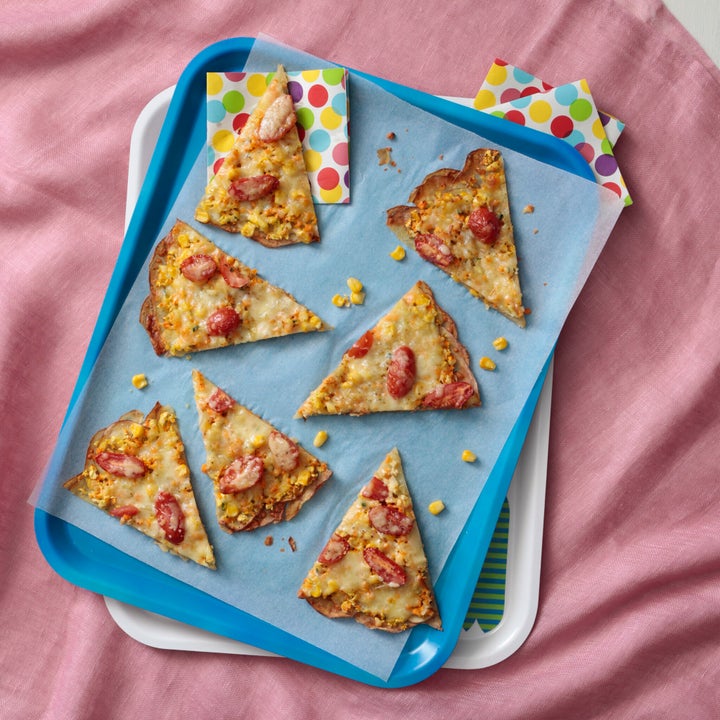 Perfect For: A Kid's Party
Catering for kids allergies can be trickier than a grown ups party. "Having two young children myself, I know how important a child's birthday is to them -- and how daunting it can be getting ready for a party! This recipe is free from gluten, nuts and eggs, and packed full of hidden vegies," Bianca Mazur, Executive Manager, Health and Nutrition, Thermomix said of this kid-friendly recipe. It's a great option for a Thermomix, and a quirky alternative to regular pizzas.
Ingredients

200 g mozzarella cheese, cut into pieces (4 cm)
Olive oil, for greasing and drizzling
2–3 Ruby Lou potatoes (approx. 480 g), peeled and cut into very thin slices
2 garlic cloves
150 g sweet potato, cut into pieces (4–5 cm)
100 g carrot, cut into pieces (4–5 cm)
50 g zucchini, cut into pieces (4–5 cm)
80 g frozen corn
200 g cherry tomatoes, cut into halves
Salt, to taste
Ground black pepper, to taste
Method:
Place mozzarella into mixing bowl and grate 10 sec/speed 7. Transfer into a bowl and set aside. Preheat oven to 180°C. Grease 2 pizza trays (30 cm) well with oil.
Place 2 layers of the sliced potatoes over the base of each pizza tray. Drizzle with oil and bake for 15–18 minutes (180°C), until slightly crispy. Place garlic, sweet potato, carrot and zucchini into mixing bowl and chop 5 sec/speed 5. Spread mixture over potato to the edge of the bases.
Scatter corn and cherry tomatoes over vegetable mixture. Season with salt and pepper and sprinkle with reserved grated mozzarella, then bake for 22–25 minutes (180°C) or until top is golden. Set aside to cool slightly, then cut into wedges and serve warm.