Girls as young as seven are encountering gender stereotypes in all areas of their lives.
Findings from the Girlguiding's Girls' Attitudes Survey, of 2,000 girls aged seven to 21, found that 55% of girls believe the pressure of these stereotypes affects their ability to say what they think. Nearly 60% said the pressures affect what they wear.
The news comes shortly after research of more than 100,000 children showed one in a quarter of girls (24%) are depressed.
In January 2017, a study showed children as young as six are influenced by stereotypes, such as the idea that brilliance or giftedness is more common in men.
So what role does a parent play in empowering their daughter to go against the norm?
"There is still that stigma there of stereotypes," said Amanda Gummer, child psychologist and founder of Fundamentally Children. "There is a long way to go to get rid of that but parents can definitely help break this down."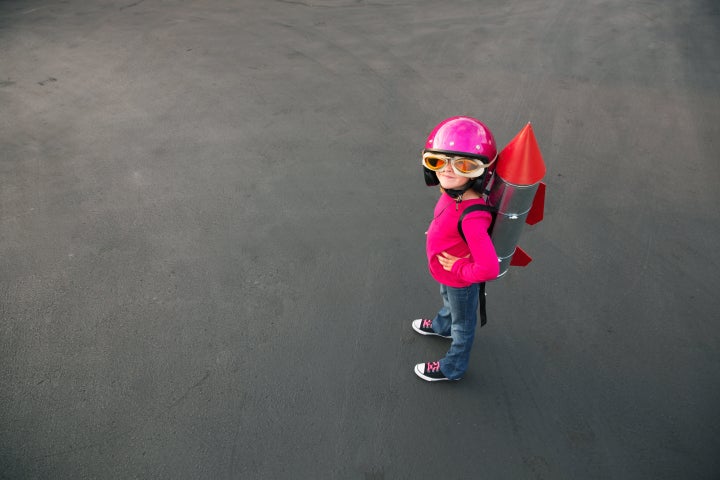 Commenting on the Girlguiding study, Justine Roberts, Mumsnet founder and CEO told HuffPost UK: "These figures are depressing, but not that surprising.
"Gender stereotyping is pernicious, and overcoming it calls for vigilance on a number of fronts - media, advertising, family, friends, school, hobbies and interests - and, most importantly, talking to your children about the subtle messages they're receiving.
"It's a tough battle for parents to fight on their own, but outstanding female role models and successes achieved by campaigns such as Let Toys Be Toys show an ever-growing number of businesses and individuals are ready to be won over."
Siobhan Freegard, founder of ChannelMum.com, said despite small changes being made for women - it's still not enough.
"On the same day this study was released, there was another less reported one showing women are leading the way in business, with social enterprises run by females outperforming traditional companies," she said. "What does this show? That progress is happening but it's still too slow.
"We need girls to be proud of who they are, what they can achieve and be prepared to speak up and change the world. If you have a daughter, at times it can feel you are fighting an overwhelming battle against stereotypes, but do whatever you can to ensure she knows the world is hers for the taking."
We asked child psychologists, parenting groups and bloggers for their suggestions on how mums and dads can empower their daughters to break free from these stereotypes.
1. Teach your daughters to critique the media.
Simon Ragoonanan, dad and editor of manvspink.com, a site to share his experience of raising a girl outside the gender stereotypes of the "pink aisle", told HuffPost UK: "Have conversations with girls about the media they're exposed to.
"Talk about the positives and negatives in relation to the portrayal of women and girls, and begin to engage them in critical thinking around the topic - so they can spot any stereotypes themselves."
2. Introduce girls to hobbies that are traditionally for boys.
Ragoonanan said this could be anything to science, to sport, superheroes or even 'Star Wars' - even if they don't get into them.
"Their understanding that these things are for girls as well as boys will do a lot to help them challenge assumptions around gender as they get older," he said.
Gummer said, as much as possible, it's helpful for children to attend activities and groups not segregated by gender.
"It would be great to have something that encourages outdoor activity, or something of the kind, where everybody is welcome, not just 'boys' or 'girls', she said. "Increasingly this is the case, but there is still the stigma."
3. Treat sons and daughters equally.
Freegard said: "Encourage your son to have a baby buggy and your daughter to play with dumper trucks and cars."
"The message being: dads push buggies just as girls drive racing cars."
4. Lead by example.
Gummer explained: "Being a role model to your daughter is important. It's important for them to see strong independent women in their lives, as well as pointing them towards other strong role models such as Michelle Obama and Hillary Clinton.
"It's like that saying: 'Strong women: May we know them, may we be them, may we raise them'."
Part of this will include teaching your daughter to speak up, added Freegard.
"Girls are often shyer about speaking in class or learning to do public speaking," she said. "Making your voice heard is an essential skill for life so work with her to ensure she feels comfortable and let her know her opinions are important."
5. Choose books and toys wisely.
Gummer said it would be helpful to point your daughters towards resources that will empower them, such as A Mighty Girl - the "largest collection of books, toys and movies for smart, confident, and courageous girls".
"Putting this stuff on your children's radar - both girls and boys, because it shouldn't be about men hating feminists - will be helpful," she said.
Ragoonanan said you can also seek out stories yourselves of empowered women and girls who defy the norm - from classic books like 'Pippi Longstocking' to modern movies such as 'Moana'.
"Every girl should have a copy of 'Good Night Stories for Rebel Girls'," he added. "The brilliant feminist bedtime book featuring the stories of 100 real life women who defied stereotypes, each one retold in the style of a fairy tale."
6. Watch your mouth.
If you are able to call out celebrities or well-known people for "sexist" comments - which is a great way to show that it isn't normal - then you need to make sure your language is free from gender stereotypes, said Gummer.
Freegard agreed, adding: "Just mind your language. We all have friends and family who use phrases like 'boys don't cry' or 'it's a man's world' - but think about the impact these have on both your daughters and your sons."
7. Think about her wardrobe.
There has been so much debate in the past year on "sexist" slogans on children's clothes, so don't confine your daughter to the "girls" section.
"Do you want to dress your daughter in pink and glittery slogan T-shirts like 'Little Madam' or 'Future Footballer's Wife'?" said Freegard.
"Sometimes something as simple as picking robust clothes in neutral colours can ensure your daughter has more freedom to play and won't be judged so easily by others."
8. Let her be herself.
Gummer said: "The danger of being too sensitive and too overly PC is that everyone is on edge and it becomes an issue.
"It's about habit and making sure the habits are engrained from a young age, so girls can wear what they like and say what they like without getting interrupted."
Freegard added: "Above all - remember your daughter is an individual.
"If she chooses to follow a more 'traditional' role like a job in the caring professions or becoming a stay-at-home mum then respect her for it. It's her life and her choice."