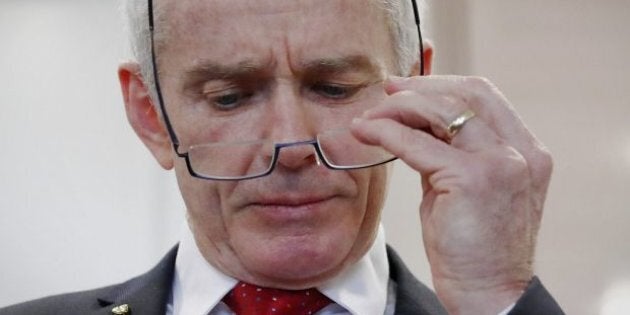 One Nation senator Malcolm Roberts sent two emails attempting to enquire about and renounce his British citizenship to online addresses that were non-existent or were made defunct more than half a decade earlier, the High Court heard on Thursday.
The courtroom heard that Roberts sent the two emails, on May 1 and June 6 2016, to email addresses formerly connected to the UK consulate in Brisbane and the British High Commission in Canberra, the first address did not exist and the second was decommissioned in 2010.
Senior counsel Stephen Lloyd, assisting the court, said the senator had sent the first of the emails titled as "Am I still a British citizen?" to an address ending with the domain ".uksydney", before sending a follow-up email to complain about a lack of response.
"None of these emails according to Senator Roberts' current evidence led to any responses," Lloyd said.
"We say it's relevant in terms of the reasonableness of the steps taken. Whether he sent them to actual addresses.
"They weren't the addresses they were using."
Roberts is one of seven politicians currently involved in a dual citizenship scandal that could have ramifications for his place in the Federal Parliament. Under section 44 of the constitution, proof of dual citizenship would render him ineligible to serve in the Parliament.
While under questioning on Thursday from Lloyd, Roberts also told the court the form he signed to become an Australia citizen was filled out by his then 16-year-old sister -- however he was unaware that it contained a line that claimed he had held UK and Colonies citizenship -- because he didn't read it properly.
While the One Nation senator first arrived in Australia in 1962, Roberts also told the courtroom that he "had always believed I was Australian" and rejected the suggestion that the "Am I still a British citizen?" email subject line was any proof that he was aware of a possible dual citizenship.
"My inquiry was to see whether or not, to explore the possibility of being British," he said.
"There was a possibility of Indian, and there was a possibility of British – and I checked both."
The acting lawyer for Roberts, Barrister Robert Newlinds, also told Justice Patrick Keane that their case would not contest that the senator may have been a British citizenship at the relevant time of renunciation, which was June 2016, but argued that he did not believe that he was a dual citizen.
And despite this word from his counsel, Roberts went on to say that "it is still not clear in any way that I have British citizenship."
"All my correspondence with the UK prior and after the nomination [for Parliament], no-one from the United Kingdom has said I am British. No-one," he said.
"I believe I have never had citizenship of another country. I would be happy to say that because no one has ever shown me, I had citizenship of another country. But I believe there are various other requirements so I can't rule it out altogether."
The court decision, which is yet to come, will now be determined by whether the presiding High Court judge believes Roberts' emails can be considered as "reasonable steps" towards renouncing his British citizenship, after the UK Home Office officially confirmed the renunciation in December.