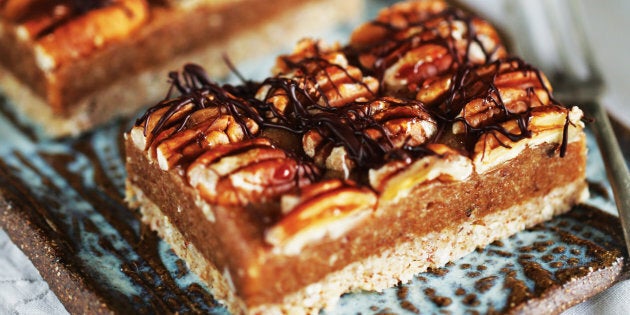 If you're in the mood for caramel slice, but have intolerances or dietary requirements which cut gluten, sugar and dairy out of the picture, this raw pecan caramel slice recipe is for you.
Made with whole food ingredients like nuts, coconut, buckwheat and medjool dates, this rich caramel slice is packed with nutrients (but should still be considered a treat).
The caramel slice starts with a nutty coconut and buckwheat biscuit base, followed by oozy caramel made with almond butter, maple syrup and dates, and is finished with a drizzle of melted vegan chocolate.
Try the recipe below from Anthea Amore's new plant-based cookbook, Hungry.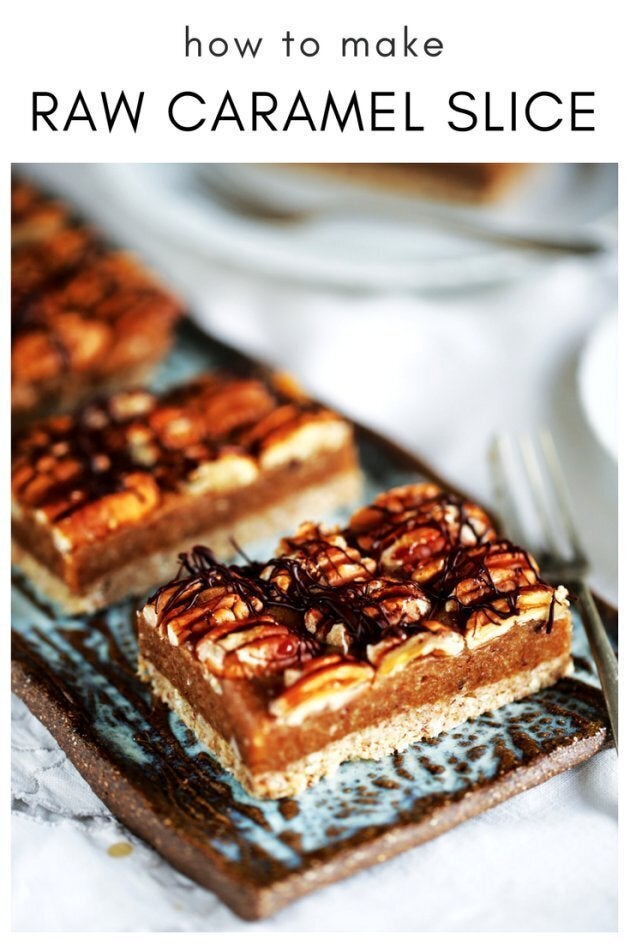 Visually stunning, this oozy caramel, nutty slice has a lot of distinctive textures and yumminess going on.

Simple to make, it's full of wonderful nutrient-rich pecan nuts. Pecans are packed with all the good fats, rich in B vitamins and a great source of vitamin E -- plus an excellent variety of minerals, including manganese, potassium, calcium, iron, magnesium, zinc and selenium.
Makes nine large (or 27 small) pieces.
You will need a shallow 25cm x 15cm baking tray.
Preparation time: 15-20 minutes. Setting time: one hour 30 minutes (or overnight is best).
INGREDIENTS
½ cup almonds
½ cup raw pecans
½ cup buckwheat groats
¼ cup desiccated coconut
½ teaspoon quality salt
3 tablespoons melted coconut oil
1 tablespoon agave syrup
1 cup almonds or ¾ cup almond butter
1 cup fresh medjool dates, pitted
¼ cup maple syrup
1 teaspoon vanilla bean paste
½ teaspoon quality salt
¼ cup melted coconut oil, at room temperature (see tip)
70 raw pecan halves
Extra agave (or maple) syrup (optional)
50g dark vegan chocolate, melted (optional), for garnishing
METHOD
Process the almonds roughly in a food processor. Add the pecans and pulse for 10 seconds. Add the buckwheat, desiccated coconut and salt, then pulse for a further 10 seconds. Add the coconut oil and agave syrup and pulse until combined.
Spoon the mixture into a shallow tray, then spread smoothly and evenly out to the edges using the back of the spoon. Chill the base while you make the caramel topping.
Process the almonds in a food processor for 5-10 minutes or until the texture resembles nut butter, scraping down the sides as necessary. Transfer to a small bowl and set aside.
Process the remaining ingredients, except the extra maple or agave syrup, in the food processor until smooth, then add the almond butter and blend until a stiff caramel paste forms.
Spoon the caramel topping onto the nut base, spreading evenly. (I use a sheet of baking paper to do this. Place the paper on the spread caramel and smooth out the top evenly, using your fingers.)
Place the tray in the freezer for 30 minutes or until the slice is slightly frozen. Remove from freezer, then peel back the baking paper and press the 70 pecans into even rows (as pictured) to cover the caramel. For a glossy finish, brush pecans with maple or agave syrup (if using). Drizzle with melted vegan chocolate (if using).
Chill overnight, or for one hour and 30 minutes until firm enough to cut. Cut into pieces to serve.
Tip: to melt coconut oil, place the oil in a small stainless steel bowl in a larger stainless steel bowl filled with boiling water. Allow oil to sit until melted.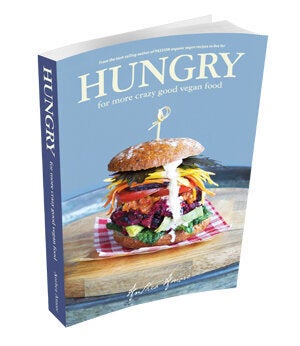 Hungry by Anthea Amore will be available for purchase online and in select health stores and bookstores for RRP$39.95 (flexi cover) and RRP$49.95 (hard cover).