German Chancellor Angela Merkel's Christian Democratic Union and its ally party, the Christian Social Union, cruised to victory for the fourth time in Sunday's election, making her the longest-standing female head of state to date.
The results may have been bittersweet for women in Germany, though. Despite Merkel's win, only 31 percent of those elected to Germany's parliament, known as the Bundestag, were women.
The 2013 elections saw the percentage of women sitting in the Bundestag rise to 36.5 percent, according to European Union statistics. A similar percentage of women exists at the federal levels of government, but local governments are seriously lacking in female representation.
From the outside, it's easy to look at a country with a longstanding female leader and expect the approach to women in politics ― and the workplace more generally ― to be rather evolved.
Yet experts paint a grimmer picture. It's particularly difficult for women to break through in politics unless it's in an ultra-liberal party with a female quota, Eva Högl, deputy faction chairman of the Social Democratic Party, explained in Bundestag's magazine, Der Bundeswahlleiter. And fewer than four percent of CEOs in the country are women, according to European Union statistics.
It's not surprising that so few women exist at the highest levels of government or the private sector, seeing as large parts of the country have for decades been defined by the male breadwinner model.
Germany is known for its abnormally high wage gap ― women earn about 22 percent less than men on average, according to EU statistics from 2016, which is six points higher than the EU average. But some experts say it's not because companies tend to be discriminatory towards women.
Women just tend to work part time, leading to lower wages, or they gravitate towards industries that are more traditionally "female," Corinna Kleinert, a sociology professor at the University of Bamberg and the Leibniz Institute for Educational Trajectories, told HuffPost.
The male-female distinction dates back to the Cold War. West Germany prided itself on a patriarchal social structure, she said, while socialism in East Germany required both men and women to work.
This means that today, Kleinert said, although more women than ever are employed across the country, the part-time trend is more prevalent in West Germany (the more populous part of the country).
West German mothers traditionally "feel they are not good mothers if they put their children in early care," she added.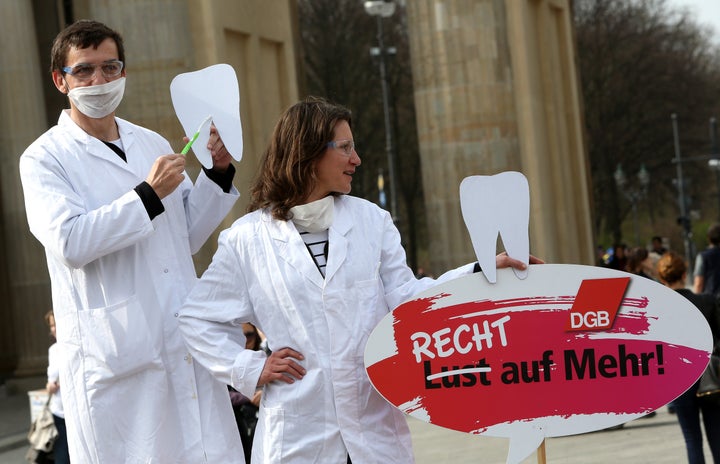 Plus, the eastern part of the country has pre-existing childcare infrastructure that the western region has struggled to match up to.
"Even if western German women would like to [work full time], they have problems getting their kids into early care and difficulty finding care that allows full-time work," she said.
Merkel has been chancellor since 2005 ― in other words, she's had ample time to set a more rigorous gender agenda. Part of the problem is her obligation to cater to her party's largely conservative base.
Some significant reforms during her time in office have, however, created incremental improvements.
A law passed in 2013 offers every child over the age of one a spot in a daycare facility. But in many parts of the country, Kleinert said, "it allows only part-time work because [daycare] facilities close too early."
Merkel also put in place a system whereby women (or men) receive partial income in the first year of parental leave, thereby encouraging them to come back to work sooner.
The issue remains that they mostly gravitate towards part-time work. "This explains why women don't make their way into management positions," according to Kleinert.
In an effort to rectify that, the government passed a law in 2015 requiring the non-executive boards of publicly-traded German companies to consist of at least 30 percent women.
"There is still a lot to do, that's evident," Katarina Barley, who heads the Federal Ministry for Family Affairs, said in June.
Yet there is an undeniable "call from the economy to integrate more women into the labor market," Kleinert said. Germany suffers from an aging population that could leave the economy partially bereft of skilled labor in the coming years. "The easiest way to fill that gap is by qualified women."