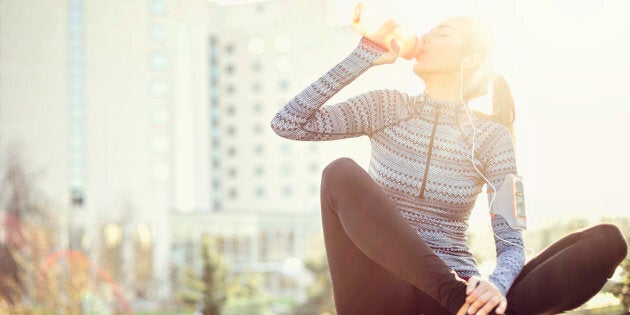 Alright, so winter is well and truly over and it seems like parts of Australia might skip spring altogether. With record hot temps already recorded and more forecast on the way, you might be looking for ways to turbocharge your spring fitness routine.
We asked five of Australia's most successful fitness experts for their top tip for better performance so we can all see and feel results quicker. Be warned though, some of it is not for the feinthearted.
Haining is a personal trainer and Fascia stretching expert. You might remember her from Survivor. She was also David Beckham's former personal trainer and has trained the likes of Jessica Gomes, Natalie Imbruglia, British model Jena Goldsack and Lara Stone.
"Pre and post workout nutrition are super important to maximize athletic potential. Before a workout is a great time to have a coffee, but when I say before I mean at least 20 minutes, NOT during. Please don't be that person drinking coffee in the gym."
"I never skip breakfast however, if I'm going to train before 7am I have a few almonds or a teaspoon of coconut oil to make sure I'm not training on an empty stomach," she added.
"Post-workout I always have a simple scoop of whey protein in 200 mLs of water with a quarter scoop of dextrose. This helps to replenish the protein and glycogen stores in my muscles as well as immediately assisting in reducing the cortisol levels in my body, to help my become a more efficient fat-burning machine."
Lucas has a lot of feathers in his cap, including celebrity personal trainer, former NRL player for the Sharks and founder of Flow Athletic and the Flow After Dark series. Ben completed 35 marathons and five ultra marathons in five years.
"My first tip to better your performance is to make sure you are getting the right fuel for your body. Add fresh fruit, vegetables, wild fish and organic meats to your diet to get your engine purring," he said.
"Also, drink three litres of water a day at a minimum, especially if you are drinking coffee throughout the day. You also need to make sure that you're recovering properly by getting enough sleep. Cut the tech in the evening and head to bed earlier -- no later than 10pm," Lucas said.
Douros is a Reebok athlete, cover star, nutrition coach and an Australian Ninja Warrior. She is also the founder of 'Lift into Life', an online community helping people find ways to challenge themselves daily to help boost their health, confidence, well-being, self-worth and values.
"I have been using the TrainingMask for over a year. They're designed to cut your airflow and deprive you of adequate intake of oxygen which is going to heat things up and add a whole new level of intensity," she said.
"I personally wear mine leading up to events that I know I need to give it my all. So my aim is to control my breathing under exertion and by exposing the body to hypoxic conditions. I find this also helps to improve my mental and physical stamina, focus and determination. That and I love anything that's going to give me a hard time during my workouts," Douros said.
Conn is a former rugby league player whose career spanned over a decade. After retirement he became a personal trainer who quickly amassed a large Instagram following. Famously the face of F45 for several years, he is now the Wellness Director of Collective Wellness which includes Orange Theory, Anytime Fitness and Massage Envy.
"My tip for boosting fitness performance is that I always try to eat as well as I can and fueling is half of the battle when it comes to performing in the gym or on the field. People often make it too complicated when it comes to their diet. I like to make it super simple," he said.
"Pre-workout I like to have my 'DC Health Bowl' which includes, 200 to 300 grams of chicken breast, three to four hard boiled eggs, half an avocado, blue berries and some macadamia nuts."
"I always have some Hydroxyburn Shred Neuro-Thermogenic pre-workout because it contains three different types of caffeine that all enter your system at different times which gives me sustained energy without the crash. It also contains 'Nootropic' ingredients which helps you maintain focus," Conn said.
Evennett is a former Australian Commando turned health, fitness and mindset expert. He was also a semi-finalist on Australian Ninja Warrior. Evennett has developed unique training methods and all of his programs are in accordance with his Special Forces training principals as well as his extensive experience in competitive gymnastics, callisthenics and body building.
"When it comes to enhancing my performance, I focus on three critical areas -- the mind (the engine), the body (the vehicle) and nutrition (the fuel)," Evennett said.
"My best tip is to hone in mental control. The mind affects your decision making and emotional response. Without having a grip on your mind, your performance will suffer.
"Daily physical activity is just a vehicle that takes us into zones in which we can truly learn and change our characteristics," he added.
"If you train soft, you will be soft. Instead, train with hunger and purpose. Our bodies are truly mind blowing machines and they will adapt to anything you do repetitively. The key to carving out that perfect figure is to have a well designed, progressive program that challenges the body and forcing it to change."