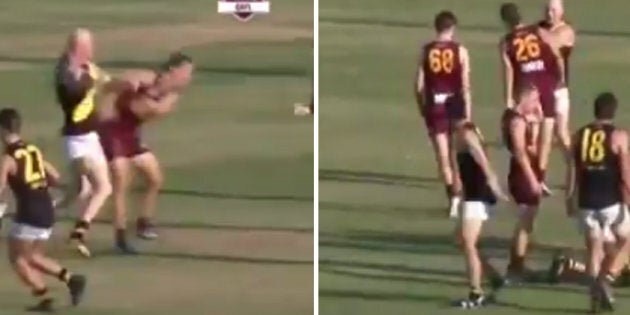 Oh, Barry -- this is just, plain and simply, bad.
Vision has emerged of former Aussie Rules bad boy Barry Hall lashing out in a QAFL grand final match in Queensland on Saturday, throwing back-to-back punches at two separate opposition players.
The 40-year-old former AFL star was playing for local Gold Coast team Labrador when he was dispossessed of a bouncing ball and first reacted violently to being held by a player from opponent team Palm Beach Currumbin. In one swift move, the AFL Hall of Famer is then seen swinging a punch at the player and hitting him in the face.
The former Saint, Swan and Bulldog was also then later seen angrily approaching another Palm Beach player later in the match, before grounding him with yet another punch.
And if you feel like you're experiencing some Barry Hall-related Déjà vu -- you're not wrong. The punch appeared very, very similar to Hall's famous 2008 clobbering of then West Coast Eagles player Brent Staker.
Now this is where things get a little awkward, because the punches come just three months after Hall publicly condemned that well-known hit on Staker during his Hall of Fame induction and offered the following advice for blokes who think toughness is expressed through fists:
"I do a lot of speaking stuff and guys like to be guys and say, 'Ah, that [Staker punch] was great'. It's just a load of crap, it wasn't great. I'm a father now and I don't want my boy seeing his dad do that.
That comment was seen as a turning point for the man formerly known as "Big Bad Barry", who had seemingly come to terms with what it means to be a real bloke, both for himself and his children.
And whether his dual jabs over the weekend were just a brain-snap or not -- it seems now people have no idea what to think.