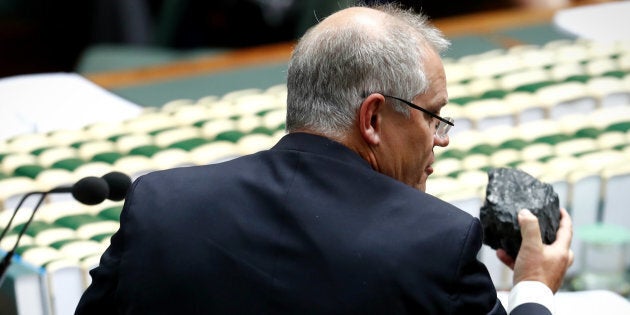 But perhaps you assumed that in places where coal mines are located, people would still be all for coal-fired power generation. Think again. A ReachTEL poll commissioned by The Australia Institute​​​​, which surveyed 714 residents across the Federal electorate of Hunter this month, shows the complete opposite.
The Hunter is home to numerous coal mines -- there are 31 mines in the Upper and Lower Hunter regions.
And then there are the associated industries -- notably, the Liddell power station, which is slated for closure in 2022. PM Malcolm Turnbull is desperate to keep it open despite the ageing coal-fired facility being called "geriatric", and despite the renewables boom.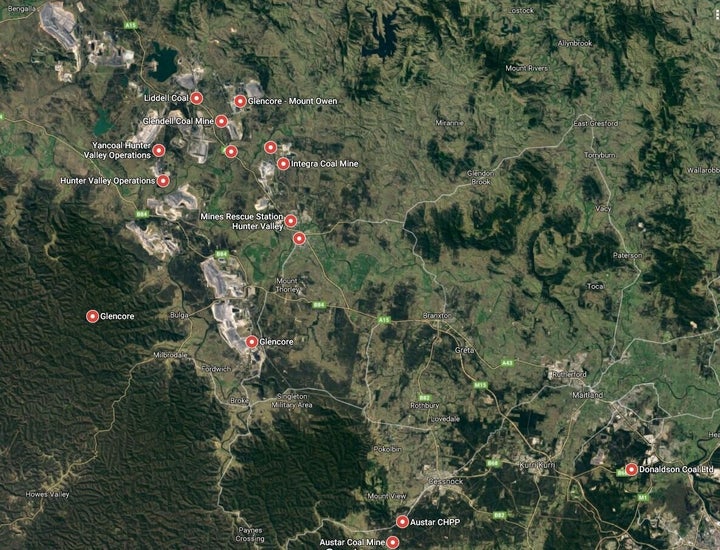 You can read the full results of the poll here, but the main points of interest are these. As you can see, most Hunter Valley locals simply don't support Malcolm Turnbull's mad scramble to keep the coal-fired power station open.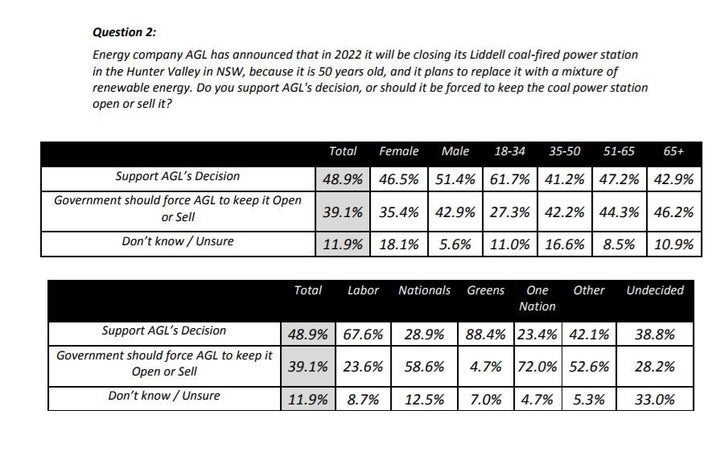 Nor do the majority of people see much future in any coal mines, full stop.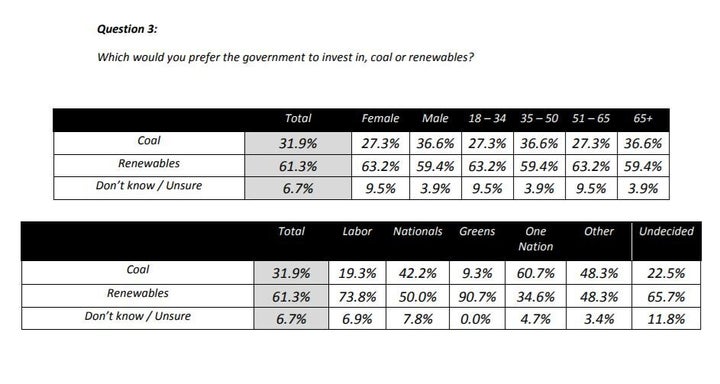 These results struck us as pretty dramatic, so HuffPost Australia asked The Australia Institute Research Director Roderick Campbell to talk us through the findings.
"The key reason people in the Hunter and other coal regions have a negative perception of coal is that they live with it," he said.
"They live with the dust, the noise, the railway crossing delays, the constant proposals to extend or modify mines, the court cases against these and the sudden sackings in downturns. They've seen their bushland get ripped up and their rivers dry up.
"Coal isn't a big employer, even in places like the Hunter, where it's just 5 percent of jobs. That does go up to 20 percent in particular towns like Singleton, but it's not nearly as big as the Minerals Council would have you believe."
(The latest Census data will be released next month, but last Census saw a 10 percent mining industry employment rate for the Hunter).
"After giving their impressions of the economic benefits of coal mining -- employment and royalty revenues -- and of the costs to health, the environment and other industries, respondents were asked 'Do you think the economic benefits of coal mining in the Hunter Valley outweigh any potential effects on health, the environment and other industries?'

Overall, nearly half (47 percent) felt that the benefits did not outweigh the costs."
So this month's new research in many ways confirms what we've known for at least three years. Which leaves the following question: if coal can be replaced by cheaper, cleaner, renewables, and if dispatchability and storage is improving all the time, why stick to coal?
In a nutshell, Campbell puts it down to several things. They are:
State governments are addicted to revenue from coal. Governments draw no royalties from wind or solar power, but because coal is a resource under the ground, the Crown owns it. Any revenue is of course much prized by governments, though interestingly, coal accounts for less than five percent of revenues in NSW and Queensland, so its effect is often overstated by politicians -- who often say you need coal to fund essential services like hospitals or schools.
THE "MAKE MALCOLM SQUIRM FACTOR"
Rod Campbell is hardly alone when he says there are elements within the Coalition who delight in make the Prime Minister look, as Campbell put it, "as foolish as possible" when the one-time green power advocate is forced to spruik the benefits of "ancient coal-fired power stations".
FEAR OF LOSING GOVERNMENT
Why is the Queensland Labor government so in favour of Adani's proposed Carmichael mine in North Queensland? One reason might just be that it has a meagre two-seat majority and there are at least four seats it holds in the north Queensland region by 4 percent or less.
Correction: An earlier version of this story referred to the Liddell facility as a coal mine. It is, in fact, a coal-fired power plant.