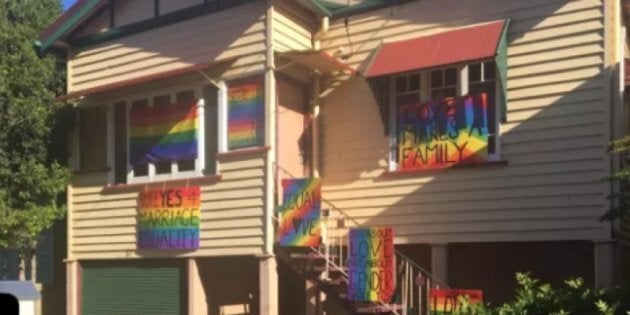 A crowdfunding campaign page launched on Monday night has managed to raise hundreds of dollars in just 25 minutes to cover the repair costs of the home of a marriage equality supporter that had rocks thrown through its windows.
Twenty-two-year-old Brisbane resident Olivia Hill revealed on Twitter on Sunday that her home, which is decorated with rainbow posters in support of a 'Yes' vote in Australia's postal survey on same-sex marriage, was targeted by a man who threw the stones through the house's windows.
Hill then told BuzzFeed Australia the incident left her fearing for her life after the alleged male responsible for throwing the objects began yelling at her from outside of her house.
"I was so scared. I don't think I've ever been so scared in my entire life. I thought, 'this is it, this is how I'm going to die in this house, with this homophobe'," she said.
She also said that, while she is still experiencing a lack of sleep due to the incident, the public show of support towards her has provided her with a sense of relief.
"We've had so much support and love from our family and friends but also from total strangers," she told HuffPost Australia.
"Last night I went down to get some food and someone who lives down the street from us had some flowers and a handwritten note saying 'I love the work that you're doing and sorry that you got attacked'.
"It kind of blew my mind. When I first made the tweets and when we first did the Facebook post, I thought, 'people are going to be angry about his and people I love are going to give me some support,' but I wasn't expecting what happened."
In response to the incident James Breko, the founder of LGBTQ rights activism group DIY Rainbow, launched a GoFundMe page on Monday night in an attempt to "take the financial stress out of replacing [Olivia's] windows."
Breko told HuffPost Australia on Tuesday that the page, which was launched at 5:30pm, received immense support and had raised the $350 needed to repair the windows within 25 minutes.
From there, the campaign managed to raise a further $310, $100 of which will be going towards buying Hill dinner and the rest to be donated to the official Australian Equality campaign.
"I wanted to help [Olivia] out and I got into touch with her over Twitter and she was not sure what to do but I explained to her, we can take the stress and financial burden out of it and she was just blown away by the response," Breko said.
"Our page has 75,000 people so I definitely thought we'd raise the money but I didn't think it was going to happen that quickly. To repay the windows, that funding was raised within 25 minutes and it just kept coming in. It just blows me away.
"She was just blown away by people's generosity and was really just shocked by how quickly it was funded and I think that is such a remarkable achievement for our community, not only the LGBTQ community but allies who have put money in."
Breko, who is based in Sydney, also said the act of generosity from supporters of marriage equality doesn't surprise him and that Sunday's incident is another example of the need for Australia's politicians to take a stand against violence throughout the postal survey process.
"Having hung out with people at the ['Yes' campaign] rallies and doing the 'Yes' calling campaign, it doesn't surprise me that everyone is so connected and loving each other and going through this moment in history together and it was lovely," he said.
"[But] we shouldn't forget that the government consulted hundreds of LGBTQ organisations prior to their proposed plebsicite and every single one of them told them that this sort of stuff was going to happen and the advice was to not do it.
"I just think we can really never forget Malcolm Turnbull's hand in this to be honest. The community is really, really hurting at the moment, I've never experienced any other minority being treated like this in Australia for a very long time."
As an LGBTQ person herself, Hill told HuffPost Australia that she believes the postal survey process is leaving people who will be directly affected by the outcome of the ballot "really burnt out and tired and exhausted".
"I just wanted to talk about how homophobia is happening right now and how it is impacting LGBTQ people and how it's violent and how upsetting it is and how it's been brought on by this postal survey," she said.
"I'm against the whole idea of the fact that my rights as an LGBTQ person are up for debate and people get to have a say on what the future of my relationships look like."
And in other news, there's still seven long weeks before the Australian Bureau of Statistics (ABS) publishes the results of the postal survey.