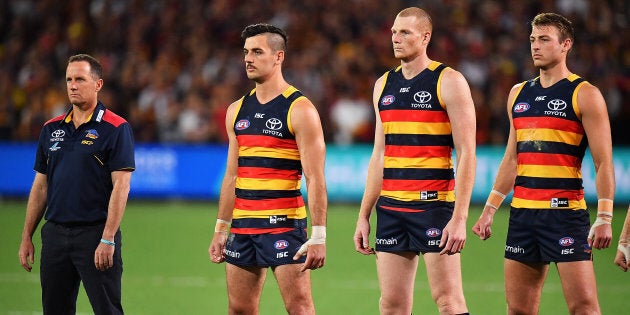 The AFL apparently has itself a national anthem controversy, though one the Adelaide Crows are happy to all too happy to stare down ahead of this weekend's grand final.
The Crows -- favourites in this Saturday's grand final against the Richmond Tigers -- have stared at opponents during the pre-match playing of Advance Australia Fair during this year's pre-final series.
Some have argued it's disrespectful. But this is hardly Trump's war on the NFL.
Here they are before last week's preliminary final in which they easily accounted for Geelong.
See how the Geelong players are either singing along, or gazing off into the middle distance while the Adelaide players, led by Tex Walker, seem to have picked out an opponent and are burning them with a laser beam stare?
It's called the "Crows Stare", and it's a thing. Not a thing with a particularly poetic name, but a thing nonetheless.
Adelaide FC chief executive Andrew Fagan said the Crows stare was all about being "ready and focused" for the game.
"We have worked out something that has done that for us for the last couple of weeks. It's something unusual... What others say about it is up to them," afl.com.au reported Fagan as saying.
This is one of those little stories that always emerge in grand final week. In other grand final minutiae, Adelaide will run out second before the match, which means its players will not be subjected to the "Tiger roar" of thousands of Richmond fans. This is being touted in Adelaide as a victory.
But the main pre-grand final story this Thursday is whether Adelaide's stare -- which has been likened to the New Zealand All Blacks haka -- is disrespectful to the national anthem?
Adelaide Crows coach Don Pyke said it was not. Senior Adelaide player David Mackay went a step further, saying there was a deeper reason behind it which he prefers to "keep internal" for now.
We can hardly wait to find out. Meanwhile, the club has vowed to do it all again this Saturday -- and too bad for anyone who crows in anger about it.