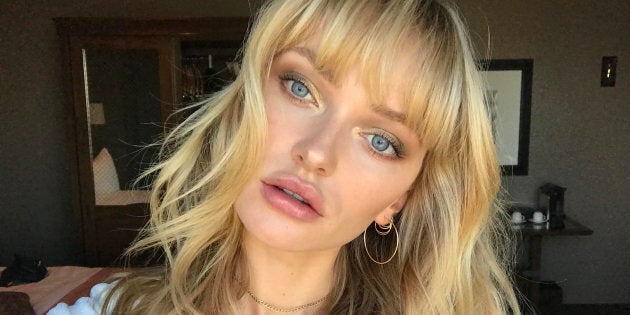 Summer really is a glorious time, but the rising heat certainly makes it harder for our makeup to stay where it should. Smudgy mascara, sweaty eye lids, vanishing foundation -- we've all been there. Thankfully it's easier to beat the heat than you think.
Here are some of the most common summer makeup mishaps and how to fix them faster than your ice cream can melt in the sun.
The sweaty eyelid -- a classic summer-time issue. The best way to avoid this is to put time into preparing the skin by removing impurities, oil and old makeup. Makeup artist Tobi Henney told HuffPost Australia that there are three easy steps to avoiding the sweaty eyelid.
"I always start by prepping the skin, so the first thing I do is get micellar water and pop that onto a cotton pad ... I particularly focus on getting a swipe of that over the eyelids because it's the first step for preparing the skin for make up," Henney said.
"The second thing that is really helpful is to have duality to your makeup. I like having a base underneath the eye shadow to help it stick. I often used a cream shadow to start -- you blend them in and it's like your base work and once you press that powder shadow on top it just helps to lock it in place a little more."
Foundation And The Sweaty Face
Some of the most common makeup problems in summer see us looking super shiny or oily and our makeup sliding. Getting foundation just right for the heat can be a real challenge and to master this we need to be looking at our skin type. Henney told HuffPost Australia that selecting the right product for your skin means that makeup will be less likely to slip and slide.
"It depends on your skin type," Henney said.
"So for example, if you are someone with dry skin, generally you can get away with using your creamy, dewy foundations and they are going to be better for you because no one wants to look dry with makeup on. Then, down the other end of the line are people who have oily skin, and they should be sticking to compact powders and minerals."
What Do We Do About Sunscreen?
Slip, slop, slap right? It's really important to protect ourselves against the hot Aussie sun, but what is the best way to incorporate that into our makeup? Henney suggests that we find a tinted moisturiser that already has SPF 50+ built into it.
"I am more of a tinted moisturiser person in summer. I find it's lighter and it doesn't feel as thick and heavy, so I usually opt one that already has 50 SPF in it. It also cuts down the steps in the morning. I do my makeup in five minutes."
So you're at an event and you go to the bathroom only to realise you have put far too much makeup on thanks to the dodgy light you applied it in. The best way to manage this type of emergency is to gently pat off excess makeup with a little moisturiser.
"If you are really in an emergency situation, you can just get a tissue and if you blot it off rather than rub that is going to help," Henney explained.
"The other tip -- if you have got a moisturiser -- you can just moisturise and it will break it down because what we do as makeup artists sometimes is we sheer out a foundation by mixing a moisturiser though it."
"So, the same applies if you have got it on your face. If you massage some moisturiser in with it [the foundation], will break the product down and it will give it a little bit more luminosity and a bit more moisture and hydration and it should give you a fresher finish."
Do Setting Sprays And Waterproof Products Help?
Setting sprays do help protect against summer weather conditions, especially if you are at an all day event like a wedding or the races, where you want your makeup to last from the morning though to the evening. Similarly, waterproof products can help people who like to wear heavier eye makeup or like to shade underneath the eye.
"It is always best [in the summer] to go for those waterproof liners and mascaras."
"I find for myself, if I wear a mascara that's not waterproof and I've got a creamy foundation underneath and I'm hot and sweaty, it will definitely me a black mark under my eyes. So, it's also really important to choose your products wisely in summer if you want less touch up throughout the day."
Henney's Top Tip For Summer
To create a summer look that is both flattering and manageable, Henney recommends a 'less is more' approach. This includes a combination of using less product and looking after the skin.
"I think if you can take care of your skin, like wearing sunscreen and having facials and whatever you need which is best for your skin. Also doing your masks and keeping on top of exfoliation. The better you skin is the less base you are going to have to wear."
And don't forget to blend.
"Don't overdo product and take care in blending everything out. Sometimes I feel like if you are putting on makeup in a rush or you are trying to go for a heavier look you should focus on blending the edges and making sure everything looks really seamless."