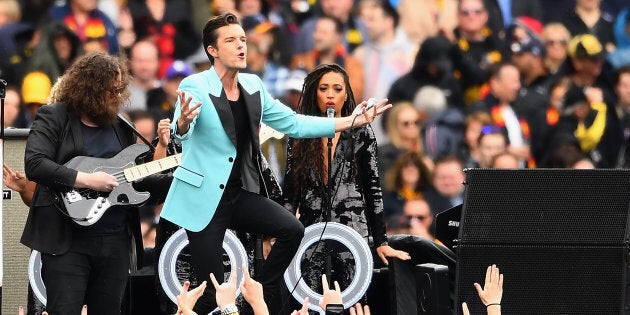 The Killers were playing a really tight, excellent set with favourites like 'Somebody Told Me', building, inevitably, to a crescendo of "their biggest hit Mr. Brightside".
Then what do you know? Right in the middle of it all, they played a Midnight Oil Song.
Way to do your homework and make an Aussie crowd happy, fellas.
Like many of the iconic Aussie rock act's songs, 'Forgotten Years' speaks to dispossession of Aboriginal land. This verse sums things up.
Our shoreline was never invaded, our country was never in flames

This is the calm we breathe, this is a feeling too strong to contain

Still it aches like tetanus, it reeks of politics

Signatures stained with tears, who can remember

We've got to remember
It reeks of politics indeed. Smelled pretty strongly of awesome, too.
Also awesome was this Mr Brightside race call (or whatever it was), by sports broadcaster Gerard Whateley. We like.