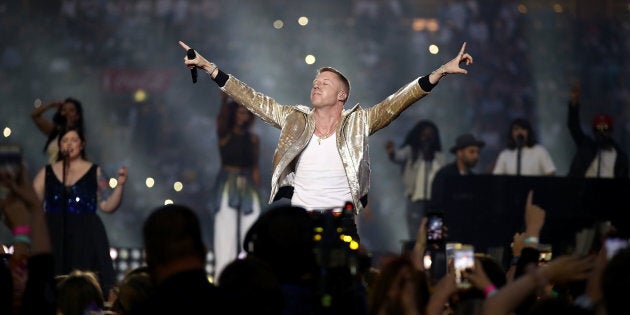 Macklemore played the NRL Grand Final. Macklemore was glorious at the NRL Grand Final. And the crowd absolutely loved it.
Marriage equality supporters would have loved it too, especially when he sang the song "Same Love", which he'd promised to play, and which celebrates marriage equality.
But this was a concert for everyone. And it proved that music can be both uplifting and gently political, all in one mesmerisingly beautiful package.
Same Love was the fourth song of a five-song set which included much-loved hits like Thrift Shop, and it was so bloody brilliantly performed, and so moving.
"Australia, lemme hear it," the singer shouted, and what he heard, and what we all heard, was a crowd enraptured by the concert. Full stop. And the man himself was clearly loving it.
ANZ Stadium had earlier confirmed there would be no ban on patrons unfurling rainbow flags in support of marriage equality. Fittingly, the song Same Love ended in a shower of rainbow dust.
Macklemore's performance had been steeped in controversy all week, ever since Tony Abbott tweeted that "Footy fans shouldn't be subjected to a politicised grand final. Sport is sport."
The issue became so politically charged that there were calls to boo the American singer at the grand final.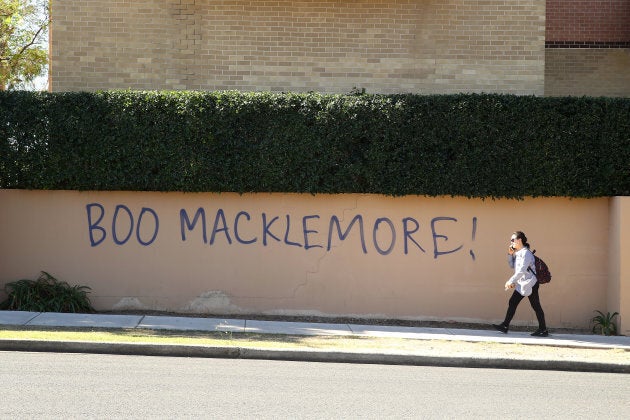 Never mind that Abbott, as PM, never said a word when the AFL Grand Final feautured Tom Jones' ode to domestic violence "Delilah", which tells the tale of a jilted man who kills his girlfriend. And never mind that political songs of all types have featured among pre-match entertainment over the years.
To Abbott and many others, it was unacceptable that Macklemore should sing "Same Love", a song that features the lyrics:
It's the same hate that's caused wars from religion

Gender to skin color the complexion of your pigment

The same fight that lead people to walk-outs and sit-ins,

It's human rights for everybody|

There is no difference

Live on! And be yourself!
And when you think about it, those are pretty non-political lyrics. They're about embracing difference, and dignity.
And the crowd saw it that way too. And it was just as good as on Saturday at the AFL Grand Final, when The Killers played Midnight Oil, and the performance was killer.