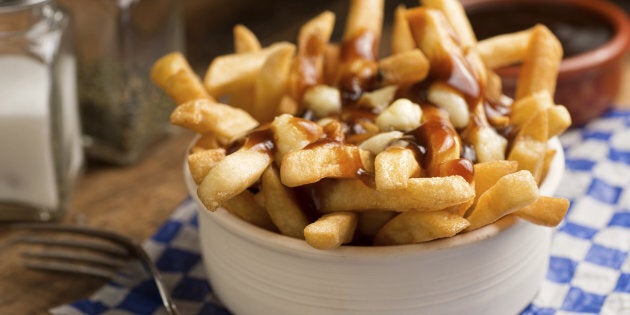 What a country puts on a plate can be extremely revealing. In fact, a national dish often tells a story. And Canada is no exception.
While its contribution to global gastronomy may not be as lofty as other nations, the uniquely Canadian sweet and savoury culinary traditions are definitely worth tasting -- here's the story behind three in particular that you should put on your plate.
Canadian Bacon
Proudly Canadian, and probably the country's most recognisable culinary item, pork is in high demand from The Great White North. In fact, Canada is the world's third-largest pork exporter. And the capital of all things bacon is undoubtedly Toronto, AKA 'Hogtown.'
What's The Story?
A nickname bestowed upon Toronto because of its numbers of pork producers, 'Hogtown' is the renowned epicentre of Canadian bacon, and has been producing the meaty treat for more than a century.
Tracing its history of hog supremacy back to the 1850s, it's believed that an English grocer named William Davis struck it lucky after he sent a side of brine and cured loin roles in ground yellow pease -- to help preserve the meat -- back to relatives in England. Long story short -- the bacon went down a treat, 'pea meal' bacon was born and the grocer ended up becoming the largest pork exporter in the British empire.
Unlike traditional bacon, which comes from the pig's belly, Canadian bacon is the loin or back of the pig that is cured in a brine and then rolled in cornmeal (the contemporary substitute for yellow peas).
Where Should You Try It?
Travellers in search of their bacon fix should head to Rashers which makes the lofty claim to be the world's #1 bacon sandwich shop.
"We use thick cut the peameal bacon, fry it and serve it on a bun with melted cheddar cheese, a fried egg and our homemade ale mustard," Richard Mulley, owner of Rashers said.
"Meat is sourced from a local farm that uses ethical practices, bread is baked daily with no preservatives, and recipes for our sauces are top secret."
Other Toronto eateries in which to sample this iconic meat include Carousel Bakeryin Toronto's St. Lawrence Market, which serves up its self-proclaimed 'World Famous Peameal Bacon Sandwiches'.
Poutine
A Canadian take on cheesy chips with gravy, this unlikely gastronomic success story is the most popular dish to have come out of French Canada.
What's The Story?
Hot chips, a sprinkling of fresh cheese curds and a dousing of hot gravy; several towns in Quebec claim to have invented the celebrated fast food though a popular story is that it was created after a trucker in the 50s used cheese curds on his fries.
Though served across the length and breadth of the country nowadays, Quebec is still regarded as the poutine capital.
"To make a good poutine, the first and foremost thing is great ingredients," Michel Croisetiere, owner of one of the most lauded poutine producers, Frite Alors! said. "We buy our ingredients locally -- all our potatoes, cheese and sauce ingredients are from Quebec."
"A good poutine needs crispy French fries made of fresh potatoes, homemade sauce, and -- most importantly -- just-made cheese curds. For the perfect fry our technique involves two separate deep friers, which we've imported from Belgium where it was proven to be the best method."
Where Should You Try It?
These days there are many ways to personalise your poutine, from pricey gourmet additions, such as lobster and foie gras, to more wallet-friendly, butter chicken or pulled pork. A great place to experiment is La Banquise in Quebec. This 24-hour restaurant has over 30 different poutine varieties on the menu.
Butter Tarts
Canadian through and through, butter tarts have been a constant on dining tables in the country for hundreds of years.
What's The Story?
Though the first known printed recipe dates back to 1900, the flaky shortbread-like pastry shells that contain a yummy butter, sugar and egg filling, date back to the early 1600s when they were fashioned for early pioneers. Now, rural Ontario's Kawartha Lakes is where butter tarts are big business -- the area is home to more than 50 bakeries, cafes and restaurants.
"Many use recipes handed down through the generations," Brenda Wood, executive director, Kawartha Northumberland said. "The bakers take pride in hand rolling flaky (made with lard or shortening) or firm shortbread like crusts (made with butter)."
"Flour and ice-cold water and lard, shortening, butter or a combination of shortening and butter are the base in either type of crust and bakers source local ingredients like eggs, butter, buckwheat, honey and whatever filling they use. The filling is really where it gets personal. The use of corn syrup, or brown sugar, maple syrup or honey as the base with the addition of eggs, vanilla and yes, more butter are the deciding factors on whether the filling will be firm or runny."
Where Should You Try It
Most coffee shops and bakeries in Canada have them for sale, but if you're serious about sampling the best in the country then make a beeline for Kawartha Lakes. There's even an ACTUAL BUTTER TART TOUR you can take by downloading the self-guided Kawartha Northumberland Butter Tart Tour.
For adventurous dessert fans, there's great deal of variation available in fillings nowadays, with additions of everything from basic raisins, nuts and chocolate, to more experimental combinations such as buckwheat maple with goat cheese and pumpkin butter and apple pie with cheese curd crust. Yum.
Work off some of Canada's tastiest foods while exploring some of British Columbia's most beautiful natural landscapes. Experience the solitude, peace and beauty of the Cariboo Mountains and observe wildlife in their natural winter habitat, try the Adventure World's Call of the Wild: Wilderness, Moose and Wolves tour. Explore this winter wonderland by snowshoe and keep watch for timber wolves, moose, caribou, cougar and deer.
'); }catch(e){}