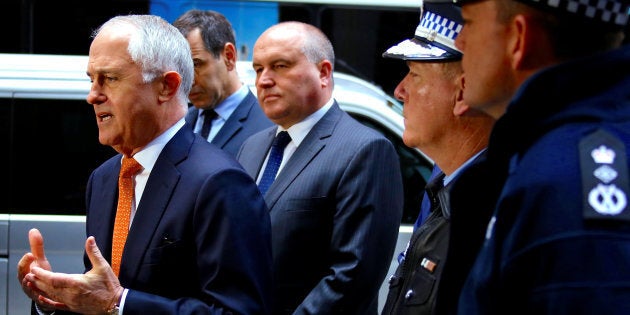 CANBERRA -- The Prime Minister is taking a plan to allow terrorism suspects to be interrogated for up to 14 days without charge to state and territory leaders on Thursday, while Premiers and Chief Ministers will be asked to hand over all Australian driver's licence pictures to better track down local terrorists.
The proposals plus a move on bail laws are on the agenda at a special terrorism-focused Council of Australian Governments (COAG) meeting in Canberra, as well as a proposal by Malcolm Turnbull to create two new offences - to possess "instructional terrorist material" and to make terrorism hoaxes.
"We work very closely, naturally, seamlessly, with the Federal Police, with with our legal advisers, with our state counterparts, to ensure that we're always fine-tuning and improving our national security laws," Turnbull told the ABC's AM program on Tuesday."
"Our primary, overwhelming responsibility is to keep Australians safe. We are relentless in that and we will always continue to improve and enhance the tools our agencies have to keep us safe."
The deadly mass shooting has kicked off furious debate within the U.S about gun control and dealing with terrorists, while on home-soil, the Australian commonwealth, state and territory leaders continue to scrutinise our own counter-terrorism methods. In recent months, the Australian government has responded to several mass casualty terror events, including the August attack on pedestrians in Barcelona, as well as five terrorism attacks in Australia and 13 thwarted major terror plots since September 2014.
Currently, only New South Wales allows authorities to hold terrorism suspects for up to 14 days. In every other jurisdiction, the maximum is seven days. South Australia is just eight hours.
The Turnbull Government points to "real operational examples" where terror plot investigations have needed greater time to question and investigate, but this area of law is subject to great concern by civil rights groups about meeting human rights obligations.
"The aim is to have consistent pre-charge laws to enable somebody who has been charged to be detained and questioned up to 14 days with, of course, all of the appropriate oversight," Turnbull told the ABC's AM program on Tuesday."
"I mean this is absolutely consistent with ensuring that there is appropriate judicial oversight."
And there has been concern, expressed by the Federal Attorney General in 2015, that the extension of the current laws could breach the constitution as a form of executive detention. Turnbull said this concern has been addressed.
"Well, the basis of ensuring it is constitutionally defensible is obviously bound up with experience, with further advice and also by having a judicial officer, a magistrate, extending the period of detention, which is how it operates at the moment," the Prime Minister explained.
The counter terror COAG meeting is understood to be hearing a proposal to tackle bail laws as well as get access to every single driver's licence portrait in the nation in a bid to create a national facial recognition database to make it easier to spot terrorism suspects in crowds and at places such as airports.
The Prime Minister has defended the idea against concerns such a database could be hacked.
"The alternative is to not use data at all," Turnbull told AM. "So you can't allow the risk of hacking to prevent you from doing everything you can to keep Australians safe. So the focus, obviously, is to constantly improve our cybersecurity. I've made it a big priority of my Government."
The proposed new offence for possessing "instructional terrorist material" is designed to be a deterrent, especially by targeting behaviour and activity "at the lower end of the risk spectrum," where a person has the material, but has not yet developed the ability to act.
Turnbull said current criminal laws are insufficient and there is a need for a clear new offence to address the act of possesisng such manuals.
The additional move on terrorist hoaxes is also being offered as a clear new offence to criminalise the "broad nature of terrorism hoaxes" and ensure a nationally consistent law.