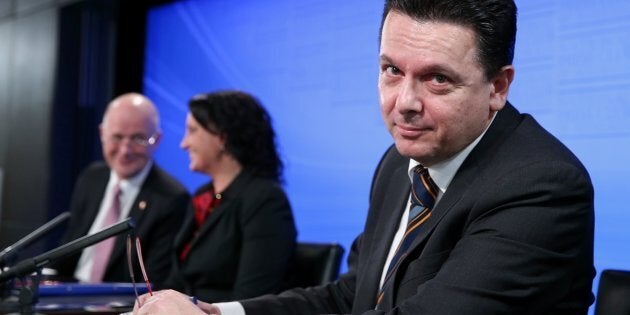 Charismatic South Australian senator Nick Xenophon will resign from the federal parliament, and instead run for office in the South Australian state election under the banner of a new political party.
Xenophon, the leader of his eponymous Nick Xenophon Team which currently has three senators and one MP in Canberra, made the surprise announcement on Friday morning. Xenophon said he will run for the state seat of Hartley in the 2018 SA election, leading a new party named Nick Xenophon's SA Best.
"Since the massive power blackout last year and our record power prices, I have concluded they are symptoms of a much bigger and deeper problem. I've decided that you can't fix South Australia's problems in Canberra without first fixing our broken political system back home," he said.
"Our state politics is broken, politically bankrupt. We have the same old soap opera script between Labor and Liberal, but little real policy debate, let alone solutions for the State's many troubles."
He said he "will be replaced by an NXT candidate" in the Federal parliament, regardless of the High Court decision in his case. If the High Court rules Xenophon was a dual citizen at the time of his election, the court may declare his seat vacant and to be filled either by a casual vacancy rule or by a countback -- both options which would almost certainly deliver another NXT candidate as his replacement.
Xenophon said he had "a very good case" to survive the court challenge, but that he will leave Federal parliament "irrespective" of the judgement. Xenophon did not cite exactly when he would officially leave parliament.
In a video posted shortly after his announcement, he called the Labor and Liberal parties the "Tweedledee and Tweedledum" of politics, and said his plan to run for state office was because his state had been "all too often overlooked".